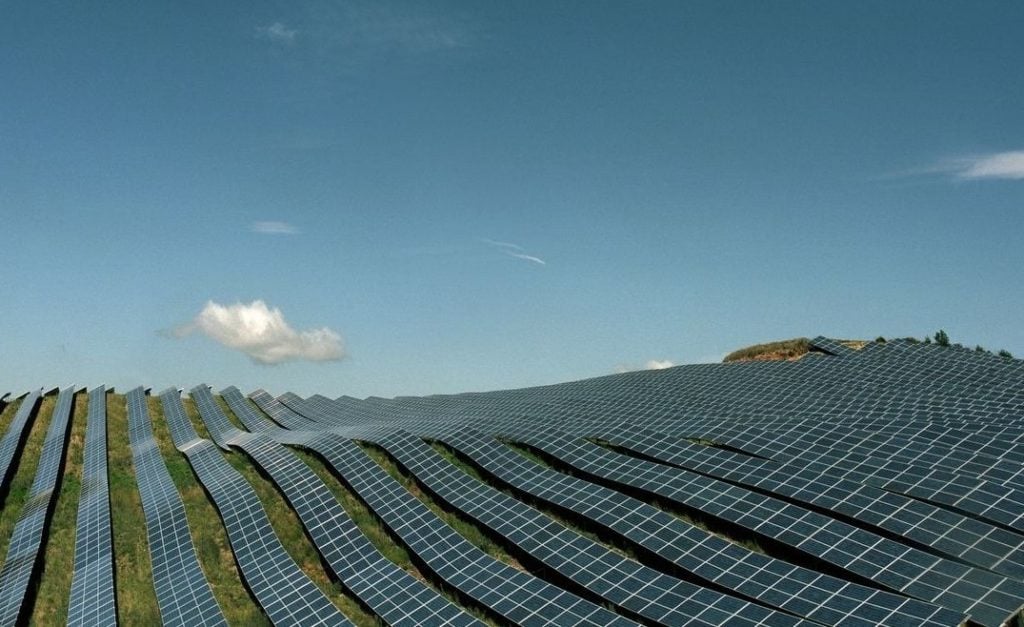 AES Corporation has gotten a "head start" in the race to deploy renewables in the US following the passing of the Inflation Reduction Act (IRA), its chief development officer for clean energy Woody Rubin said, noting how its position as part of the US Solar Buyers Consortium has ensured module supply and strengthened its market position.
Speaking with PV Tech Premium at the RE+ solar trade show in Anaheim, California last month, Rubin said the recently enacted US$369 billion package "ran in parallel" with the objectives of the Consortium and would prove symbiotic as they both work to boost demand for US-made modules.
In June, the Consortium – AES, Clearway Energy Group, Cypress Creek Renewables and D.E. Shaw Renewable Investments – committed to spending US$6 billion on purchasing 6-7GW of crystalline silicon solar modules every year to encourage the rapid scaling of domestic solar manufacturing in the US.
At the time, AES said the programme would "encourage a stable, domestic supply chain for solar modules", adding that the on-shoring of a robust PV supply chain was crucial to the US' solar sector and had the potential to create hundreds of thousands of jobs across the country.
With discussions surrounding the Consortium starting at the tail end of 2021, this was well before any prospect of the IRA, which now looks set to turbocharge the US solar sector from 2023/24 onwards.
"It's great to have them run in parallel because it's like a head start in a race," said Rubin. "If we can help spur that initial demand via the Consortium in parallel with these policy markers [in the IRA], it's a great head start and great to see that."
The Consortium has already issued a Request for Proposals (RFP) for qualified manufacturers that can commit to a long-term partnership starting in 2024, giving potential suppliers a couple of years to scale up to a sufficient level, backed by the investment.
"We are still in the RFP process," Rubin explained. "We're collecting the responses now. It's not a public process so let's wait to see on the results but I will say that the robustness of the demand is great to see, and also the diversity."
Rubin said responses were coming in from a diverse range of module makers and "not just one narrow segment" as he highlighted the importance of establishing a diversified solar supply chain of sufficient scale in the US to help drive PV deployment.
And the long term certainty the IRA provides should do just that, Rubin said. "It is hard to understate the policies' certainty," he noted. Prior to the IRA, which has extended the Investment Tax Credit to 30% for the next decade, policy certainty of two years would have "spoilt" the industry, he joked. But this longer timeframe the IRA affords would allow the industry to make "long-term strategic bets" rather than "short-term optimising your strategy because of a lack of clear policy".
Unlocking further deployment
Over the last year, AES has delivered 5GW of renewable contracts across its global operations and the company's Q2 financial results showed how it was on track to reach its target of 4.5-5.5GW in long-term renewables and energy storage contracts in 2022.
A notable 3GW of that came from corporate power purchase agreements (CPPA), however, which Rubin said made AES the leading provider of corporate contracts according to BloombergNEF. He also described what he saw as the emergence of a new tier of CPPA contracts as corporate buyers become more savvy about their current and future energy use.
With corporate targets increasingly rising to match state targets, companies are thinking about their energy needs in more detail. He gave the example of Google, which AES has been working with, becoming less concerned about its flat load requirements and more focused on the penetration of renewable assets.
"What's my hourly consumption of green versus the grid?" asked Rubin. "And so, when you actually look at it on an hourly basis, or even a daily basis, that's when customers start to think differently. And we call that 2.0, that kind of matching of portfolios. And we're doing that with Google and other customers. It actually achieves a much greater level of renewable penetration on the grid."
When asked by PV Tech Premium what barriers still needed to be overcome in the US, Rubin said this could broadly be broken down into three categories.
First, regardless of the IRA or any supply chain issues, development costs have increased, he said. "Development in our major markets has just gotten harder," he said, adding this was mainly down to supply and demand factors and increasing competition for module, land and workers.
Second, he said bottlenecks in the system were holding the industry back. He points to delays in permitting, with agencies often understaffed and underequipped to deal with the sheer volume of demand for clean energy in the US.
Finally, and something that was brought up time and time again at RE+, was interconnection wait times. Rubin said it was crucial to enact structural reform to current transmission and interconnection processes as he called for a special permitting regime for large transmission projects across states.
An expert panel at RE+ argued that cost certainty, reducing wait times and more flexible agreements with utilities were crucial to solving the US' interconnections problems that are holding the country back from reaching its renewables targets. You can read more about that panel session here, while PV Tech has also explored the US Department of Energy's i2X initiative, aimed at addressing interconnection problems, here.