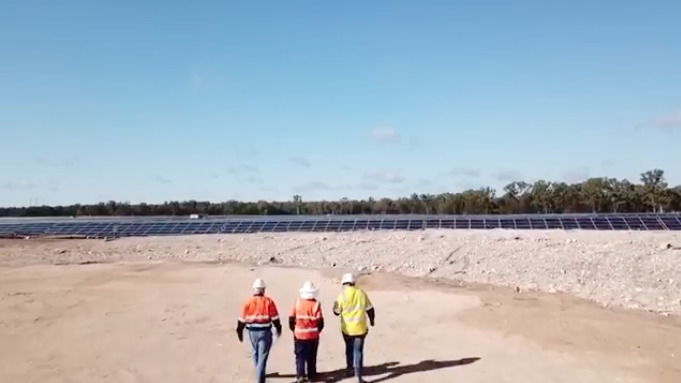 Despite the late ditching of its EPC contractor, APA Group has managed to launch the 110MW Darling Downs solar farm located in southwestern Queensland, Australia, completing the remaining work on the project by itself and with new contracts.
As reported by Australian media at the time, on 13 December last year, APA dropped EPC contractor RCR Tomlinson from the Darling Downs project, following the collapse of the engineering and contracting company as it went into voluntary administration. At that time, APA's project was at the commissioning and performance testing stage, according to the firm's half-year financial report.
A spokesperson for APA Group told PV Tech: "APA took on contracts, where possible, and self-performed the finish and commissioning [of the project]. There was a short delay compared to RCR's original timeline but much shorter relative to other Queensland solar farms and the market in general. The Darling Downs Solar Farm is in a strong part of the National Grid and the Local Transmission Authority was very supportive."
Indeed, there have been several media reports in recent months of lengthy grid-connection delays in the Queensland area for large-scale PV projects.
Anthony Lynham, minister for natural resources, mines and energy, opened the Darling Downs plant 45 kilometres from Dalby this week, claiming that it would "help keep Queensland power prices the lowest on the eastern seaboard".
The AU$200 million (US$136 million) project, including 423,360 solar panels installed over 250 hectares, supplies power to the National Electricity Market (NEM) through its connection to the existing Darling Downs Braemar substation. It can provide electricity for up to 36,000 households.
The PV plant, which started supplying power to the NEM in August 2018, was also developed and constructed with the help of AU$20 million (US$13.6 million) in grants from the Australian Renewable Energy Agency (ARENA).
Original owner Origin Energy sold the project to APA Group for AU$200 million (US$136 million) in May 2017, but Origin also signed a 12-year power purchase agreement (PPA) to buy all the power from the facility as well as the related Large-scale Renewable Generation Certifications (LGCs) up to 2030.
APA Group CEO and MW Rob Wheals said: "We're continuing to grow our capabilities in renewable energy infrastructure as part of our growth strategy. Darling Downs Solar Farm is part of our growing renewables infrastructure portfolio, which will, together with our gas infrastructure, contribute to Australia's transition to a lower carbon economy."