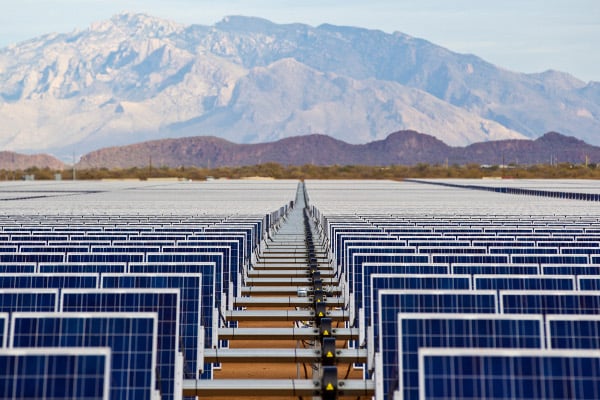 Arizona utility Tucson Electric Power (TEP) is planning an additional 1.1GW of renewable energy capacity by the end of 2030, which would bring its total renewables capacity to 1.5GW.
A TEP release said it would continue investing in large solar arrays and other community-scale renewable resources that add "cost-effective" capacity.
The utility provides electricity to 417,000 customers in Southern Arizona; TEP's new focus on clean energy is part of its aim to meet the goals of Arizona's Energy Efficiency Standard, which calls on utilities to achieve cumulative energy savings of 22% by 2020.
The plans come under its preliminary 2016 Integrated Resource Plan (IRP), filed yesterday with the Arizona Corporation Commission. The plan is only preliminary due to uncertainties raised by the US Clean Power Plan (CPP), a mandate to reduce carbon dioxide emissions from power plants that was finalized in August 2015 by the Environmental Protection Agency (EPA).
Just last month, the US Supreme Court granted a stay that pauses the implementation of the CPP, bringing further uncertainty around its implementation.
As part of the plan, TEP is now also investigating how energy storage and smart grid technologies can improve reliability. It is expected to start construction this year on two 10MW energy storage projects to test grid-balancing functions and other energy management services.
The utility also forecasts the use of more sensing and measurement devices in response to the increase of intermittent renewable resources on its distribution system. This initiative will enable some portions of the local electric grid to function as standalone micro-grid systems, said the TEP release.
Meanwhile, in 2016, TEP will offer several new energy efficiency programs including discounts on energy-saving appliances, thermostats, and new heating, ventilation and cooling measures.
The firm is set to lose 170MW of coal-fired capacity in 2017 when its Unit 2 at the San Juan Generating Station in New Mexico is shut down and it has already ceased burning coal at its Sundt generating station in Tucson.
While TEP will continue to rely on its coal-fired Springerville Generating Station (SGS) in eastern Arizona, which is TEP's lowest-cost coal plant, David Hutchens, TEP president and chief executive, said: "We are committed to a diversification strategy that benefits from capacity reductions at other TEP-owned coal-fired power plants."
"We're working to integrate emerging technologies into our system and pursue a resource diversification strategy that achieves our environmental goals while preserving safe, reliable, affordable service for customers."