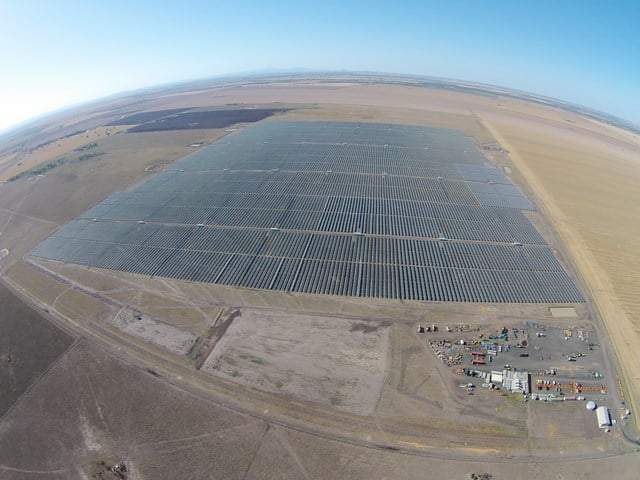 Australia's second largest PV plant, the 56MW Moree Solar Farm in Northern New South Wales, developed by Spanish firm Fotowatio Renewable Ventures (FRV), has started feeding power to the grid.
The plant contains more than 22,000 solar panels and will provide enough energy to power roughly 15,000 houses per annum. The plant uses single-axis trackers and polycrystalline modules.
The Australian Renewable Energy Agency (ARENA) and provided funding support of AU$101.7 million (US$72.6 million) towards the project and the Clean Energy Finance Corporation provided AU$46 million of debt finance.
The site details:
280 hectares
140,000MWh generated per year
56 Ingeteam Ingecon Sun PowerMax 1000TL M400 inverters in 28 power blocks
222,880 JA Solar 310/315Wp polycrystalline solar PV modules
2785 NexTracker self-powered, horizontal single-axis tracking systems
31,800 blade piles
34.5km of high voltage underground AC reticulation
110km of underground DC reticulation
In the last six months, more than 210MW of solar farms supported by ARENA have started feeding electricity into the grid. The other largest plants in Australia, the 53MW Broken Hill plant and the 102MW Nyngan power plant recently came online.
CEFC chief executive Oliver Yates said: "The CEFC is pleased to see that each project built is more efficient and cost effective than the last and that this trend is continuing in Australia and around the world. As prices continue to fall, Australia will be able to tap this sustainable competitive resource to power the economy."
The Australian Renewable Energy Mapping Infrastructure (AREMI) project, which shows live power generation data for projects around the country, now includes the Moree project.