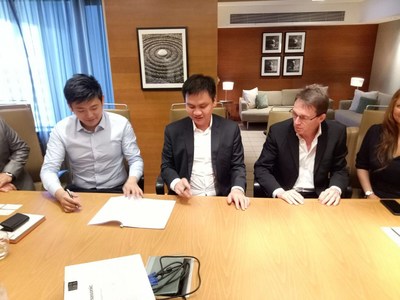 Vietnam-based infrastructure investment firm Bamboo Capital (BCG) has signed a cooperation agreement with China-based firm Unisun Energy Group and german company Coara Solar to work on a 40MW solar project in Thanh Hoa district, Long An Province, Vietnam.
This is BCG's second Vietnamese PV project plan, having announced BCG Bang Duong's partnership with Korea's Hanwha Group last month to develop and build a 100MW solar PV project in the same district. Soon, BCG also plans to develop other solar projects in Quang Nam and Gia Lai Provinces.
The 40MW project will require US$40 million investment and construction will start in Q1 next year with power generation to commence in Q2 2019. So far, Long An Province has allocated 175 hectares of land for BCG to start implementing both projects.
Coara Solar will act as EPC contractor while Unisun Energy Group will invest and finance the entire project. Meanwhile, BCG will take responsibility for the paperwork, investment license and Power Purchase Agreement (PPA) negotiations with Vietnam's monopoly utility EVN.
Nguyen Ho Nam, chairman of BCG said: "Partnerships with global well-known corporations like Unisun Energy (China), Coara Solar (Germany) and Hanwha (Korea) will support BCG's continuous and rapid growth in the renewable energy sector, which is currently a dynamic and attractive sector in Vietnam."
In recent months, concerns have been rasied by international law firm Baker McKenzie and a group of International Chambers of Commerce about the bankability and inherent risks of Vietnam's solar PPA draft.