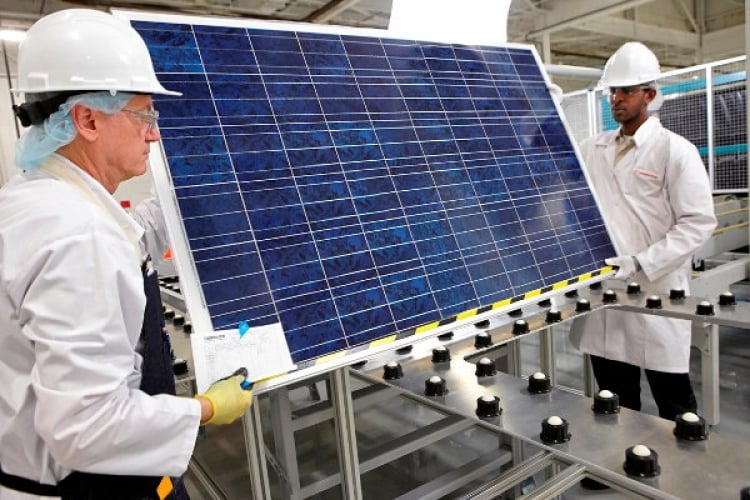 CSI Solar has announced plans to expand its solar and battery storage manufacturing capacity in China, through an investment agreement with the municipal government of Yangzhou City in Jiangsu Province.
The company – a subsidiary of Solar Module Super League (SMSL) member Canadian Solar – said that it plans to add vertically integrated high efficiency wafer, cell, module and battery storage production capacity under the agreement, to be deployed in three phases.
The first phase, expected to begin production in the second half of this year, will add 14GW of annual wafer and cell production capacity. Canadian Solar said that the second and third phases of the agreement are subject to change and offered no construction or completion timeline.
Canadian Solar said that it now foresees ending 2023 with 20GW of ingot, 35GW of wafer, and 50GW of cell and module capacity in light of this announcement.
In September, the company announced a target of 10GWh of annual battery manufacturing capacity by 2024
Shawn Qu, chairman and CEO of Canadian Solar said: "Our capacity additions will further enhance our profitability in an environment of rapidly declining upstream raw material costs, and we are dynamically adjusting our capacity plans to account for a market backdrop with pockets of large supply as well as pockets of tight supply relative to demand."
At the end of last year the company announced plans to focus increasingly on TOPCon module technology, saying it would begin mass-production of the technology in Q1 2023. It forecast that TOPCon would account for around a third of its module shipments this year.
Fellow SMSL member Trina Solar saw the first of its n-type TOPCon cells roll off the production line in the first days of this year from one of its Chinese facilities. PV Tech Premium recently looked in-depth at a new LONGi expansion plan targeting 100GW of mono wafer and 50GW of cell production capacity.
PV Tech today covered a recent report from BloombergNEF that saw 91% of global renewable energy manufacturing investment heading to China in 2022.