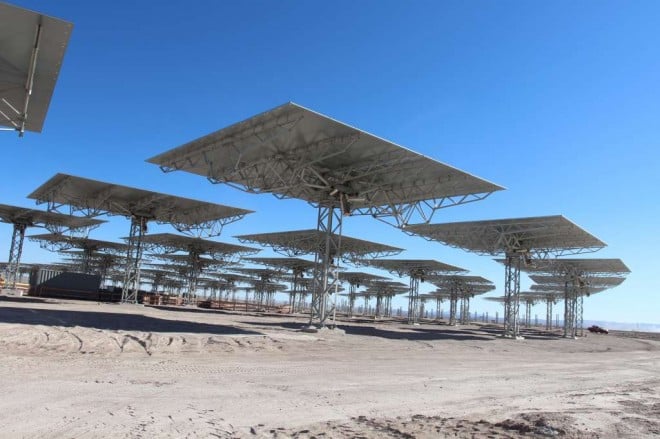 Chile's cumulative installed solar capacity has surpassed 1GW, according to the latest figures from Chilean renewable energy research institute (CIFES).
The amount of solar PV in operation in Chile reached 1,013MW as of the end of January 2016, up 165MW from 848MW at year end 2015.
There are now 2,195MW of projects under construction, with 10,755MW approved and a further 4,016MW awaiting qualification.
Chile's society for industrial development Sofofa also recently announced that in December last year, Chile had US$58 billion of renewable energy projects in various stages of development, accounting for more than 25GW of capacity. This goes hand-in-hand with Chile's recent approval of a renewable energy target of 70% by 2050.
A total of 279 renewables projects were registered in 2015. Solar PV plants requiring US$28.9 billion investment are at various stages of development with the potential to generate 14,356MW of gross capacity, said Sofofa.
The Latin American solar market is expected to double to 2.3GW in 2016, up from 1.3GW last year, but it remains in its early stages having been held back by key markets in Brazil and Mexico, according to the latest figures from analyst firm GTM Research.
However, GTM claimed that Latin America's main solar growth in 2015 came from utility-scale development in Chile, which installed 521MW.
Large-scale project news includes Pattern Energy Group's 122MW solar PV project in the Antofogasta region of Chile being ready to begin operations in Q1 of this year, according the Ministry of National Resources.
Meanwhile, at the start of this year Italian-based renewable energy developer Enel Green Power (EGP) began construction of its 254MW Ituverava solar plant in the state of Bahia, Brazil, which will be one of the largest solar projects in Latin America.