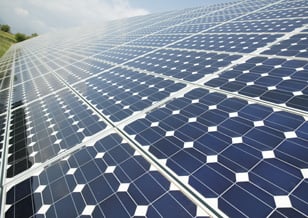 Italian-based renewable energy developer Enel Green Power (EGP) began construction of its 254MW Ituverava solar plant in the state of Bahia, Brazil, on the cusp of 2016. This marked a major step forward in a country that has seen almost negligible solar capacity deployment over the last year despite having been tipped to be a key emerging market in 2015. Josefin Berg, senior solar analyst at market research firm, IHS, recently told PV Tech that Brazilian solar deployment is expected to finally take off this year, although EGP's plant is due for completion at the end of 2017.
Furthermore, Brazil's policy climate is set to become even more favourable for solar after representatives of the Chamber of Mines and Energy Committee approved legislation that brought the country one step closer to including new solar financing options for PV consumers and tax exemptions for solar cell and module imports.
Ituverava is EGP's largest solar plant currently under construction requiring around US$440 million investment for the construction phase and it is expected to be able to generate more than 550GWh of electricity each year once complete. This is equivalent to meeting the annual energy consumption needs of more than 268,000 Brazilian households.
The plant is owned by three special purpose vehicles held by Enel Green Power Brasil Participações Ltda.
Despite Brazil's laggard deployment record of late, the government has set the tone for strong future growth by holding two major solar auctions over 2015. The 254MW plant was itself won under the Leilão de Reserva public tender in Brazil in autumn 2014.
EGP was also awarded 553MW of solar capacity in the August auction so the company is now the leading player in Brazil's solar power industry in terms of installed capacity and project portfolio.
Marcio Trannin, head of business development for Brazil and Uruguay at EGP, says that the company is not experiencing any significant challenges in the construction phase of the Ituverava plant as EGP is already a well-established solar player in the state of Bahia with two solar plants up and running in the state since August last year.
The plant will be using:
polycrystalline PV modules of 315/320W
98x2MW – 1000V inverters
Single-axis trackers
Studies performed ib solar plants in the north-east region of Brazil found that trackers work better in this region in comparison to fixed structures. The company also analysed all transport opportunities and consulted logistics experts prior to participating in the auction, says Trannin.
"Of course Brazil is a huge country and often the best places in terms of irradiation such as Ituverava are hardly located next door to human settlements. But we are prepared so we do not feel logistics as an issue," he says.
In terms of strategies for achieving the best levelised cost of electricity (LCOE) at the plant, EGP has a centralised procurement team that works to obtain the optimum offers from all suppliers for each technology. It also has a commercial team focused on diversifying its power purchase agreement (PPA) portfolio with the support of the Enel Group in Brazil.
Regarding evacuation challenges, Trannin says: "Before the bid we performed connection studies and the project has no grid connection constraint."
The solar project will be supported by a 20-year power purchase agreement (PPA) with the Chamber of Commercialisation of Electric Energy (CCEE).
EGP already has around 1.65GW of solar either in development or contracted worldwide. It has 418MW of installed renewable energy capacity in Brazil, but just 12MW of this comes from solar, but it does have 444MW of PV projects currently under construction in the country.
A merger between EGP and Italy's largest utility Enel was approved this week. EGP has been listed on the stock market for five years, with Enel holding a 70% stake in EGP over that period; however the new merger consolidates the remaining 30% and Enel will be assigned these EGP assets.
The Latin American countries of Brazil and Chile are destined for strong progress in solar in 2016 and after several policy initiatives coming through in 2015, Brazil looks set to make its mark on the utility-scale map over the next two years.