SPONSORED: Having been selected as a supplier of complete monitoring solutions for new large-scale solar plants in Egypt and in other regions during the past year, Gantner has repeatedly confirmed its position as a leading global player in the utility-scale PV industry.
After the successful on-schedule commissioning of the first 64.1MW solar power plant in the Benban solar park in December 2017, Gantner will also provide its monitoring solution to the next three plants in the Benban complex with a total capacity of 166.5MW. For these plants, 230.6MW in Benban in total, we will provide our Q.reader data logger and power plant controller, DC combiner boxes, Meteo stations and Gantner.webportal as the SCADA system.
Thanks to the falling costs for solar energy production and an increasing global awareness of the advantages of clean energy we are confident that the recent upward trend in the solar industry will continue for several years. Now the application of solar energy is not only justified by its advantages for the environment but it has also become competitive economically. Witnessing significant growth in PV in most geographical regions the installed assets and investments require reliable and effective data monitoring solutions to meet the rising expectations of the plants' stakeholders.
A monitoring system should serve to reduce risks for investors and to provide them with reliable information about O&M, track record and plant performance as well as provide the ability to control the plant. Optimized PV production certainly leads to increased asset value.
In the following, we will guide you through the main components of a monitoring solution emphasizing recent technological challenges and trends.
Combiner boxes (DCBs)
In a photovoltaic system, the connection of modules in series to strings is made on the modules themselves, while the parallel connection of the strings is provided inside string combiner boxes (DCBs). DCBs accommodate – along with the interconnection systems – main switch disconnectors, surge protection devices and components necessary for string protection.
The string combiner boxes can be classified according to the number of strings collected (typically 8 to 32 string inputs), voltage and rated current. Different product types are offered and each can be individually composed according to specific installation conditions.
Gantner is permanently working to further improve its DC combiner boxes. Newest additions to its offerings are DC combiner boxes engineered for the Australian market with three parallel string inputs, 50A fuses and DC main switches compliant to Australian standard AS5033.
In terms of the technological development, we expect the final breakthrough of plants with 1500V DC system voltage, which enables higher power output capability by up to 50%, thus decreasing system losses and balance-of-plant costs. The application of higher voltages affects the design of the solution as well as insulation requirements. Components need to ensure safe processing of 1500V DC power, as well as reduced power losses, reduced number of poles, integrated heat dissipation and advanced arc extinguishing technologies.
Also, temperature resistance of applied components is a challenging demand in many geographical regions (e.g. in Egypt and Australia), where PV plants often operate at high temperatures reaching 70°C.
Monitoring of measurement values down to string level is an important requirement for medium- and large-scale installation, since it helps to improve the performance and to effectively support maintenance of the system. For that purpose, combiner boxes can be equipped with useful devices for string monitoring. Gantner supplies their monitored combiner boxes with "string.bloxx" measurement modules developed by Gantner's R&D team.
The latest "string.bloxx" products are designed for 1500V voltage and up to 32 PV strings can be connected. Using DC shunts the string.bloxx provides current measurements that are typically 10 times more accurate and not susceptible to temperature variance.
The achieved high-accuracy measurements contribute to better understanding of the plant performance and to detect underperformance due to long-term degradation (PID) of panels. In addition string voltage (up to 1500V) and DC power on every string can be continuously monitored ensuring maximum system productivity. Due to its very low power consumption (<1.5W) power supply for "string.bloxx" can be provided by the RS485 communication cable or if preferred by the customer by a string powered DC/DC converter.
Gantner provides their combiner boxes as individually engineered "plug & play" solutions which are finally wired and certified, ready to be easily connected to the strings e.g. by MC4 or Phoenix Contact sunclix connectors.
Efficient design enabling to have configurations from 8 to 32 strings in a single enclosure, making it easy for logistics and installation at site.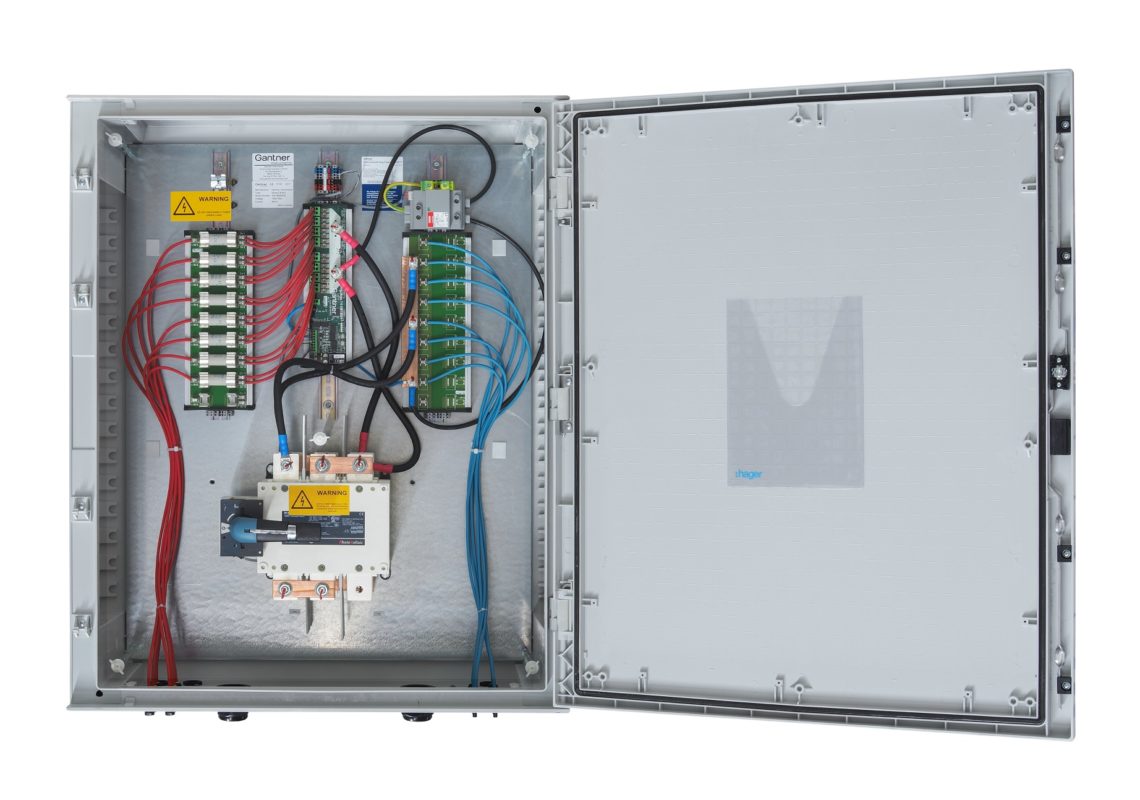 Q.reader as data logger and Power Plant Controller (PPC)
The increasing share of renewable energy contributing to the grid increases the technological effort for grid integration. The naturally varying power provided from solar and wind plants leads to fluctuations in grid frequency. Power Plant Controllers are essential tools to tackle this challenge.
The heart of Gantner's monitoring solution is the data logger Q.reader, which tracks and controls all power plant information: string level current and voltage, inverter data, meteorological data from weather stations, grid measurements and other state variables (e.g. switch gear and transformer status). In parallel, it also acts as power plant controller (PPC) for the grid operator. Its accurate data acquisition and control concept is inverter independent and gives feedback about losses due to inverter malfunction, soiling, shading, PV module degradation etc. The Linux based platform can control up to 100MW plants with just one controller and fulfils all international requirements.
Due to its scalability, the monitoring and control based on the Q.reader datalogger can be applied to both the commercial and utility-scale market. The data acquisition system grows with the requirements in the plant and distributed Q.series measurement modules can be integrated at any time. It is possible to configure the monitoring solution individually with auto-alarming via email as well as with local arithmetic functions provided.
As grid feed-in management has become an important topic for properly connecting PV systems to the power grid, in its role as Power Plant Controller (PPC) Q.reader also provides support for grid-connected solar systems with export limitations. A power analyzer measures the total power at the grid connection point and compares it with the adjustable set point of the controller in a closed control circuit to ensure the precision and the setting times defined by the grid operator, including failsafe operation. Features such as direct marketing, reactive power supply and zero export can be provided.
In Germany, Gantner is a leading supplier for ground-mounted PV and especially valued for its knowledge in the grid integration for the several 100 utilities in Germany with their absolutely different requirements for control and communication.
SCADA solution Gantner.webportal
Gantner.webportal enables worldwide access to operations data, monitoring of geographically distributed PV power plant portfolios and remote supervision (fleet management of all in the field installed devices). To facilitate this, all information acquired by the Q.reader datalogger is perfectly integrated into Gantner.webportal. It is used to collect huge amounts of data (about 5000 channels per MWp and minute) and assists the user to generate reliable information about the recent status of the plant. All data is stored in the cloud and accessible via a secured connection and also from mobile devices with HTML5 and W3C.
The main objective of Gantner.webportal is to support the customers in their daily tasks in order to reliably reach ROI targets. The intelligent traffic light system and sophisticated alarming features save plenty of time in the day-by-day O&M routines. Important features to prevent the system from false alarms is the integration of 'logics' to take into account e.g. AIO (angle of incidence) and shading angles.
Meteorological data such as solar irradiance, ambient temperature, module surface temperature and wind parameters are monitored according to IEC 61853 standard.
With the numerous analysis functions of Gantner.webportal it is possible to, for example, separate out the main reasons for production losses (such as hardware failures, potential induced degradation on panels, temperature influence, soiling). Visualization of all measured values down to a string level is provided as well as comprehensive and individually configurable report functions. The availability of the plant can be calculated and forecasts for energy output based on the physical plant structure and on meteorological prognoses are integrated.
Gantner.webportal – being fully compliant with international standards as IEC 61724-2 – is the preferred SCADA solution for several leading market players each of them with an installed power of about 500-1000MW in its portfolio.
Commissioning of the power plant can be performed onsite by our qualified engineers to ensure a smooth start of its operation.
In summary, it can be stated that there is growing pressure on the solar industry to supply up-to-date information on the generation of power and the identification of potential faults. As most solar farms are unmanned, availability of remote monitoring is essential. To access the relevant installed devices of a PV plant in the field, remote support is provided by Gantner via a high-security connection with help of "Gantner.RAS" – a remote access service for global fleet management of onsite DAQ devices.