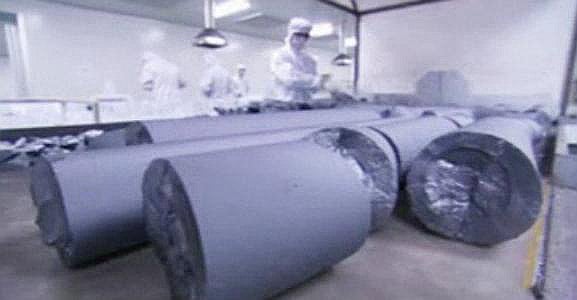 China-based polysilicon producer Daqo New Energy has announced plans for expanding production by at least 12,000MT in less than 18-months that will be dedicated to supplying high-efficiency monocrystalline wafers producers, due to continued strong demand.
Daqo said that the Phase 3B expansion at its Xinjiang, China facility had completed the ground foundation and initial ground preparation work in the fourth quarter of 2017 and expected to start pilot production in the first half of 2019. The expansion would lead to a total annual nameplate capacity of over 30,000 MT by the end of the second quarter of 2019.
The company had previously highlighted that few polysilicon producers in China could produce high quantities of electronic grade polysilicon needed for both the monocrystalline solar wafer and semiconductor wafer industries and recently completed expansions (Phase 3A, Xingjiang plant) were technically designed to meet this growing demand.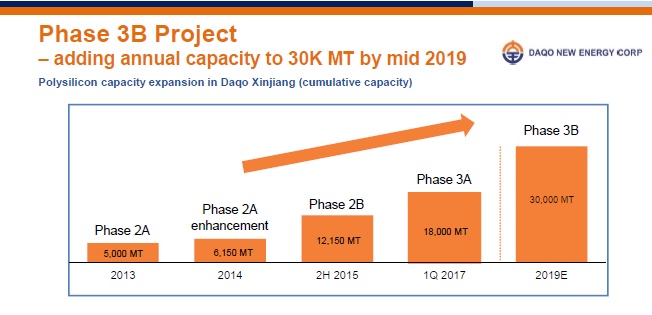 Longgen Zhang, CEO of Daqo New Energy said, "We completed the foundation and initial preparation work for our Phase 3B capacity expansion project during the quarter. Facility design and equipment procurement are progressing well and on schedule. With strong customer demand for our high-quality polysilicon products, we are planning to accelerate the construction pace so that we can begin production sooner. We expect to complete the entire Phase 3B project and begin pilot production in the first half of 2019, and reach full capacity of 30,000 MT by mid-2019. With the newly added capacity and our competitive advantages in polysilicon quality and production costs, we are strengthening our polysilicon manufacturing leadership position and are confident in our ability to meet growing demand and create additional value for our shareholders."
Daqo is making a concerted effort to become the leading high-purity polysilicon producer in China, supporting Chinese government strategy to become self-sufficient in polysilicon production, while meeting the electronic grade requirements for the migration to mono wafers and the growing demand from semiconductor manufacturers in the country.
China has continued to need to import electronic grade polysilicon from Wacker in Germany and several major producers in South Korea such as OCI and Woongjin Energy, after imposing high import tariffs on US manufacturers such Hemlock, SunEdsion Semiconductor and REC Silicon.
"We are also devoting increasing resources to R&D and quality improvement," added Zhang. "We continue to improve our front-end manufacturing process and post-production handling techniques to reduce impurities. This resulted in record levels of production for both electronic-grade polysilicon and mono-crystalline-grade polysilicon in January 2018. We are pleased with this achievement and believe it demonstrates the strength and effectiveness of our overall strategy and is another step towards becoming the leading supplier of electronic-grade and mono-crystalline-grade polysilicon in China."
The company actually exceeded polysilicon nameplate capacity in 2017. Daqo noted that 2017 was the strongest year for production having produced 20,200MT of polysilicon, 12.2% higher than its nameplate capacity of 18,000MT.