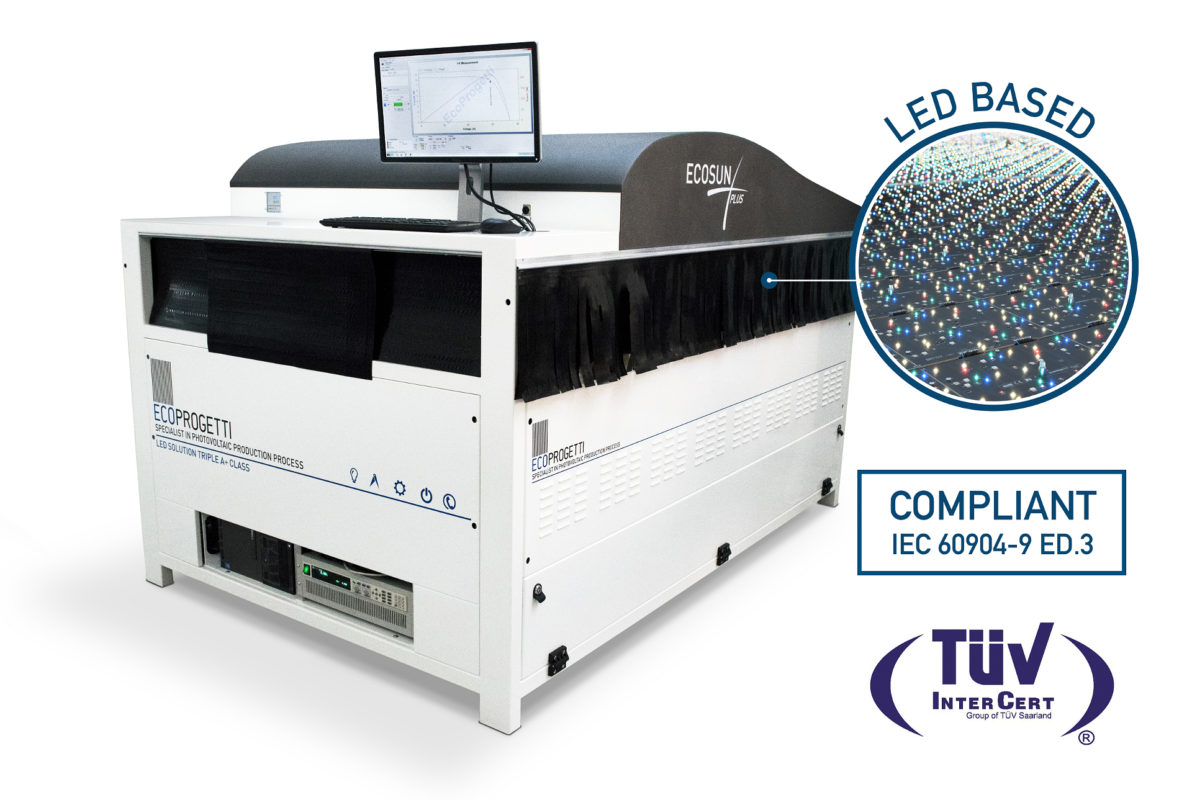 Ecoprogetti has launched its new 'Extended Spectrum, LED Sun Simulator Ed.3' for PV panels, driving down production costs and providing key advantages to assembly lines and laboratories.
Problem
The newest generation of high efficiency PV cells (PERC, n-type, HIT, Bifacial, etc…) are not compatible with the Xenon technology anymore, decreasing the test reliability and precision of the power measurement due to capacitive effects. Xenon lamps have a short lifetime and high cost, resulting in increased production and testing costs.
Solution
Ecoprogetti's new solution for PV module testing and I-V curve measurements with A+A+A++ class certified by TÜV InterCert, is suitable for testing all new generation of solar modules and high efficiency solar cells. Extended spectrum= 300nm to 1200nm, fully compliant to the IEC 60904-9 ED. 3. Key advantages include improved accuracy, due to the stability of the light and the repeatability of the system produces very high reproducibility and accuracy of the all measurements. High-efficiency solar cells require a longer flash duration to guarantee an accurate measurement of the maximum power. The LED light source has a long pulse, which simulates more accurately the final installation conditions of the solar panel. The capacitive effects will no longer influence module measurements, making the Ecosun Plus tests reliable and accurate.
Applications
Final testing of PV modules in high capacity module assembly lines and in laboratories.
Platform
The Ecosun Plus tester has a long lifetime LED source, which reduces the costs of consumables, while overall maintenance is lower. Ecoprogetti's LED technology can perform more than 50 million tests (equivalent to 10GW of tested PV panels) with minimum maintenance (< 50 €/year) and without any LED board replacement. The system comes with high-throughput, performing the tests sequentially without recharging time between the measurements. This increases the productivity of the line and reduces operating cycle times.
Availability
Currently available.