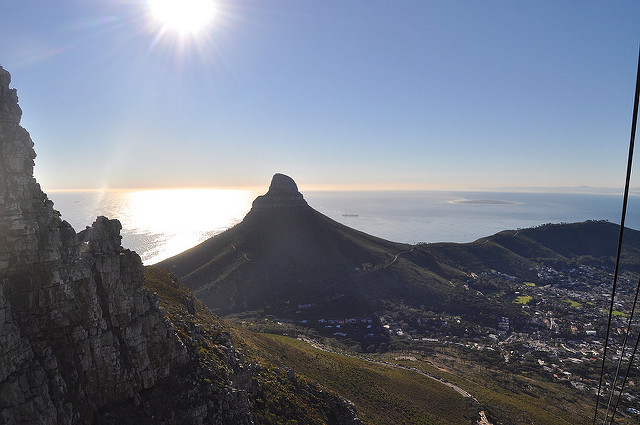 Grid issues not politics are behind new caution over renewables deployment, South African utility Eskom has said.
Following Eskom's reported announcement that it would no longer sign PPAs with IPPs under the government's renewable energy independent power producers' procurement programme (REIPPPP), Eskom told PV Tech that the issue is not with renewables themselves, but with the destabilising effect on the nation's straining grid.
"In terms of PPAs, we thought our message was clear but clearly it has been misunderstood. Everyone has been saying that we have made a decision not to procure any renewable energy going forward; that is not what we have said and that is not what we are saying," said Khulu Phasiwe, a spokesperson for the utility.
Last week, reports surfaced that Eskom chairman Ben Ngubane had written a letter to energy minister Tina Joemat-Pettersson, stating that the utility will no longer sign PPAs, without engagement over the matter. Ngubane also told local press that the board had concerns about the REIPPP, and there was a need for the government to look at all the implications for Eskom and its future.
Speaking to PV Tech, Phasiwe denied however that any formal decision on the part of Eskom had been reached over the future of PPAs for IPPs.
"All we are saying is that we have written a letter to the minister of energy asking for a dialogue so that we can state our case," he said.
Phasiwe also emphasised that the reason for potentially changing the future of the procurement programme was that the motives for its initiation in the first place may not be relevant today.
"The first part is to stabilise the system after the incidence of load-shedding, but the second part is our commitment in terms of climate change. That has not changed; what we are now saying in relation to the first part – which is the stability of the power system – we currently have just over 3,000MW which has been contracted and of those 3,000MW we already have 2,141MW connected to the grid. So there are number of other [REIPPPP] rounds that are due to be connected at some point from 2018 thereabouts.
"We need to enter into a discussion with the government, and the department of energy, to find out as to how we should proceed going forward. Because the first part of the rationale for introducing IPPs have been sort of fulfilled; which was to bring some stability to the system. So we just want to know, how quickly we should continue to have this sort of renewable energy programme, including non-renewable ones by the way; for example coal. Coal is also part of the mix going forward."
The programme so far has supplied an additional 1,084MW to South Africa's grid through almost 100 renewable energy projects. Fears arose that the halting of the programme would severely hamper the country's renewable energy future. Phasiwe stressed that nothing immediate is set to change however; with the REIPPPP rounds 1 to 4.5 (which includes financial close of round 4 projects) scheduled to go ahead as planned.
Whilst fears circulated that a 20-year PPA to be signed for the Redstone Solar Thermal Power project last week was shelved because of Eskom's purported ditch of IPP PPAs, project developer SolarReserve told PV Tech that this was not the case, but was merely due to conditions precedent not being met.
"There is simply some outstanding documentation that needs finalisation, which is expected to be completed shortly. We hope to sign the PPA in August," said Mary Grikas, SolarReserve vice president of communications.
For their part, Scatec Solar, a Norwegian solar IPP who has developed projects through the REIPPPP, was not concerned by Eskom's purported announcement. "In general we see good progress towards financial close of our Round 4 projects (we won 258 MW last year) and we have a good dialogue with Eskom and Department of Energy in this regard," said Mikkel Tørud, CFO of the company, when asked about Eskom's designs.
Eskom confident it will meet electricity demand
Despite the utility receiving a bailout of almost US$2 billion and dropping considerably on capacity, it is confident that it is capable of meeting electricity demand by itself, if needs be.
"Last night for example – we've had no load-shedding over the last 11 months – but last night in particular, the demand was about 31,000MW, and we at Eskom were able to produce about 36,000MW. So in other words, from our own capacity, we are able to meet and exceed the demand that South Africa currently has."
The department of energy is yet to weigh-in on the fate of the procurement programme, but it should be noted that the decision is not one that Eskom can make alone.
"From our side, we are open-minded; we are not going to approach this meeting with a predetermined view. We are going to be influenced and we are also going to influence the discussions," said Phasiwe.
Renewables putting a strain on South Africa's grid
The Eskom spokesperson stressed that the main reason for wanting to reconsider the future of the procurement programme was the strain on the grid. Having an energy capacity surplus or deficit means the system operator has to readjust for stability, added Phasiwe, who also emphasised the issue was not one of being anti-renewable.
"A decision was taken by the government in 2010 that we in South Africa will have what you call an energy mix, so we will pursue renewables, we will pursue nuclear, we will pursue coal, and any other forms of energy in between. So we are not saying one should replace the other, all we want is a nice mix between all the sources that we have within the country. Eskom is not a policy maker and therefore Eskom will not say that renewables are no longer important or they are not required. All we are saying is, we need to have a nice mix going forward, and that is where we stand.
"Even at Eskom, there are two things that we are doing; not only are we buying from these renewable energy projects, but we are building our own capacity from renewable energy sources. As I speak to you we already have 100MW wind farm in the Cape Town area, we are also in the process of building another 100MW of solar in the northern Cape and we just recently got clearance from the department of environmental affairs to build a 300MW wind farm also in the northern Cape. So we not only are buying, but we also are investing in renewable energy ourselves. We have photovoltaic panels on top of our building, which are powering this building itself.
"We have about 5MW which is coming from solar alone, so this notion that Eskom is against renewables is actually not true because last year we spent about R15 billion to buy electricity from renewable energy sources. That is where we are and we will continue to buy according to the agreement that we have with the department of energy. All we are asking for is more clarity, more debate about what is going to happen in the future especially after round 4.5.
"I think the most important thing that we need to make very clear is that South Africa currently does not have an energy crisis. We have safely sailed through that period of energy crisis; we are now sitting pretty in the sense that we are now able to export extra capacity to our neighbours in Botswanna and Zimbabwe and anyone else who needs electricity in the South Africa region. So we are good at this stage. All we are asking for is that we need to revise the energy plans that were put in place in 2010."