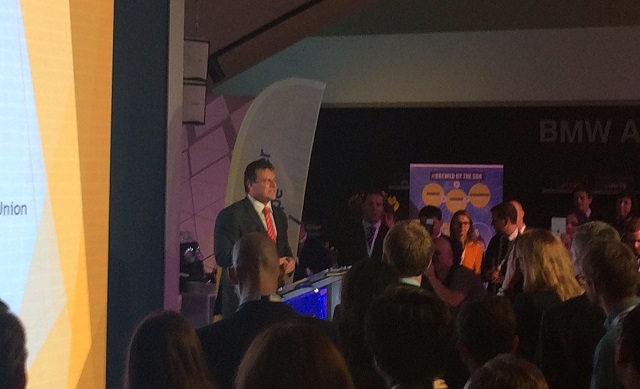 Europe's solar industry came together in Brussels last week to celebrate the milestone achievement of reaching 100GW of solar, enough to power 30 million homes.
After being introduced to the audience as "arguably the most influential person in energy in Europe today", Maroš Šefčovič, vice-president of the European Commission for the Energy Union, took centre stage to praise the continent's progress in solar deployment. He said this was "a celebration of Europe leading on renewable energy" and forecast that a business as usual approach would help it reach 150GW by the end of the decade, before issuing a rallying call to make even more ambitious targets.
However, this optimism was tainted by strong hints that the European Commission may remove priority access and priority dispatch for renewables on the grid in its much anticipated Renewable Energy Directive. Indeed, grid priority for renewables has been one of the fundamental drivers of reaching that 100GW target.
Šefčovič said: "It is quite clear that what we need to achieve is restore price signals, because many, many of our countries – especially the electricity trading – is overregulated."
Later at the event, Greg Arrowsmith, policy advisor at the Association of European Renewable Energy Research Centres (EUREC), told PV Tech: "I think 'restore price signals' refers to this idea that you wean renewables off feed-in-tariffs and ROCs and so forth and you force them to earn more of their money in the electricity markets."
Šefčovič continued: "Renewables should have full access to the market with properly designed rules, but at the same time take on their own responsibility for balancing the system and strengthening the price signals. We know that this would help save costs for the consumers."
Arrowsmith commented: "If I see a phrase about taking on balancing responsibility, that is already assuming that the situation has arrived where renewables don't have priority access anymore, because if they did have priority access, we'd be back in those happy days of a few years ago where you could just 'feed and forget'."
He said that that without priority, renewable operators would have to place a bid on the electricity markets in reaction to a price signal. The problem is that being a supplier of variable wind or solar energy means that the operator cannot guarantee the wind will be blowing or the sun shining at the right time.
Arrowsmith added: "So you will be in the positon where you would have to go and contract with a third party – some kind of backup provider of power – if your own turbine or renewable energy source isn't able to provide it.
In a similar response, James Watson, chief executive of SolarPower Europe, told PV Tech that he was "pretty sure" the Commission will remove priority dispatch for renewables, but that in return the industry might get a compromise. Watson suggested that renewables might then suffer curtailments, but also get compensation at the wholesale market price of roughly two cents.
He added: "That's not good enough. If there is compensation it has to be retail price which is at 34 cents."
Also speaking to PV tech at the event, Claude Turmes, Member of the European Parliament and representative of the Luxembourg Green party, said that Šefčovič had avoided answering questions about plans to remove grid priority for renewables at a wind conference in Hamburg last week, as has been cited in various media reports.
Priority access
Priority access means the grid operators at the distribution level are obliged to connect the solar installations, but removing priority means the grid operator can claim to be overloaded and no longer has to connect the renewables system.
Turmes pointed out that 70% of all grids at the distribution level in Europe belong to just 10 big power companies, which he claimed have an interest in obstructing wind and solar.
He said: "The day where we would remove priority access, they would use their grid business to slow down the connection of solar."
Priority Dispatch
Turmes said priority dispatch means green electrons produced are allowed straight to the market. Once installed, solar has such cheap running costs that it out competes coal, nuclear and gas; however, there is an overcapacity for all electricity in Europe.
He added: "We have a huge overcapacity because we have market prices which are completely biased. Coal doesn't pay for its pollution and that is linked to the failure of the European Climate CO2 certificate system, which is €7 per tonne, whereas some studies say to us that the real cost of climate change is they should pay €200."
He said the same applies to nuclear power in terms of climate costs.
If the grid is congested, the grid operator must decide which power source to curtail. Thus, if priority dispatch for renewables is removed the grid operator will curtail renewables, even though solar is cheaper than coal and nuclear in theory. This is because "inflexible" nuclear takes one and half days to bring back onto the grid if removed and coal takes 10-12 hours. Both options are expensive to curtail, so solar and wind are the cheapest to curtail.
Turmes said: "Therefore one of the key issues, which we have to fight for now to keep in the new legislation, is priority access and dispatch."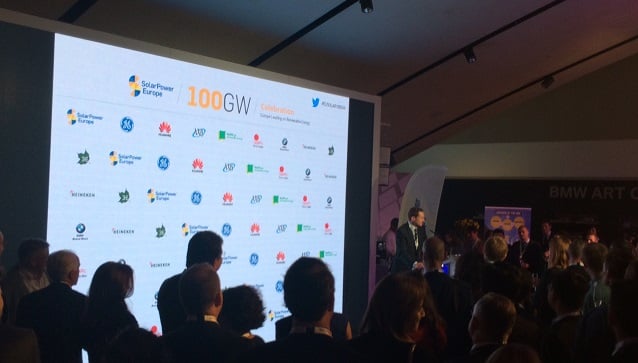 The fight
Turmes said that the German minister of energy Sigmar Gabriel reacted strongly against Šefčovič's hints that grid priority would be removed at the Hamburg Wind conference, having just been granted approval for such priorities in Germany.
Turmes said the fight to keep grid priority and to avoid an "absurd situation" would need to involve collaboration with the German government and putting forward the argument that nuclear and coal would take over without renewables priority.
"We will use the next three months to win this vis-a-vis Commission," said Turmes. "The good thing about [the] Commission is that the president Mr. Juncker has said we want to be number one in renewables so if they remove priority access and dispatch he will be in a complete contradiction of what he has promised and we have to tackle him to deliver."
Alternatives
While Watson agreed that the industry wants to keep its grid priority, which was "one of the main functions that allowed people to invest" in solar, he also said that the reality has been different. Many countries across Europe have curtailed solar as it is the easiest to curtail.
He added: "So we have to kind of move on beyond the priority dispatch; beyond the priority access issue. We have to look at something else."
Should the grid priorities be taken away, Watson called for proper compensation, which at the correct price should be a disincentive for governments to curtail renewables.
He also said that curtailing renewables is "missing the point of the decarbonisation agenda" – adding: "We are moving into a new era and if they want to take away something they have to replace it with something which gives us the value of our product."
Finally Watson suggested that there is a need for pan-European investor state dispute settlement mechanism, to give the solar industry a unified legal body to help it fight retroactive cuts and other policy U-turns across the continent.
The mood in Brussels was certainly celebratory, but it is clearly a tough ask to forecast the progress of the industry in the coming years.
Also at the event, Guoguang Chen, general manager of inverter manufacturer Huawei's Smart PV Europe Business, said that fully digitized solar power plants will be the next focus for improving efficiencies in the solar PV industry.