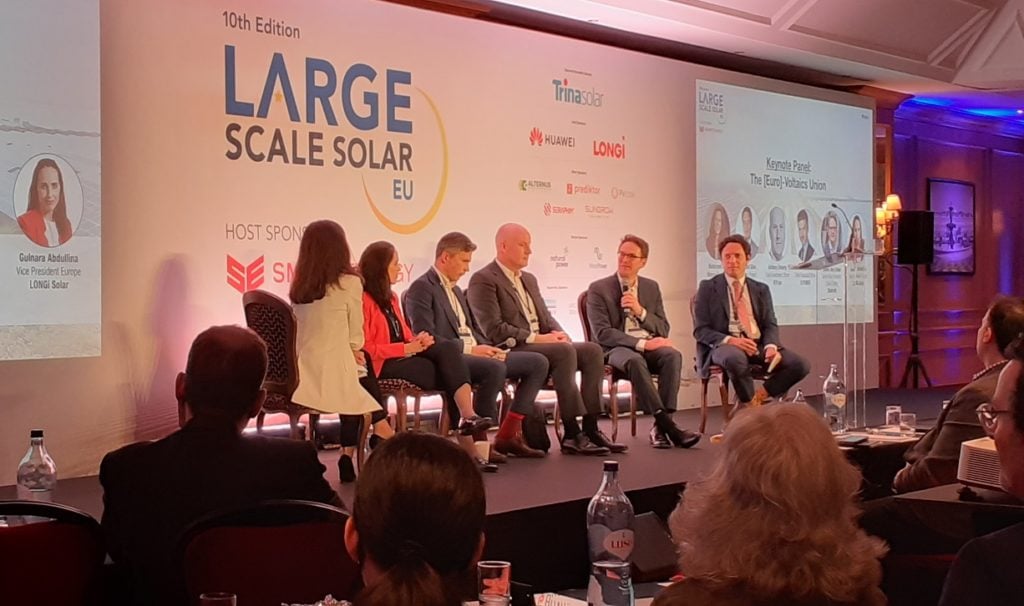 Solar players in Europe have called for efforts to accelerate renewables deployment and unlock more corporate power purchase agreement (PPA) volumes in light of the European Union's (EU) push for more energy independence following Russia's invasion of Ukraine.
The European Commission announced earlier this month it would simplify renewables permitting as it unveiled its REPowerEU strategy, which will see the EU reduce demand for Russian gas by two-thirds before the end of the year. That plan follows EU proposals to increase the percentage of renewables in the bloc's energy mix from a previous target of 32% to 40% by 2030 as part of its 'Fit for 55' package.
Russia's invasion of Ukraine means that Fit for 55 is now "something that you can throw in the bin", said Stefan-Jörg Göbel, senior vice president of wind and solar for Spain and Germany at Statkraft, adding: "I think we have to radically rethink energy policy from A to Z."
Speaking at this week's Large Scale Solar event, hosted by PV Tech publisher Solar Media, Göbel said that while energy policy has previously been focused on balancing security of supply with environmental concerns and the economy, now it has shifted to "security of supply first, second and third".
"So it's about doing everything possible to bring in more supply into the market via solar, wind, any other technology, including hydrogen, as fast as we can."
Göbel pointed to an announcement by Portugal's secretary of state for energy, João Galamba, who said at the event that the country will no longer require environmental impact assessments for new solar projects with a capacity of under 50MW as the government looks to accelerate PV deployment.
"I think this is the type of radical approach we need to see," Göbel said of the policy.
While the war in Ukraine has prompted a rethink of European energy policy, it was also revealed during the panel discussion that it has also disrupted the solar supply chain.
Gulnara Abdullina, vice-president of Europe at LONGi Solar, said the module manufacturer previously transported connectors from Europe by land, but with some train services stopping because of the war, they now need to be airfreighted. "As a result, they're getting more expensive," she said.
In terms of solar financing, Fit for 55 and accelerated deployment targets in markets across Europe means "a huge pool of capital is needed", according to Anthony Doherty, chief investment officer at Irish renewables investor and asset manager NTR.
While corporate PPAs are becoming more popular across Europe, Doherty warned that there will be a shortage of them as there aren't enough credit-worthy counterparties of sufficient size to meet the demand that's needed for the number of projects.
As a result, he called for more support to encourage aggregation. "It would be fantastic if there was some EU backstop in terms of mid-tier corporates that could align together and aggregate. I think that's probably where we are missing a big part is medium-size corporates aggregating and then going out to market."
PV Tech Premium reported earlier this year that there could be an emergence of credit structures that enable smaller and mid-sized corporates in Europe to access renewable PPAs via aggregation.
A recurring theme brought up by speakers at the Large Scale Solar event is the need for the industry to communicate the benefits of solar to local communities.
Manuel Silva, director of project development at investment firm Aquila Capital, said developing solar in Portugal has changed within the last two years, with there now being more scrutiny on new projects. This means developers should engage with local stakeholders and carry out public consultations to understand community concerns and expectations.
"Then comes the important part: which is you need to walk the talk, meaning you need actually to implement some changes in the project, you need to live up to the standards that you are preaching," Silva said. This could mean, for example, reducing the use of concrete foundations, avoiding cutting down trees and creating landscape integration plans that mitigate a project's impact.
"On top of that, you should create a strategy of shared value," Silva added. "You basically need to find initiatives – be it with agriculture, be it with tourism, be it with biodiversity – and create some initiatives locally that present you as an agent of local development and as a long-term partner."