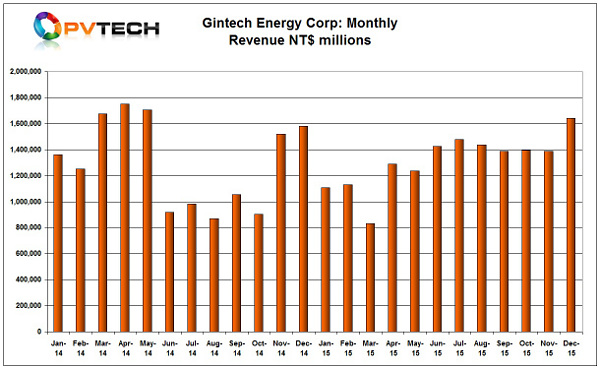 Major Taiwan-based solar cell producer Gintech Energy Corp ended a period of around six months of flat sales due to capacity constraints, posting December sales up 18.14%, compared to the previous month.
Gintech reported December, 2015 sales of NT$1,639 million (US$49.3 million), compared to approximately (US$41.7 million) in the previous month. The December figures were its highest in 18-months.
The company had previously announced plans to ramp both solar cell and module capacity at its new facility in Thailand, which would enable module production to start in the fourth quarter of 2015 and solar production in early 2016.
Preliminary 2015 fourth quarter sales were around NT$4,421 million (US$132.9 million), an increase of 2.8% from the previous quarter. Preliminary full-year sales topped NT$15.748 billion for 2015, up just 1.16% year-on-year.