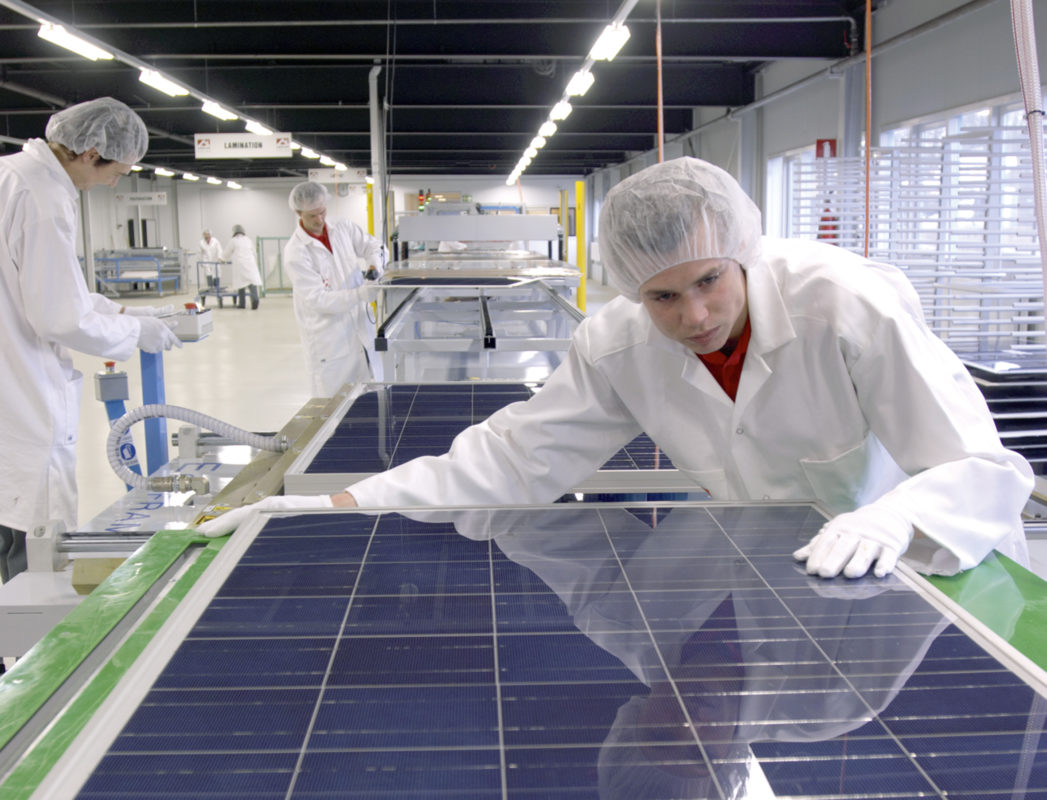 PV Tech's preliminary analysis of global PV manufacturing capacity expansion announcements in April, 2016, revealed nearly 9GW of planned future expansions of thin-film modules, solar cells and module assembly production, up from over 7.3GW in the previous month and the third consecutive monthly increase.
Total planned expansions reached 8,935MW in April, which included thin-film modules, dedicated crystalline silicon solar cells and dedicated module assembly, but no integrated solar cell and module assembly.
In contrast to the previous month, when several 'Silicon Module Super League' (SMSL) members (JinkoSolar, Trina Solar and Canadian Solar), announced further capacity expansions to meet expected global demand in 2016, April was characterised by new entrants and small-scale module manufacturers.
Dedicated solar cell capacity expansions announcements reached 3.75GW in April, compared to 3.1GW in March. The increase was primarily driven by confirmations to PV Tech by new entrant, Mundra Solar PV Ltd, a new subsidiary of India-based Adani Enterprises.
Having initially sought manufacturing partnerships, including an integrated multi-gigawatt operation with SunEdison that included polysilicon to modules and on to downstream PV power plant development, Adani is currently establishing its own operations.
First phase plans includes 1.2GW of multicrystalline and monocrystalline solar cell and module assembly, including 900MW multi-c-Si cell, 200MW of Mono-c-Si PERC production and 100MW of bifacial production. Mundra Solar plans to start initial production in October 2016. Plans also include a further 1.8GW of cell and module production at facilities being built in Mundra, Gujarat, India.
Dedicated module assembly capacity expansions announced in March reached over 4.38GW, up from 3.7GW in the previous month.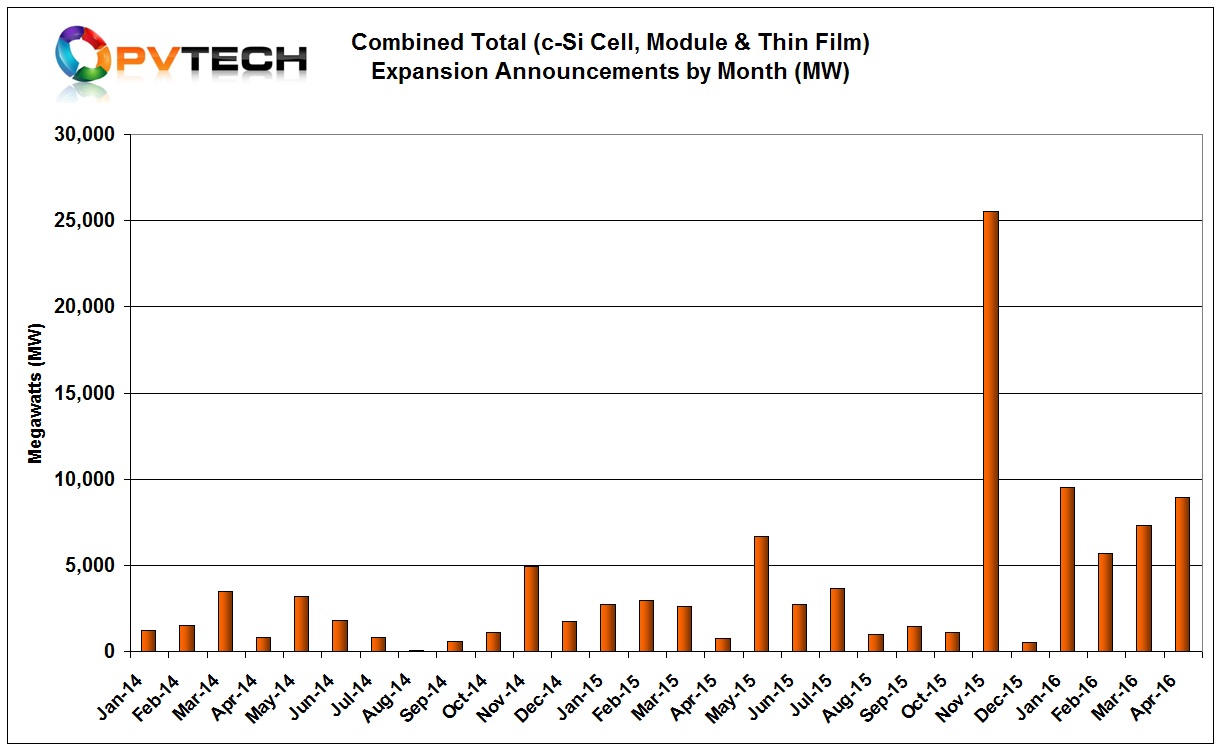 Aside from Mundra Solar's ambitious plans, April generated announcements from module manufacturers in Taiwan, China and India. However, the second largest module assembly plans in April was the announcement by CS Wismar, a German-based distributor of restarting module assembly operations at the former Sonnenstromfabrik facility in Wismar, Germany, formerly owned by Centrosolar, which went bankrupt in 2014 that led to rival module manufacturer, Solar-Fabrik acquiring the facility in July, 2014. However, Solar-Fabrik itself went bankrupt in February, 2015.
CS Wismar said the manufacturing facility had a capacity of around 525MWp and would primarily offer OEM services for companies focused on the fast growing US market.
Breaking a potential sixth consecutive month of zero thin-film module production expansions was news that laser systems specialist LPKF Laser & Electronics had secured a major systems order from an unnamed customer within the PV manufacturing sector. With limited thin-film activity, only two customers are likely, First Solar and Avancis. However, the size of the LPKF order indicates it relates to First Solar and the upgrade of 800MW of mothballed capacity from the closure of its two production plants in Germany a few years ago.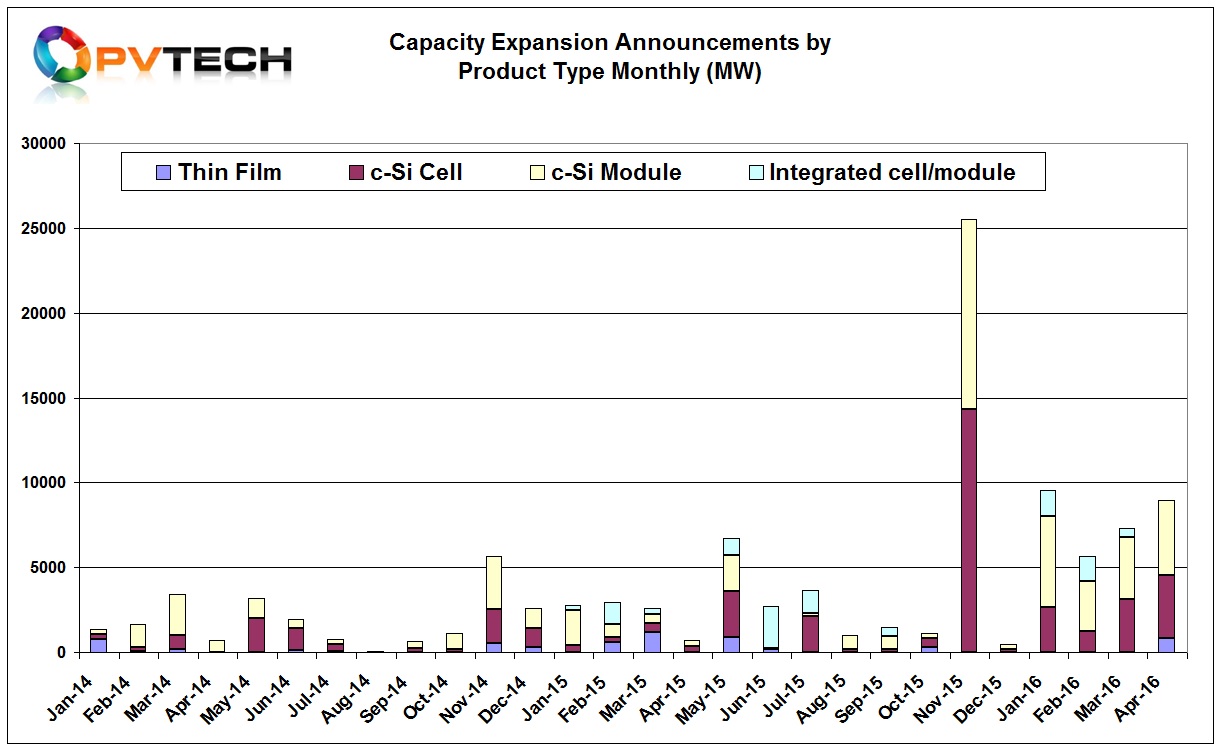 Geographical split
With the absence of SMSL members and the confirmed plans of Mundra Solar, India accounted for 6.1GW of total new capacity expansion announcements in April.
Purely from an announcement perspective, India had become the second largest to China in 2015 with over 7.8GW of manufacturing plans and with the Mundra Solar plans, India remains a key potential emerging manufacturing market.
The expectation that First Solar is preparing to upgrade mothballed lines, the likely destination is Malaysia. With a planned 200MW of solar cell expansions at TS Solartech, Malaysia accounted for 1GW of the total announced in April.
In the last two years, Malaysia has now attracted over 3.6GW of new capacity announcements, while Thailand has attracted over 2.3GW, confirming South East Asia's importance.
A lull in China announcements led to only two companies planning capacity expansions, which totalled only 600MW.
Only six countries accounted for all of the announcements in April, compared to nine in the previous month.
Overall, April has followed the previous months of 2016 with a relatively balanced number of solar cell and module assembly expansions, while total MW capacity announcements have remained at higher intensities than in 2015, excluding the months of May and November in 2015.