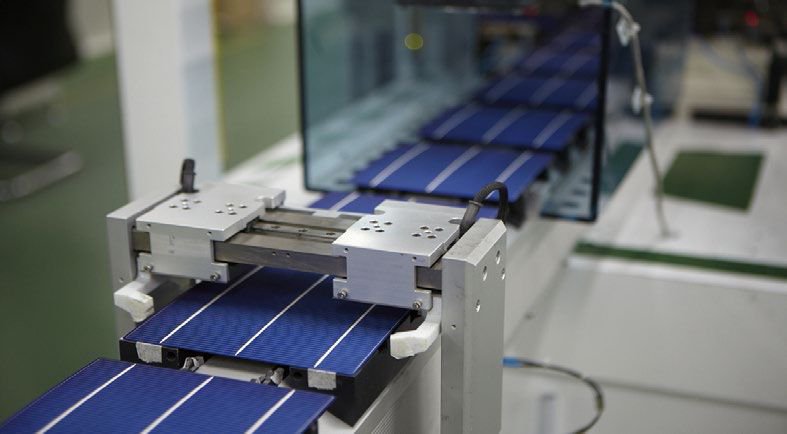 PV Tech's preliminary analysis of global solar PV manufacturing capacity expansion announcements in the first quarter of 2017, shows a strong rebound compared to the significantly subdued environment experienced in the second half of 2016.
Although capacity expansion announcements in January remained subdued and followed the low level of activity set in the second-half of 2016, February proved to be the third highest month since 2014, and the highest February in more than three years.
March did not maintain that momentum but still posted strong figures, becoming the second highest March figures in more than three years.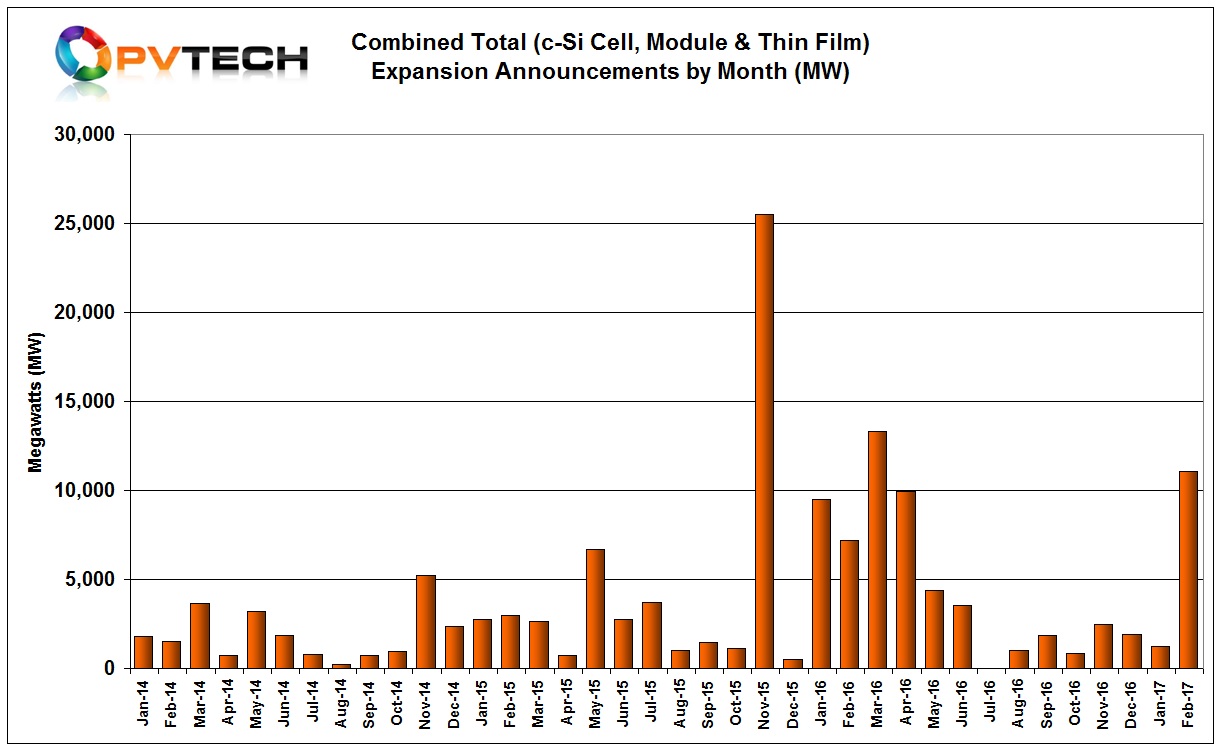 As a result, the first quarter of 2017 was the third highest for capacity expansion announcements since the start of the PV industry's second major manufacturing expansion phase in 2014.
As previously reported, January, 2017 capacity expansion plans remained subdued, indicating the potential for and end to the latest global expansion phase, after seven months of low activity, primarily due to fears of overcapacity and fact that global module ASP's declined by around 25% in the second half of 2016.
A total of 1,235MW of thin-film, solar cell and module assembly expansion plans were announced in January, 2017. This included a total of around 370MW thin-film announcements, 450MW of solar cell and 415MW of module assembly plans.
This low January total was boosted by rare CIGS thin-film plans from China and contrasts with 1,900MW of expansions announced in December, 2016.
February rebound
The significant rebound in capacity expansion plans in February, 2017, led to a total of 11,040MW of announcements. This included 6,740MW of solar cell plans and 4,300MW of module assembly plans. PV Tech's preliminary review indicates no new capacity announcements were made in the thin-film sector or for integrated cell and module manufacturing plants.
There were two key trends a play. Firstly, several large announcements were actually phased expansions over specified and non-specified time frames.
A key announcement was that SunPower had signed a new joint venture partnership in China to produce both solar cells (P-type mono PERC) and modules for its P-Series technology with its existing China-based supply chain partners Dongfang Electric Company (DEC) and Tianjin Zhonghuan Semiconductor (TZS) that included a manufacturing capacity expansion from 1.1GW to 5GW.
The second key trend was the start of expansion plan updates from 'Silicon Module Super League' (SMSL) members. JinkoSolar was the first SMSL to announce plans to expand in-house solar cell production by 500MW in 2017 and module assembly capacity by 1,500MW.
Also of note in February was the confirmation that Panasonic would take over the Tesla, (Gigafactory 2) formerly the SolarCity 'Riverbend' facility in Buffalo, NY State.
However, as the 1GW facility plans had been announced back in June, 2014 it does not count as a new announcement from a capacity perspective and is not included in the preliminary new announcements for February.
Perhaps more importantly is that its seems increasingly possible that Panasonic's expected US$250 million investment in Gigafactory 2 is only related to module assembly and not HIT solar cell production. This would change the status of the facility from being the largest integrated production plant in the US to being the largest module assembly plant, should it be ramped at sometime in the future to 1GW plus of module capacity only.
March still strong
Preliminary figures for March, 2017 indicate a total of 5,320MW of new capacity expansion plans were announced. Following-on from February, only solar cell and module assembly expansions were announced. This included 2,220MW of solar cell plans and 3,100MW of module assembly plans.
Momentum in capacity expansions were sustained primarily by three SMSL members (Hanwha Q Cells, JA Solar and Canadian Solar) reporting on plans for 2017 as part of their fourth quarter and full-year financial results.
Hanwha Q Cells and Hanwha Q Cells Korea are adding a combined 1.2GW of P-type multi/mono PERC capacity in 2017, including 500MW via PERC upgrades and more mono migration at its facilities in Malaysia and South Korea.
Hanwha Q Cells also announced plans for an integrated (wafer/cell/module) P-type multi/mono PERC plant in Turkey with a nameplate capacity of 500MW as part of local content rules for developing PV power plants in the country. However, the establishment of plant could be several years away as it seeks government approvals.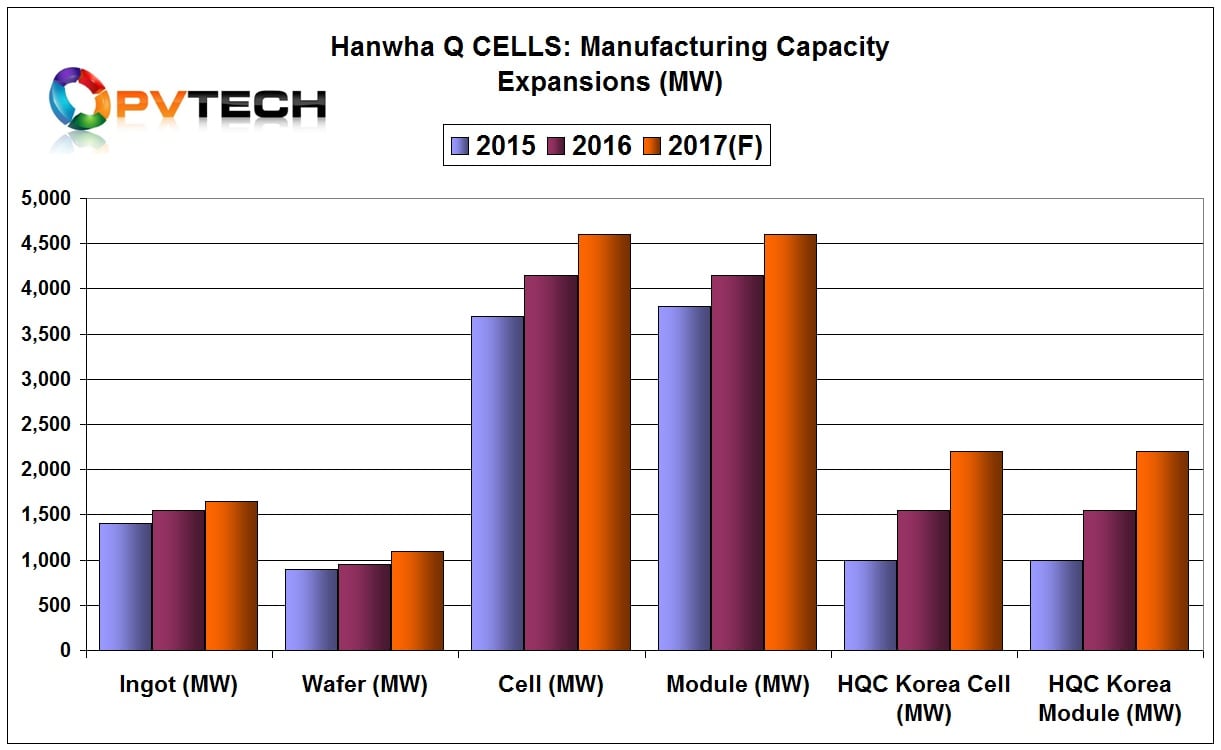 JA Solar said it was adding 1.5GW of P-type multi/mono PERC capacity via expansions and upgraded lines in 2017. The company would also add a further 500MW of module capacity this year.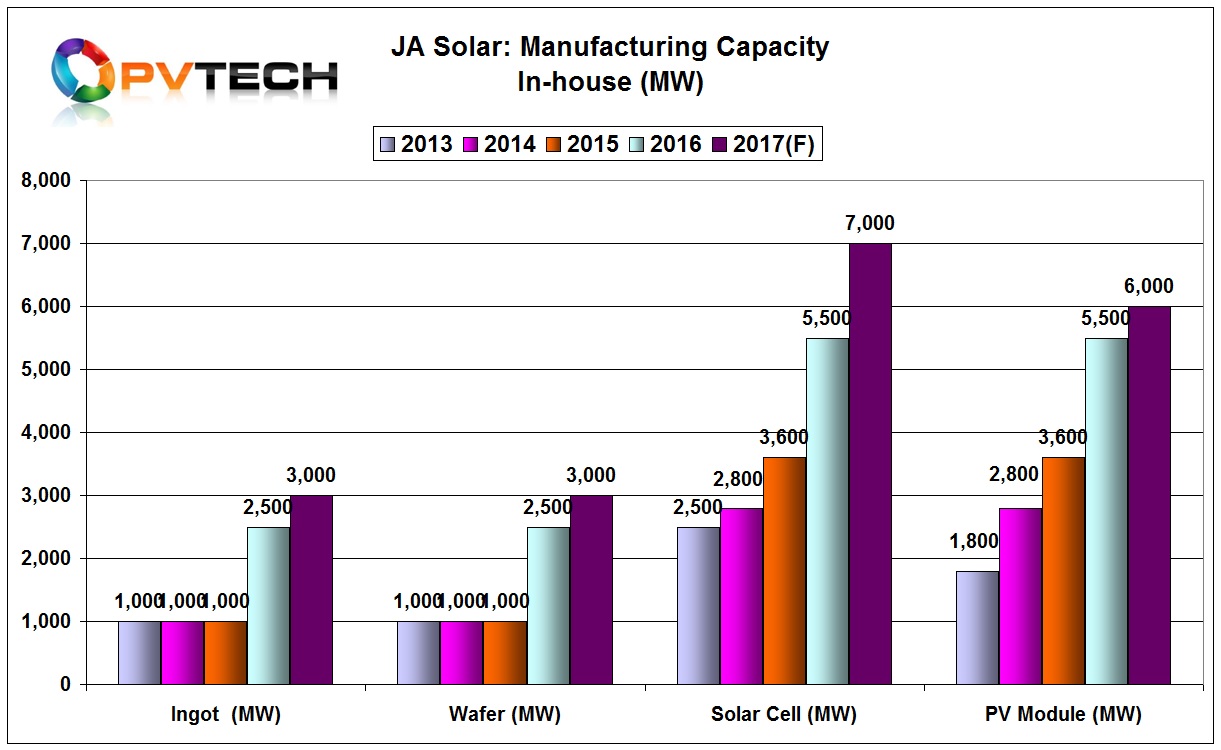 Canadian Solar also reported that would expand P-type multi PERC module assembly a further 800MW in 2017. Although the company detailed other expansions, these were previously documented and primarily relate to bringing cell lines back on stream in China, after a tornado wrecked a new facility that had just started ramping in 2016. In respect to these expansions, Canadian Solar is adding 2,050MW of solar cell capacity in the first half of 2017, providing a total in-house cell capacity of 4,490MW. Module assembly capacity is expected to reach 6,970MW in the same time period.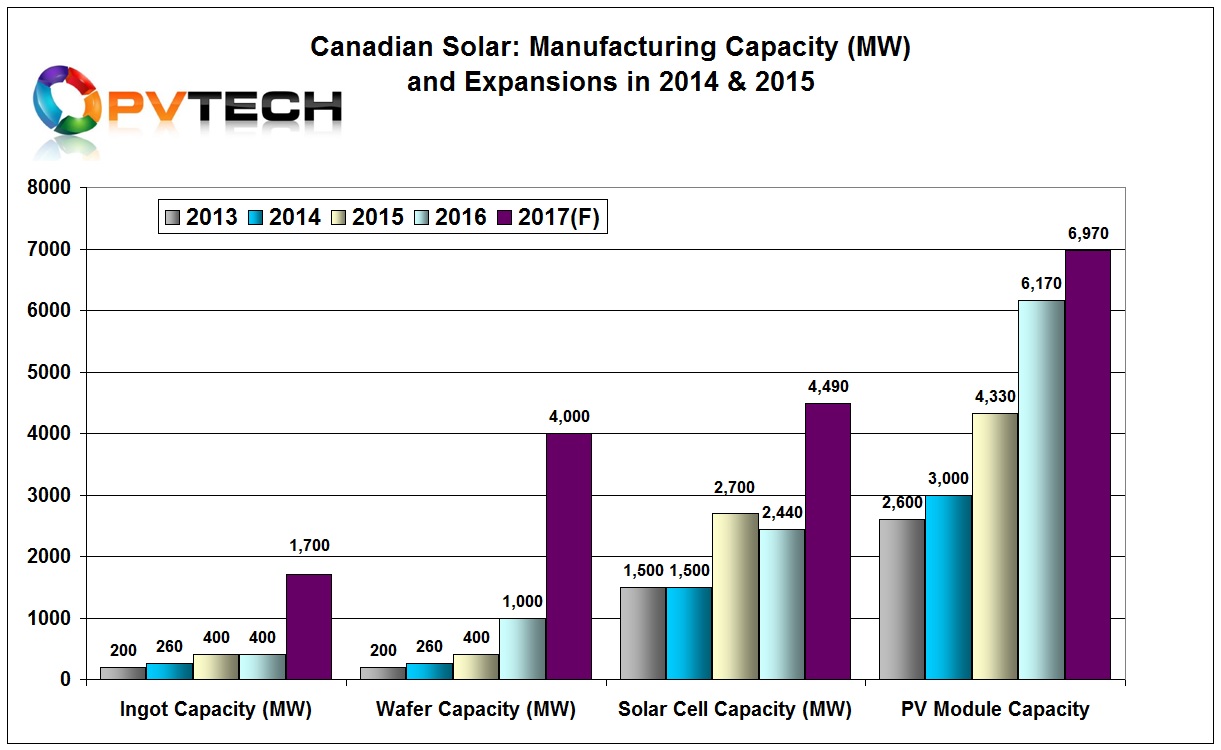 Combined, SMSL members (JinkoSolar, Canadian Solar, JA Solar and Hanwha Q CELLS) have announced 3,700MW of solar cell expansions and 4,000MW of module assembly expansions for 2017.
With Trina Solar going private before being required to provide fourth quarter and full-year financial results, the company has yet to make public any new expansion plans for 2017. However, indicative of intent, Trina Solar became a JV partner with LONGi Green Energy Technology's previously announced 5GW monocrystalline silicon ingot pulling production plant in Lijiang City, Yunnan Province, China.
Surprise strong quarter
Preliminary total global PV manufacturing capacity expansion announcements in the first quarter of 2017 were 17,595MW, which just beat the second quarter of 2016, when total expansion plans topped 17,500MW.
The first quarter included 370MW of thin-film announcements, 9,140MW of solar cell and 7,815MW of module assembly. No integrated plant announcements were recorded for the quarter.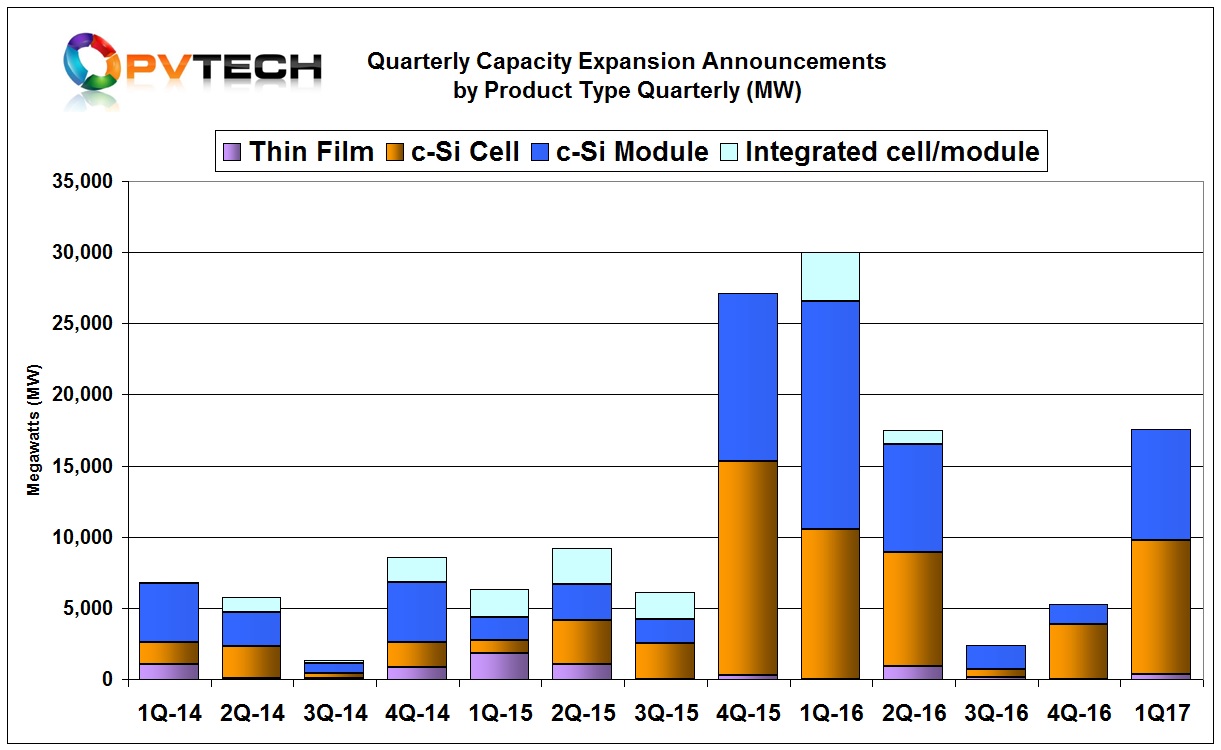 The quarter was also notable for a number of possible expansions that lacked meaningful information, although these were module assembly related.
Almost all of the solar cell expansions were for high-efficiency upgrades such as P-type multi PERC, P-type mono PERC, N-type mono heterojunction and bifacial cells. Indeed, 2,100MW was attributed to N-type mono IBC/bifacial cells, due to confirmations to PV Tech that Jolywood (Suzhou) Sunwatt had started construction of a new cell production plant in February.
On a geographical basis, China expansions dominated, followed by South Korea and the Philippines. Expansions were also announced in India, Malaysia, Taiwan, Germany, Italy and US.