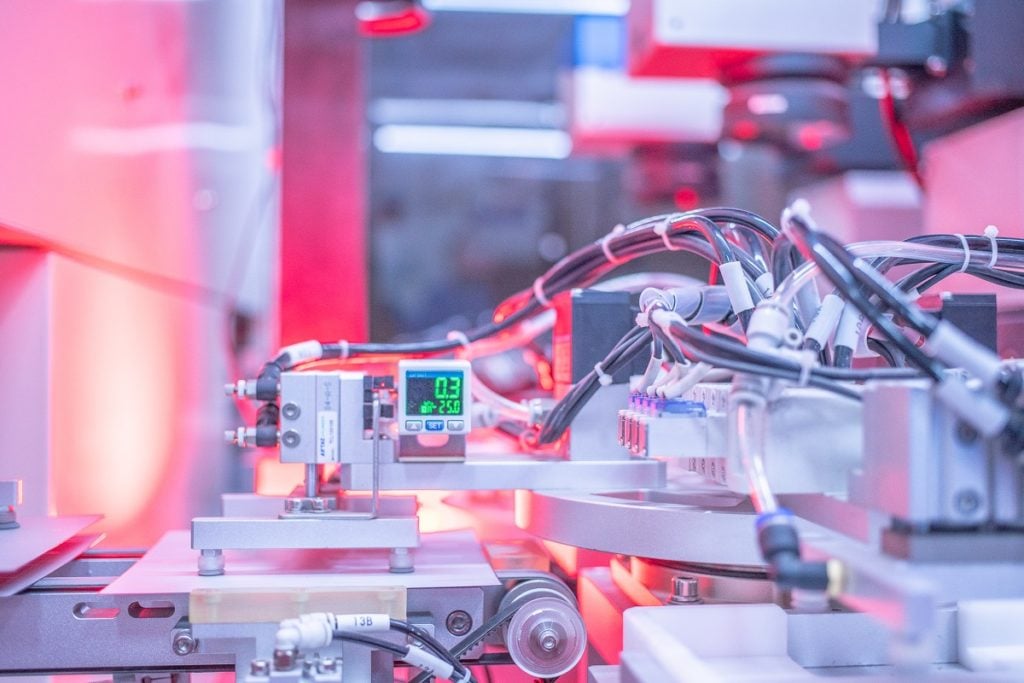 PV Tech's global R&D spending report highlighted records and trends in R&D spending from the 'Solar Module Super League' (SMSL) group of solar manufacturers, with that group of ten companies continuing to set news records out to 2020. This has been especially true of LONGi Green Energy, which has led on R&D spending in recent years.
This report highlights how the key technology transition from passivated emitter rear cell (PERC) to tunnel oxide passivated contact (TOPCon) has been borne out in R&D spending, starting with the highly-competitive members of the SMSL and an acceleration in R&D after 2016.
Historical (2007 – 2016) R&D spending from 12 key PV module manufacturers combined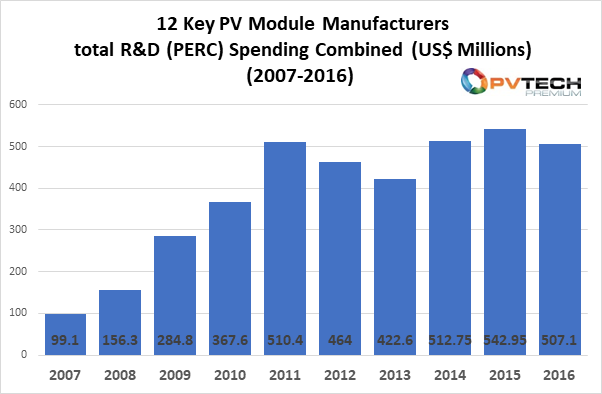 In the early years of the above mentioned period, from 2007 to 2011, the 12 SMSL member manufacturers reported a steep sequential increase in R&D spending, totalling US$510.4 million at the end of 2011. This followed a spending decline that started in 2004, triggered by an overcapacity scenario and other supply chain constraints.
But after that decline, R&D spending increased to a new peak in 2011 and remained relatively stable – falling only to US$422.6 million in 2013 – as the industry embraced unprecedented global demand for solar PV and the emergence of a new dominant technology in PERC.
R&D spend 2007 – 2016 by manufacturer, including dominant technology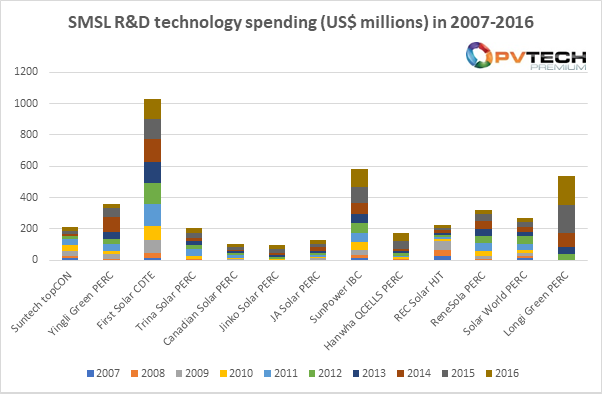 In relation to PERC technology spending, from the above chart it can be clearly seen that spending from SMSL companies has been historically dominated by PERC technology. However, other manufacturers have provided a wide range of solar cell technologies, including TOPCon, HJT and Cadmium Telluride (CdTe) thin film.
First Solar, which has long championed CdTe thin film, notably spent around US$1 billion between 2007 and 2016 on R&D, bringing forward its technology. Meanwhile SunPower spent a combined US$600 million in the same timeframe advancing its specialism in interdigitated back contact (IBC) technology.
In relation to spending on PERC, this may seem relatively and comparatively small, with each company only spending around US$200 million each in R&D. However the combined level of R&D spending by the SMSL manufacturers on PERC outstripped that of other technologies and total R&D spending, irrespective of technology, exceeded historical highs, as the above chart shows.
The evolution of the SMSL
SMSL manufacturers have undergone substantial change since we first began collating R&D spending figures, perhaps best typified by the acceleration of R&D spending, nameplate manufacturing capacities and business model which now go much further – in both complexity and scale – than before.
The typical business module of solar module manufacturers has changed from one wherein the company supplies modules only, and procures the cells and wafers necessary to assemble a PV module. A manufacturer would ordinarily have shipped to global demand, with the main revenue collection from global shipments.
Historically those business models have been relatively simple, and SMSL companies need only be categorised based on revenue recognition and the level of module shipments. However the scale at which shipments have been recorded has grown from megawatts to gigawatts to tens of gigawatts, and other manufacturing ranking mechanisms have also assessed other factors such as bankability and nameplate module capacity.
A new era of scale and investment
In many ways, LONGi has become emblematic of the new era of scale witnessed within solar PV. LONGi has established a large manufacturing footprint from wafer to module, recording wafer shipment sales of 58.15GW in 2020 (both internally and externally) – equivalent to a market share in excess of 25% – rising once again to 70GW last year. Module shipments last year also grew meteorically to 38.52GW. Given its scale and breadth of coverage, LONGi could perhaps be best described as ushering in a 'conglomerate-type' business model for solar PV, one which has translated into accelerated R&D spending.
In 2014, after years of R&D into PERC as a successor to Al-BSF – and with additional catalysts in the development of 'collective' spending and technology purchasing cycles – the SMSL turned its attention to TOPCon, as the below chart highlights.
SMSL R&D cell technology spending into TOPCon, 2014 – 2020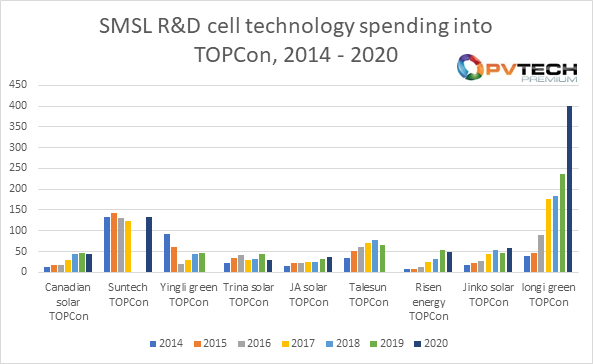 The chart illustrates an important development trend of R&D spending acceleration, triggered by market demand, that had been forming as a collective or a clustering effect around a particular technology type since 2014.
The above collective – Canadian Solar, Suntech, Yingli Green, Trina Solar, JA Solar, Talesun, Risen Energy, JinkoSolar and LONGi – have driven R&D spending into TOPCon in pursuit of competitive advantage, but have jointly invested billions into commercialising new cell technologies.
In 2014, the SMSL switched to TOPCon technology, setting an important trend in motion alongside an acceleration of R&D spending in what was a short five-year period. For example, Canadian Solar spent around US$12.5 million in 24, but accelerated this figure to US$45.16 million by 2020. JinkoSolar meanwhile spent just US$17.3 million in 2014, but grew this more than three-fold to US$59.64 million in 2020.
As another indicator of LONGi setting the pace for others in the sector, its R&D spending set records from 2014 to 2020, accelerating its R&D expenditure at the quickest rate by far. In total, LONGi's R&D spending increased nine-fold from 2014 to 2020.
But, by investing as a collective in TOPCon over that five-year period, the SMSL effectively created a transition driven by a collective spending and technology buy cycle.
The investment and technology buy cycle
The technology buy cycle has been created due to a need for competitive products to quickly ramp up and capture global market demand. Arguably, this cycle is similar to the effect of the semiconductor industry which has seen similar increases to the cost of advanced materials, new manufacturing capacity and its workforce.
Global demand for solar is skyrocketing, tilting the industry from one led by demand to one dictated by supply or capacity. But why is spending on TOPCon so popular?
The growth of solar PV demand coincides with other factors, one of which being monocrystalline's dominance (in 2020 monocrystalline's share over multi had exceeded 90%), alongside the need for a colossal increase in manufacturing capacity which has, in turn, created strong demand for advanced solar cell processing tools.
Going from PERC to TOPCon is advantageous due to the similarity in manufacturing processes, meaning that the transition is more cost effective. Transferring from PERC to TOPCon is comparatively cheap on a cost-per-watt basis, requiring fewer differences such as metallisation, diffusion furnaces and PECVD. As a result, the market demand can be satisfied without a major increase in the levelised cost of electricity, allowing competitive manufacturing to remain.
Furthermore, SMSL manufacturers have also been able to achieve cost benefits through advantages in training of staff and in other purchasing issues, such as those affecting backsheet, glass and metallisation paste driven by global demand.
As noted above, the SMSL has set new records for R&D spending to progress towards the shift from PERC to TOPCon, establishing a trend for more and more to be spent on technology development in each of the preceding six years. The spending dominance of LONGi in particular has put previous leaders First Solar and Sunpower in the shade.
This has facilitated the SMSL in quickly leveraging on advanced PERC and reinforcing their lead in TOPCon technology, developing a new supply chain change and effectively creating the shift to TOPCon through a collective investment and technology buy cycle.
The response to global demand from end markets has, as the above notes, been an unprecedented acceleration in R&D spending.