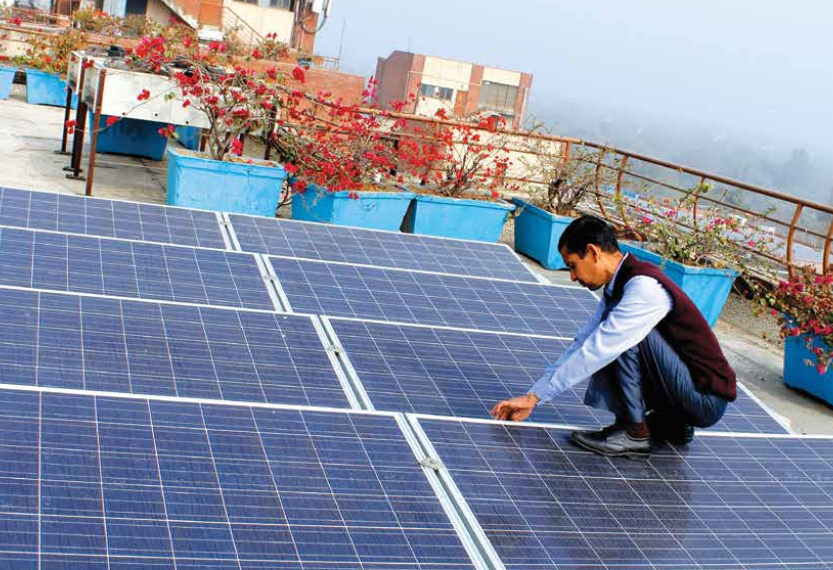 India has sanctioned the benchmark costs for grid-connected rooftop and small-scale solar PV plants for 2017/18, according to a Ministry of New and Renewable Energy (MNRE) release.
Vinay Rustagi, managing director at consultancy firm Bridge to India, told PV Tech: "These numbers are essentially used to decide how much subsidy to give to rooftop companies.
"Subsidy is also based on [the] auction process in many cases but there are still some cases where it is given on reference costs, as determined in these orders."
The revised benchmark costs come into force as of today.
| Rooftop capacity | Benchmark cost (INR/W) |
| --- | --- |
| up to 10kW | 70 |
| >10-100kWp | 65 |
| >100-500kWp | 60 |
Combined with a 30% capital subsidy for rooftop solar (70% for special states), and a feed-in tariff in certain states, the agricultural and residential PV segments are expected reach an inflection point around 2019-20 and will significantly take off once operational issues around battery-based energy storage have been sorted, according to global analysis firm Crisil Research's January report.
Today, MNRE also brought into effect revised benchmark costs for various off-grid and decentralised technologies, including solar with battery banks:
| PV plant | Benchmark cost (INR/W) |
| --- | --- |
| >1kW-10kW (with battery bank @ 7.2VAh/W) | 135 |
| >1kW-10kW (with battery bank @ 3.6VAh/W) | 108 |
| >1kW-10kW (with battery bank @ 1.2VAh/W) | 90 |
Mercom Capital Group has also reported that standalone solar projects with a combined capacity of 149MW have now been installed in India under its off-grid programme, known as DDUGJY. This programme has been lagging behind both the rooftop and utility-scale sectors ever since the overall 100GW solar was announced.
Mercom also reported that the government is planning a solar energy program for decentralized power loom units in India, offering financial assistance and capital subsidies. This is due to come into effect on 1 April this year. The aim is to address power shortage issues faced by the decentralized power loom units.
Power minister Piyush Goyal has also said that India is expected to hit 20GW solar within 15 months.