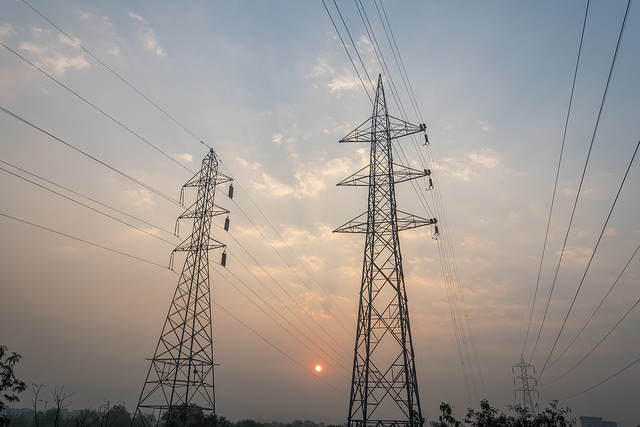 India is expected to add more than 9GW of solar PV capacity this year, but its long-term renewable energy future requires adding transmission capacity and removing bottlenecks immediately, according to the latest quarterly solar market update from consultancy firm Mercom Capital Group.
Mercom's current figures for Indian solar installations stand at:
2015 – 2.3GW
2016 – >4GW
2017 – >9GW
Solar projects under development now total around 14.2GW, with 6.3GW of tenders waiting to be auctioned, but these strong figures face "significant headwinds" in terms of transmission and evacuation, which could threaten the pace of growth, said Mercom.
Cumulative solar installations including utility-scale and rooftop projects have now reached 9.6GW and while this capacity continues to grow at pace, quality and abundant transmission infrastructure will become increasingly important, particularly in solar parks, which are already facing significant lags. Many developers are being held back and losing revenue due to transmission delays.
With annual installations forecast to more than double this year, Mercom stated: "there is a legitimate concern that the current grid infrastructure is inadequate to handle the capacity."
It added that the industry is "betting on the completion" of the Green Energy Corridor (GEC) to help solve much of these problems, but progress is slow. The GEC will connect renewable energy rich states to high energy demand centres and states that lack renewable energy generation potential.
The GEC being built in Andhra Pradesh, Gujarat, Himachal Pradesh, Karnataka, Madhya Pradesh, Maharashtra, Rajasthan, and Tamil Nadu. While addressing a number of current issues, the GEC is also expected to address future curtailment of both solar and wind projects. However, after multiple delays, the sector is already "sceptical" about whether completion will be in time to have an impact.
It is still unknown where the next batch of solar parks will be located as a result of poor transmission availability. Developers have also cited issues with poor communication between the government and state electricity regulatory commissions (SERCs), regarding solar park infrastructure.
Government officials have said that the GEC is on track to meet its March 2020 deadline. The Power Grid Corporation of India has estimated that the cost to develop the GEC comes to INR380 billion (US$5.59 billion).
Module prices declining swiftly
Mercom also said that a swift decline in module prices over the last 3-4 months has been the "single most important positive event" for the Indian solar sector.
Average selling prices (ASPs) of Chinese modules in India declined roughly 10% since August and the lowest module price quoted has declined by about 14% in the same period. This drop in panel prices has provided a lifeline to developers that won projects by bidding for extremely low tariffs in last year's highly competitive auctions.
Meanwhile, Chinese module prices in India have also dropped by around 30% over the last 12 months. The lowest price quoted for crystalline silicon modules was INR21 (US$0.31)/W, which Mercom said was an "inconceivable price point a few quarters ago".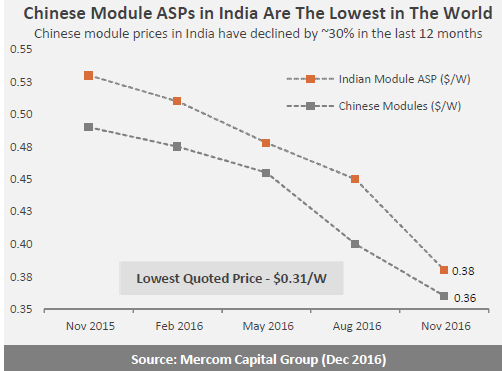 Consequently, projects with tariffs of around INR4.5 (US$0.066)/kWh are in a "comfortable position". However, low component prices will be factored into future auctions, which will push bids even lower. Mercom expects the module price decline to continue, but at a slower pace than in 2016.
Mercom stated: "The challenge for Indian developers will be to bid low enough to win projects in auctions without overly optimistic assumptions. Developers got lucky in 2016, but there is no guarantee 2017 will be the same."
Other concerns and key figures
The Goods and Services Tax (GST) is due to come into force this year, although there is speculation that it may be delayed. Uncertainty around the GST is a cause for concern for many developers with some cautious about bidding for new projects as a result.
Delayed payments in certain states, the transmission issues already cited, and uncertainty around the major demonetisation scheme, have also affected solar auction announcements, which have slowed down over the past three months.
Other key figures include:
Five Indian states now have more than 1 GW each of installed solar capacity
In terms of inverters, ABB, SMA Solar, Chint/Astroenergy, TMEIC, Schneider Electric, and Hitachi lead the pack.
Developers with the highest operational utility-scale solar capacities are Tata Power, Adani, Acme, NTPC and Azure.
Those with the largest pipelines are Renew Power, Adani, Greenko, Acme, and Azure.
Tata Power Solar (20%) and Clean Max Enviro (9%) have by far the largest shares in the rooftop market.
There is continued concern over the negligible positive effects of UDAY, a major package to try and turn around the finances of India's distribution companies (Discoms) according to Mercom, with 17 states and one union territory now signed up out of 29 states and seven union territories.