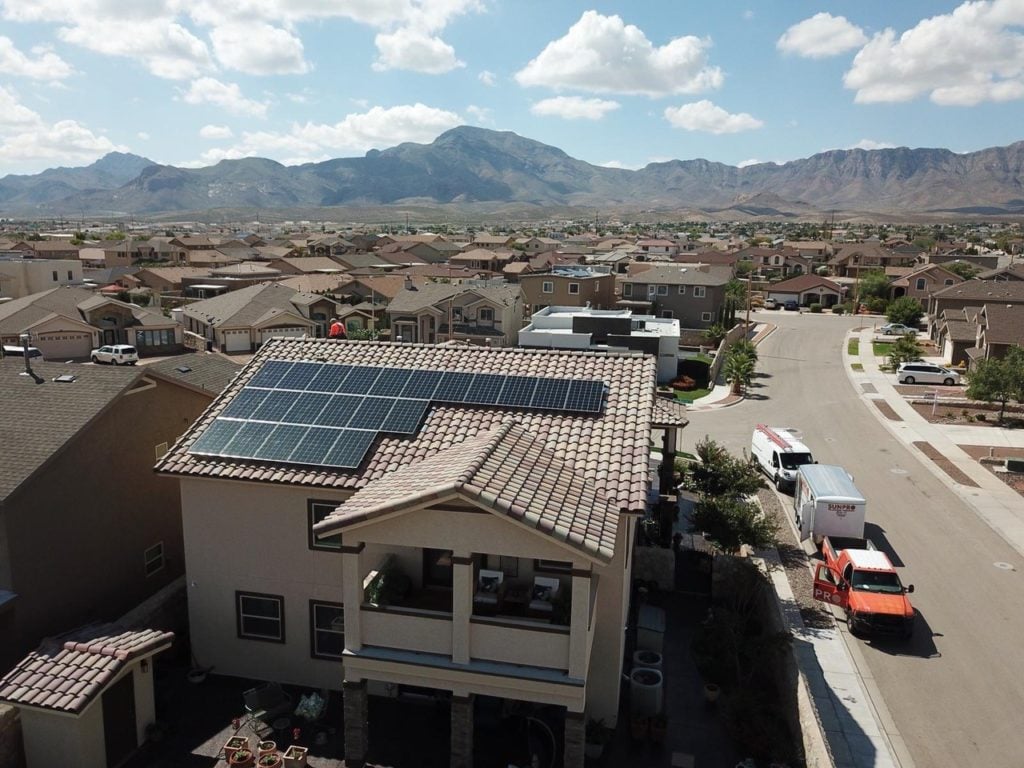 In a survey of 4,000 of its customers, US home security giant ADT found that nearly 30% were interested in getting solar PV at home. Of these, 48% were considering it in the next year. And of these, nearly 90% said they would likely get their solar systems from ADT.
It currently has around six million US customers, so some quick extrapolation tells you that around 860,000 of its customers could look to get residential solar in the next year, with almost all interested in how ADT could help provide it.
Good thing then that ADT has recently bought Sunpro Solar for roughly US$825 million, rebranding the company as ADT Solar.
Over the past decade ADT has been increasingly focused on providing its customers with a connected home environment, says its chief customer officer (CCO) Jamie Haenggi. "And we really feel like solar is that next area that delivers on a great peace of mind for consumers," she explains.
Haenggi says increasing costs, network issues, brownouts and outages are all creating concern for consumers, with ADT Solar looking to address this through the provision of residential solar via its acquisition of Sunpro.
While there were other companies under consideration, ADT decided on Sunpro because of its fully integrated operations in terms of marketing, sales, design, finance, installation and service, says Haenggi. Crucially, Sunpro was also all "employee based" and did not use subcontractors, which ADT believes is vital to delivering strong customer service.
Another reason Sunpro was chosen was its "phenomenal growth in the marketplace", Haenggi explains. According to a company media release, Sunpro witnessed a 90% year-on-year increase in installs in 2020 and had a "cash-flow-positive, asset-light business model" with more than four consecutive years of positive earnings before interest tax depreciation and amortisation (EBITDA).
Furthermore, ADT believed in Sunpro's CEO Marc Jones and the company's management team – who are staying on to run the newly formed ADT Solar – as they understood ADT's approach to the marketplace. "It's not about putting solar on people's roofs for the sake of it, it's about making sure that it makes sense for the consumer," says Haenggi.
The growth strategy
Part of ADT's strategy is to trade heavily on its brand name. ADT is a home security goliath that has been around for 147 years and operates across 35 countries worldwide. Its brand trust and recognition are reasons why it performed so well in the above survey, which was done prior to the acquisition, says Haenggi.
ADT also conducted research on the pull of its new ADT Solar brand. It showed that even through unaided research – where customers are asked to name a solar supplier without being presented with any options – ADT Solar ranked in the top 13 of residential solar companies, with the company soaring to second place through 'aided research' that provided consumers with a list of solar suppliers. This is all despite the fact that ADT Solar is a new entity that hadn't installed a single module at the time of the research.
Haenggi says ADT has no desire to change Sunpro's suppliers of solar equipment, engage in cost cutting exercises or dramatically restructure any of its operations. Instead, it will support ADT Solar through developing its sales team, identifying growth synergies and providing access to a vast market of ADT home security customers.
When asked by PV Tech Premium about Sunpro's recent citation by the US Department of Labour for workplace safety practices, Haenggi says the issues were identified during the company's due diligence and ADT Solar will be implementing new workplace safety practices as a result.
News of the acquisition was followed shortly by another residential solar-home security company team-up, with Sunnova Energy and home security firm Brinks Home entering into an exclusive partnership.
As Haenggi makes clear, the growth potential in combining two companies working in the residential services sector is vast. ADT Solar is looking to exploit access to a new market by trading on a trusted brand name and strong customer interest in its products. It even has plans to enter the commercial and industrial (C&I) solar sector in the near future, again leveraging existing relationships with its home security clients.
Haenggi says ADT Solar has desires to be the number one residential solar provider in the market in 10 years' time and, given the results of its market research so far, it may not be an unassailable goal.