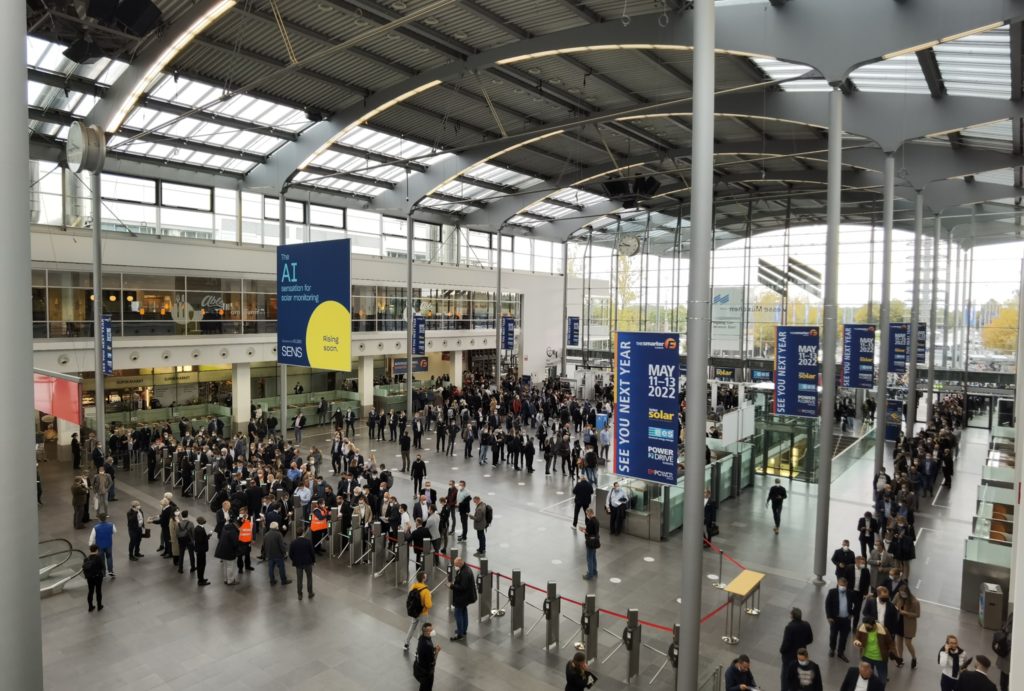 Hello and welcome to PV Tech's coverage of the third and final day of Intersolar Europe 2021. Thousands of visitors have returned to the Messe München for the second day of Europe's largest solar exhibition, and PV Tech's editorial team is reporting live from the event.
We have also collaborated with Intersolar Europe organisers Solar Promotions to publish a special edition of PV Tech Power to commemorate the show, which you can download entirely free of charge here.
---
Electric vehicles driving forward
Of course, Intersolar is just one part of the broader smarter E exhibition, which also includes halls dedicated to energy storage, which we covered yesterday, and electric vehicles, which has grown in size this year with stands from both Volvo and Polestar attracting swathes of visitors taking a closer glimpse at the EVs on display.
It's also clear that EV charging infrastructure and technology is rapidly maturing, as seen by some of the wares on display by the likes of Alfen, Enercharge and GP Joule.
The convergence of solar PV and EV charging is also clear on the show floor (we touched upon this topic yesterday too, during our conversation with SolarEdge about its Solar Home system) with a number of products aimed at ensuring solar power generated by a rooftop system is used to optimally charge an EV, rather than using grid power.
BIPV and roof tiles galore
On the subject of rooftops and other residential and commercial solar applications, there's a noticeable increase in the number of building integrated PV (BIPV) and novel rooftop applications on the show floor this year.
One of the largest exhibitors of such a product this year is Unigreen Energy, which also own heterojunction (HJ) specialist Hevel, and is exhibiting its BIPV HJ modules at Intersolar 2021. The products, which have a power output of up to 395Wp, are available in up to 150 colours – some of which were on display – and various prints to suit a project's demand.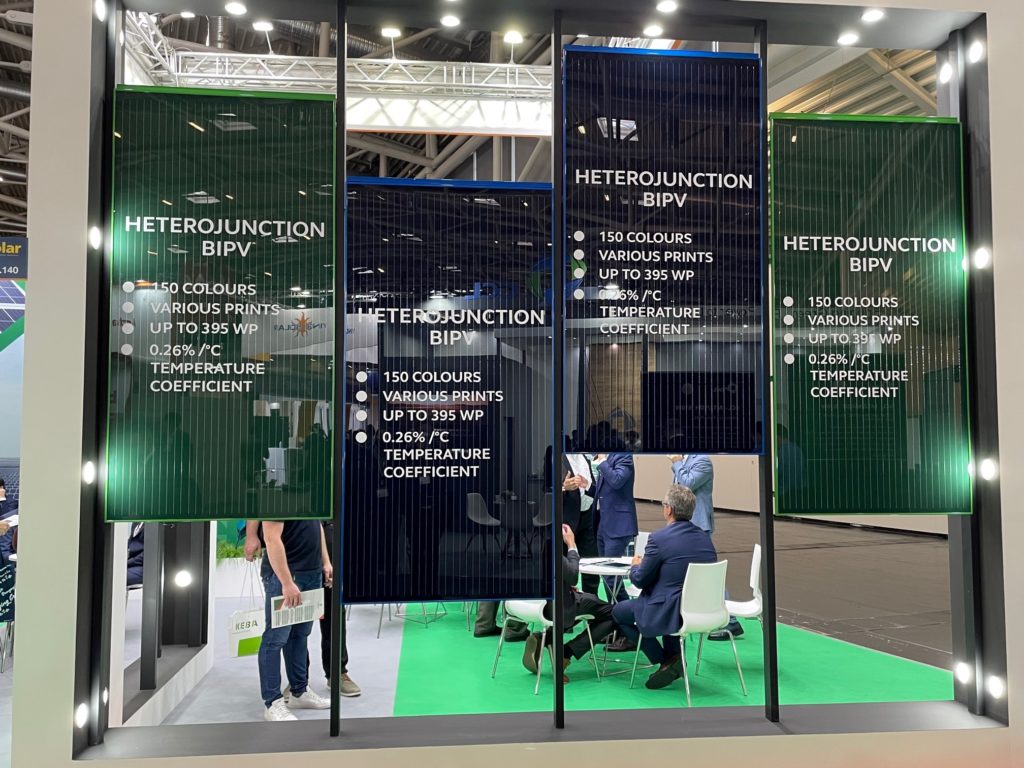 Meyer Burger meanwhile exhibited its solar roof tile product just a few months after it took aim at the sub-sector with the acquisition of intellectual property in the space.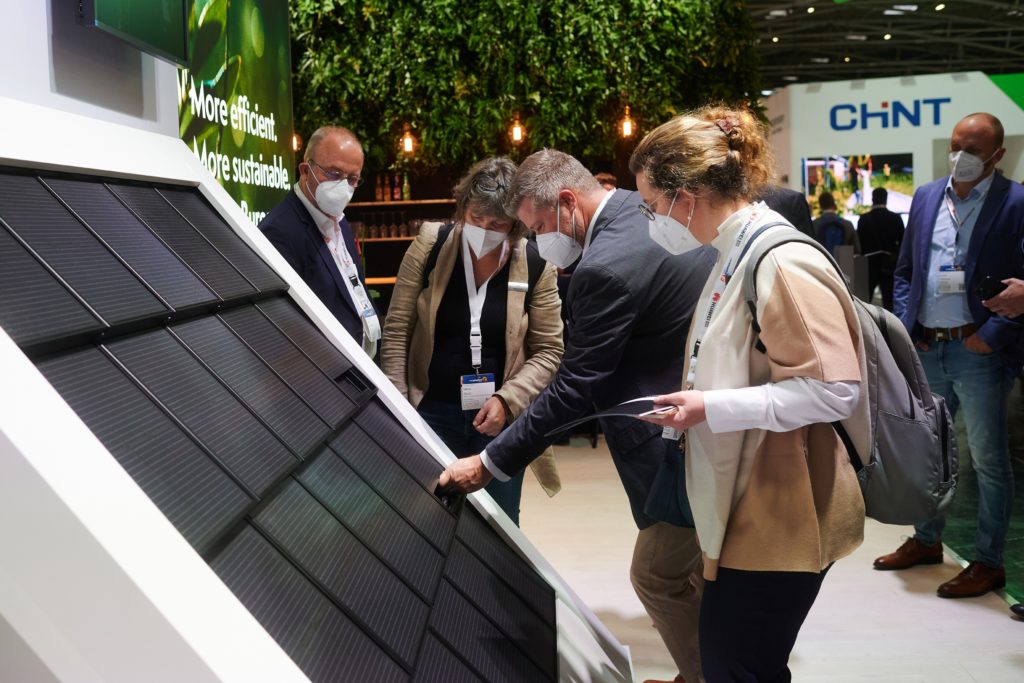 And there were other solar roof tiles also on display at Intersolar Europe 2021, as a growing crowd of companies take aim at market share possibly being ceded by Tesla's faltering rollout of its solar roof tile product.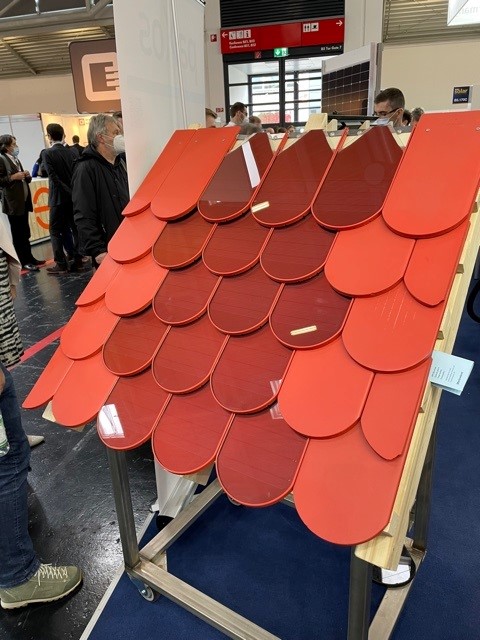 Talesun product additions are light as a Feather
While utility-scale solar has dominated a fair amount of the discussion this week at Intersolar, there's plenty of appetite for residential and commercial rooftop solutions, perhaps best evidenced by the number of lightweight modules being demonstrated or discussed this week. Talesun is amongst those module makers to bring a lightweight module to the show, presenting its new 'Feather' module which weighs just 16.2kg. The 54-cell module has dimensions of 1722mm x 1134mm and its just 30mm in depth while boasting power outputs of between 390 – 415Wp. The Feather is available in an all-black design with a white backsheet, with silver and black frames available.
Green hydrogen forum discusses future role
The smarter E Green Hydrogen Forum has been getting a lot of attention at this year's Intersolar. Delegates were having to stand around the side in order to listen in on the talks.
The first half of yesterday's talk focused on the sectors and industries where green hydrogen's application is most fruitful, with talks from Bernd Koch, chief technologist at Siemens Smart Infrastructure, starting the day by discussing it within the context of industry and mobility, arguing it to be a key component of a decarbonised future.
This was followed by two talks examining green hydrogen in the shipping and aviation sectors, with speakers from MAN Energy Solutions SE and Universität Ulm arguing that its needs to be more widely recognised as an effective, low carbon fuel within the industries.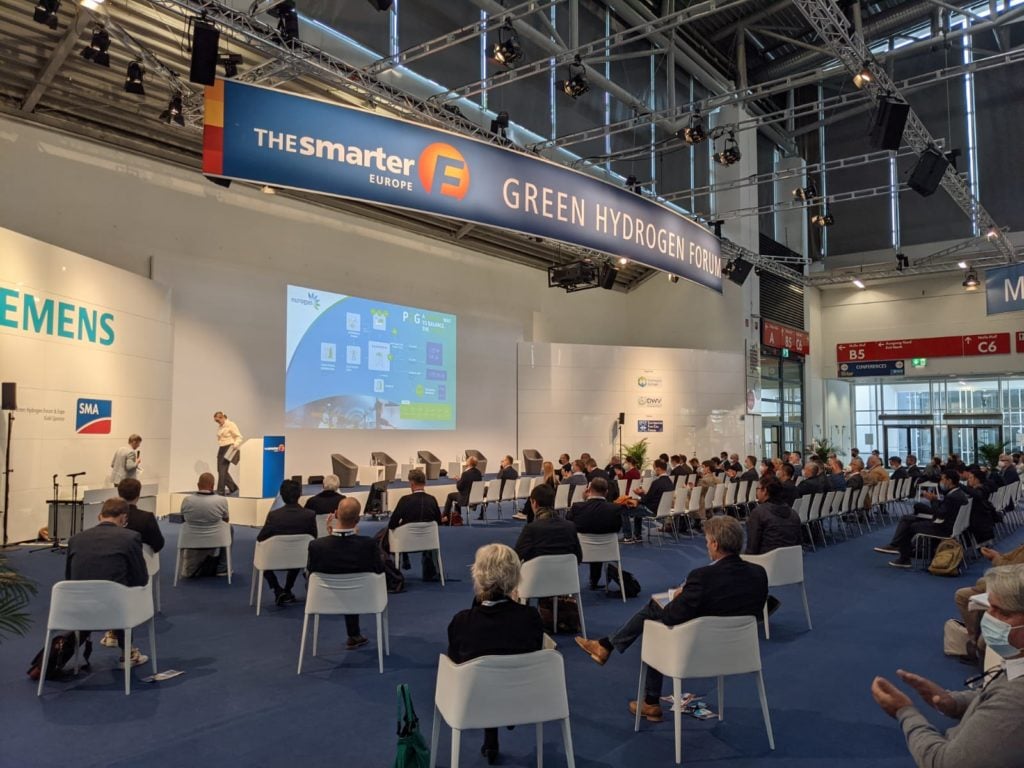 Jolywood demonstrates ultra-high power n-type module
On the topic of n-type, Jolywood has presented its Niwa Max series module, which is based on the company's TOPCon 2.0 cell technology and uses 210mm large-size wafers to boast maximum power outputs in excess of 700W. The Niwa Max builds on other modules in the series, such as the Niwa Super shown below.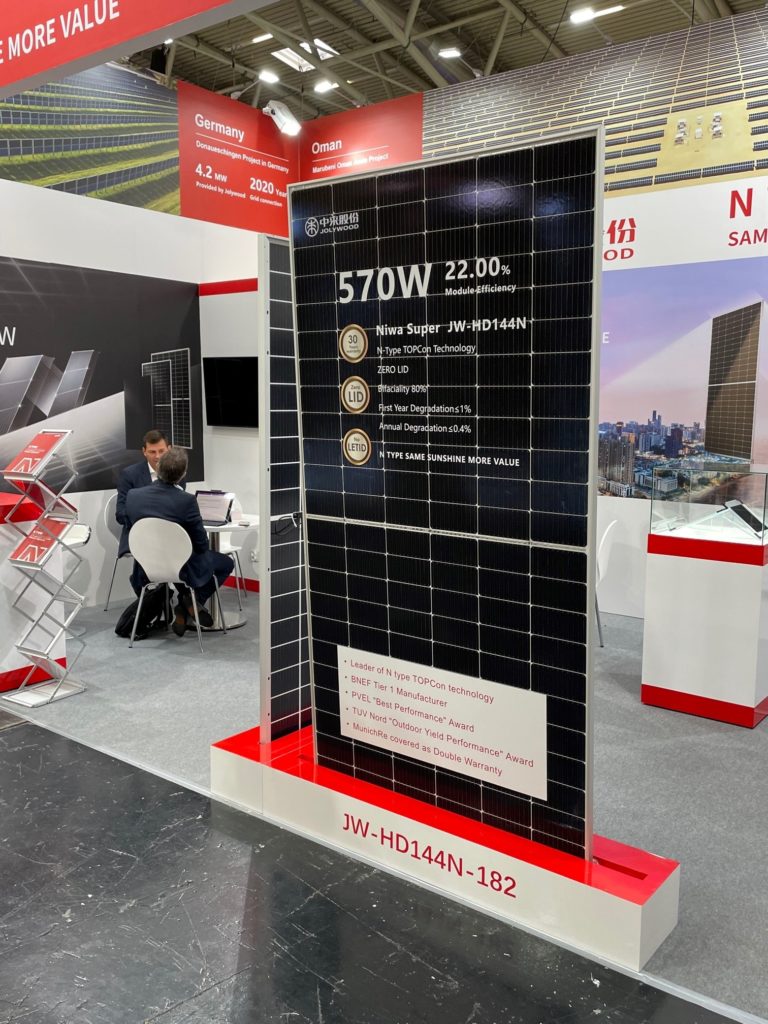 Jolywood also noted that it was developing a relationship with German insurance giant Munich Re to bring reliable credit support and energy efficiency loss compensation to clients.
N-type emergence continues
Further cementing a trend we've seen develop over the course of the year, but certainly accelerating since SNEC earlier this summer (and you can read our coverage from SNEC 2021 here) is the emergence of n-type modules as manufacturers begin to build-out their offerings. N-type, be it TOPCon, heterojunction or IBC, modules are out in force at this year's exhibition, and below are a few shots of just some of the modules on display from the likes of JA Solar, CHINT and Suntech.
Welcome back!
Welcome back to this third and final day of Intersolar Europe 2021 at the Messe München. While it's noticeably quieter today, there's still a palpable buzz as Europe's solar industry begins to reflect on the learnings from the past week. We're on hand to guide you through those learnings.
If you're still at the show, then there are still some copies of our most recent edition of PV Tech Power up for grabs at the trade press area. Don't miss out!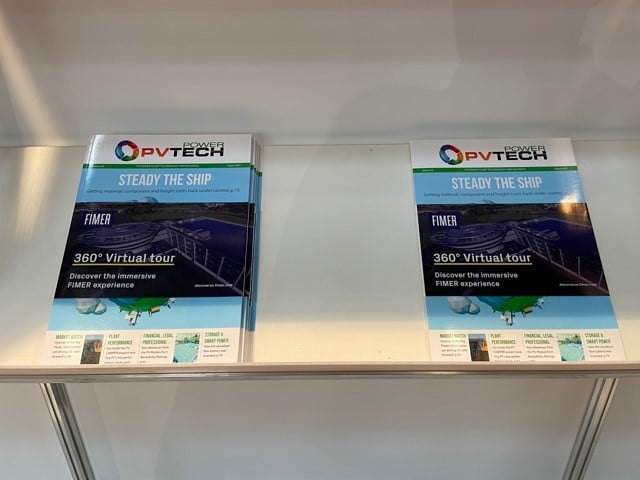 A reminder too that we have been covering all of this year's Intersolar, and our wrap-ups from Day One and Day Two can be found by clicking these respective links.