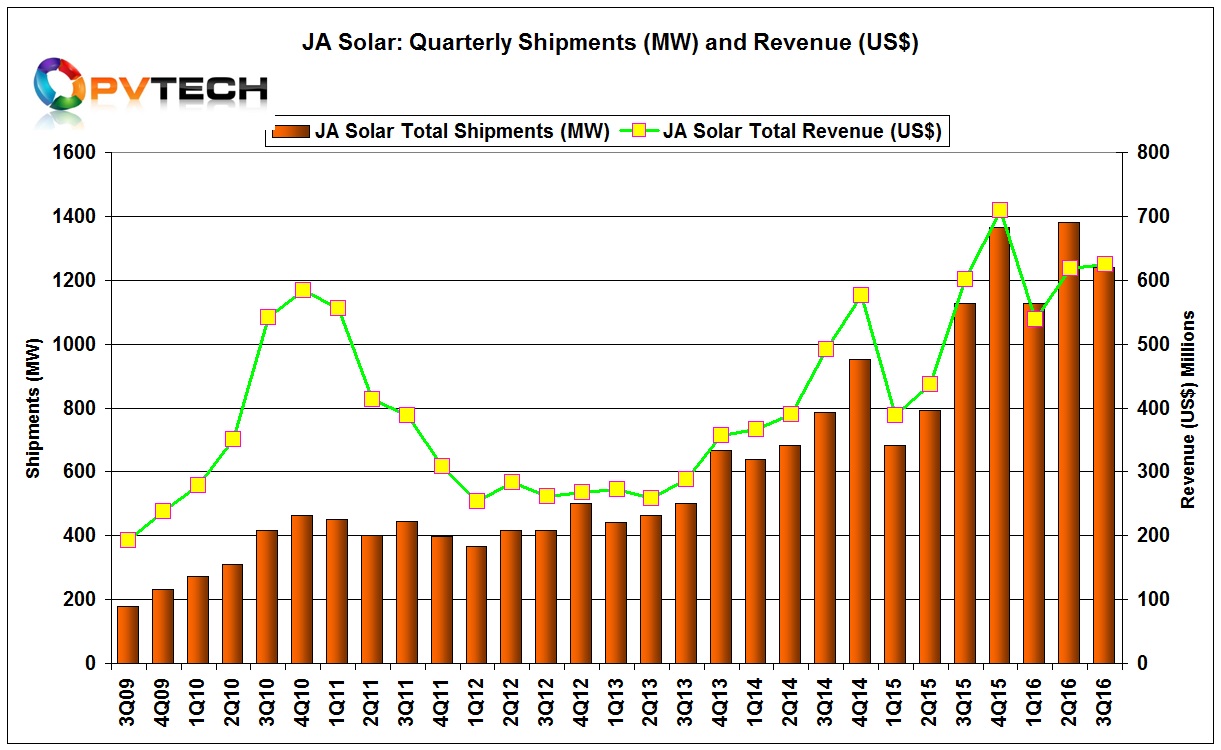 Updated: 'Silicon Module Super League' (SMSL) member JA Solar reported lower third quarter total shipments as the slowdown in the domestic China market hit. As a result full year shipment guidance was also lowered.
JA Solar reported total shipments in the third quarter of 2016 reached 1,240.9MW, down from record shipments of 1,380.8MW in the previous quarter.
Shipments of modules and module tolling were 1,200MW in the quarter, up from 1,134.2MW in the second quarter of 2016. The company noted that it had shifted module shipments to international markets as the domestic Chinese market declined.
JA Solar's key international market in the quarter was the APAC region, accounting for 25.8% of shipments, up from 12% in the previous quarter. A key market was India, which was said to have accounted for 12% of shipments in the quarter.
Shipments to North America and Latin America also increased, accounting for 9.3% and 9.9% of third quarter shipments, respectively and up 13% and 20.2%, quarter-on-quarter.
However, domestic shipments continued to dominate, accounting for 32% of shipments, compared to 63.9% in the previous quarter, highlighting the significant shift undertaken.
Shipments of cells and cell tolling were 40.9MW, compared to 95.1MW in the previous quarter.
Baofang Jin, Chairman and CEO of JA Solar, commented, "Third quarter results were in-line with our expectations with external shipments and revenue growing 10% and 9% year-over-year, respectively. We executed our strategy to redirect solar product sales to several stronger international markets, as shipments to the domestic market of China declined significantly after demand was pulled forward into Q2. Furthermore, our downstream strategy remains intact. We have approximately 50 MW of downstream projects under construction and intend to develop another 150 to 200 MW in the coming year."
Financial results
JA Solar reported third quarter 2016 net revenue of US$624.3 million, up from $619.0 million in the previous quarter.
Gross margin was 13.8%, down from 15.3% in the second quarter of 2016, highlighting ASP pressure, due to demand weakness in China and global price declines on fears of overcapacity.
The company reported an operating profit of US$18.2 million, compared to an operating profit of US$28.3 million in the second quarter of 2016. Net income was US$6.6 million, compared to a net income of US$24.7 million in the previous quarter.
Guidance
JA Solar said that it expected total cell and module shipments to be in the range of 1,200MW to 1,300 MW in the fourth quarter of 2016.
Due to the weak third quarter and relatively flat guidance for the fourth quarter, JA Solar lowered full-year total shipment guidance to a range of 4.9GW to 5.0GW, compared to previous guidance of 5.2GW to 5.5GW.
Manufacturing update
JA Solar noted in its third quarter earnings call that it expected in-house wafer production to reach 2.5GW by year end and both solar cell and module capacity was on track to exceed 5.5GW by the end of 2016.
Management also noted that it expected to shift some recently upgraded solar cell lines in China to its facility in Malaysia to address expected strong demand in the US in 2017.