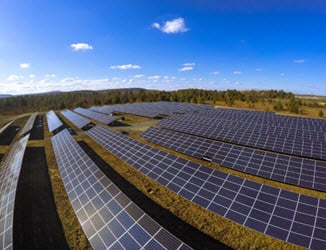 Global investment firm KKR has signed off on a definitive agreement with NextEra Energy Partners (NEP) to acquire an equity interest in a newly-formed partnership with NEP, which currently holds a portfolio of ten utility scale wind and solar projects across the US with a combined generation capacity of 1.1GW.
KKR's investment will be by way of an equity interest in a new structured partnership with NEP, in which NEP will hold certain rights to acquire KKR's interest over time at predetermined return levels between 3.5 and seven years after the formation of the partnership. KKR's share of partnership cash flows will increase to 99% in the event that such call options are not exercised within certain milestones.
In total, the US$900 million investment from KKR will be funded by a mix of new term loan financing and equity from its third Global Infrastructure Investors fund, which closed in September 2018 with US$7.4 billion in commitments.
Brandon Freiman, member of KKR and head of the firm's infrastructure business in the Americas, said: "We're excited to partner with NextEra, a world class renewable energy developer and operator, on this portfolio of high quality contracted wind and solar assets. This diverse portfolio of ten fully-operational renewable energy projects, all of which benefit from long-term contracts with investment grade customers, is an excellent addition to our portfolio."