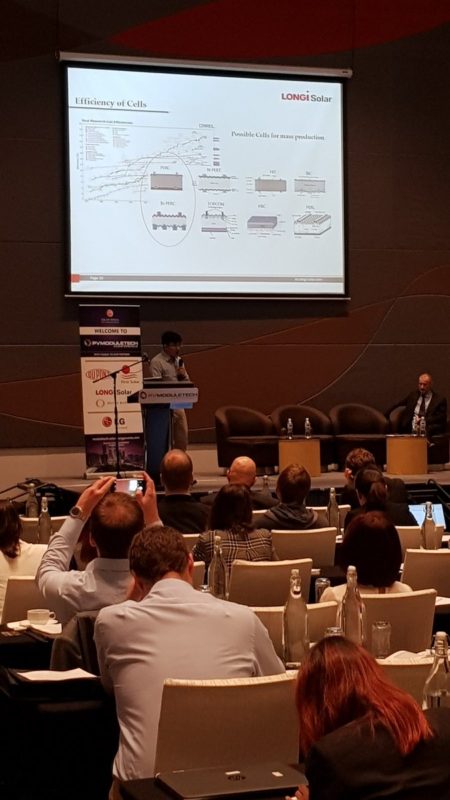 'Silicon Module Super League' (SMSL) member and the largest integrated monocrystalline manufacturer LONGi Green Energy Technology revealed its key strategic goals for 2019 at the inaugural PV ModuleTech conference being held in Kuala Lumpur, Malaysia.
In a key presentation, "The mono transition to high performance PERC and bifacial modules as the industry standard," Dr. Qiangzhong Zhu, assistant vice president at LONGi Solar, highlighted its drive to provide the solar industry with the products to back-up the transition to monocrystalline technology.
With its recent marketing launch of PV 3.0, encompassing the next wave of high-performance, high-reliability and high energy yield modules and systems, Dr. Zhu noted that PV 3.0 also embraces cost competitiveness and, with P-type mono PERC (Passivated Emitter Rear Cell) technology, could achieve conversion efficiencies of around 24.5%, highlighting work undertaken by ISFH in modelling advanced metallization processes and multi-wire with fine-line fingers with PERC to achieve such conversion rates.
The company recently announced two cell conversion efficiency records of 22.71%, verified by Fraunhofer ISE CalLab and 23.26%, verified by CPVT in China.
Such will be the transition to mono PERC that LONGi believes modules with mono cells may make up over half of all module capacity by 2020, providing around 61GW of supply, and that most of the modules would be using mono cells with PERC technology.
However, according to Dr Zhu, to achieve these goals, high-quality wafers are important for PERC efficiency gains topping 24% targets. Using a third-party demo plant in Taizhou, China had demonstrated that the energy yield of its Hi-MO1 mono-PERC module was about 3% higher than a polycrystalline module. The energy yield gain of Hi-MO1 was said to be mainly attributable to better low irradiation performance and improved temperature coefficient.
Bifacial advantage
LONGi is also focusing a lot of attention towards bifacial modules and Dr Zhu highlighted the importance of the dual glass frame design required to limit edge breakage and make installations easier.
Testing at the demo plant in Taizhou also highlighted the yield benefits of single-axis trackers with bifacial modules, a combination which could raise the bifacial gain to over 30%, compared with a gain of almost 12% in conjunction with a fixed mounting system.
Dr. Zhu expects bifacial to become the future direction of PERC modules, primarily due to the potential for high energy yield gains.
Following the first day's conference sessions, Ngieng Sii Jing, the CEO of LONGi Kuching in Malaysia, gave a short address to delegates, echoing Dr. Zhu's closing presentation remarks that mono-PERC capacity would increase dramatically and would be instrumental in ushering in the era of PV 3.0.