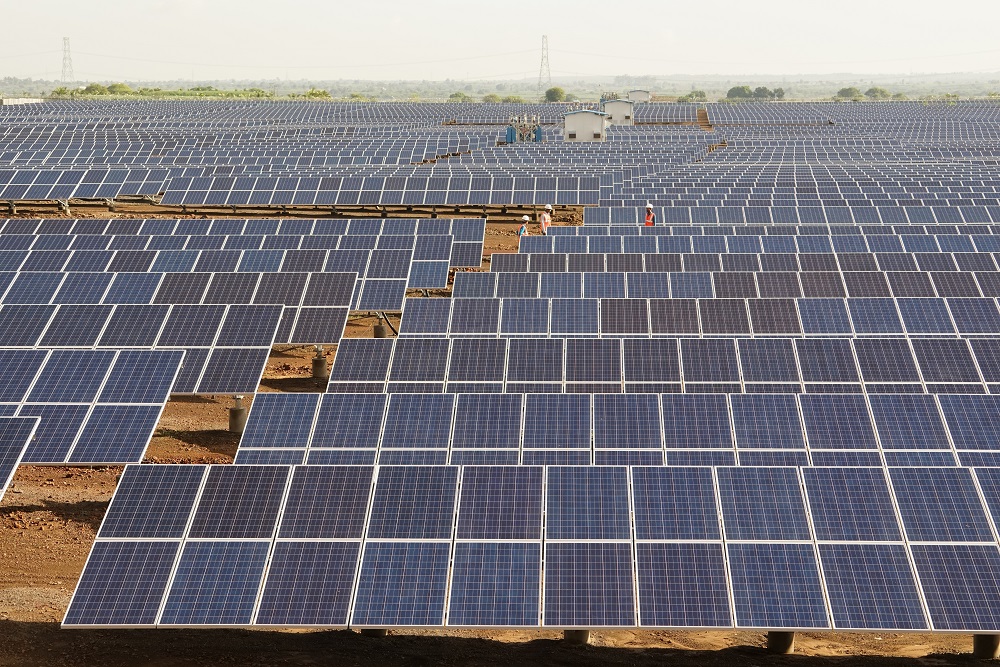 India has added 4,763MW of solar PV in the first half of the year, already surpassing the 4,313MW that were installed in the whole of 2016, according to Mercom India Research's latest quarterly market update. These key figures are different to those circulated in some reports on Tuesday, after a technical glitch led to Mercom delaying the official release of its report.
Mercom now expects India to install 10.5GW of solar in 2017 alone, due to a robust project development pipeline scheduled to be commissioned by year end. This is well up from Mercom's previous forecast of 9,812MW in its April quarterly report, and the 9,020MW projected in January. This 10.5GW would also be a 144% rise on the 4.3GW installed in 2016. However, installations are expected to drop in 2018 to just over 8GW.
Mercom also stressed that its forecast would be significantly revised downwards if anti-dumping duties are imposed; the Directorate General of Anti-Dumping (DGAD) recently started an investigation into solar imports from China, Taiwan, and Malaysia.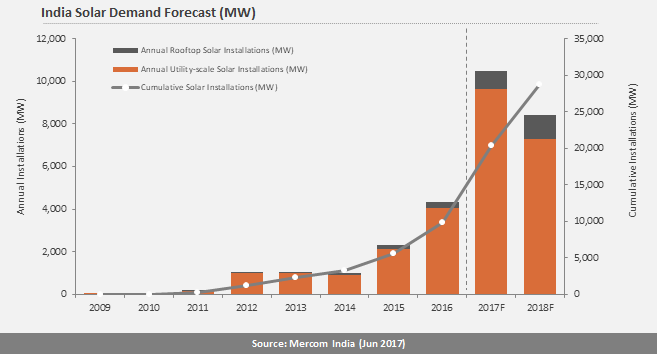 In Q2 this year, India added 1,869MW of solar. Of this 1,639MW were utility-scale, with rooftop accounting for 230MW.
Mercom also claimed that India only surpassed the 1GW milestone of cumulative rooftop capacity towards the end of Q2, although consultancy firm Bridge to India said this 1GW had been reached back in September last year.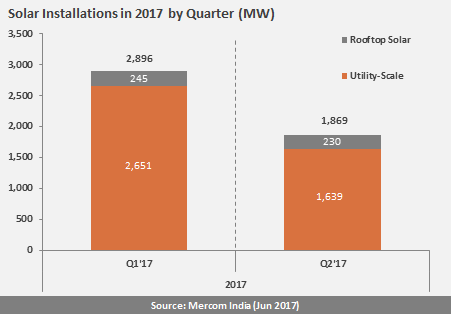 Raj Prabhu, CEO and co-founder of Mercom Capital Group, said: "The Indian solar market had its best first half and is on pace to have its best year. However, uncertainty around Goods and Services Tax (GST) rates, utilities renegotiating to get better rates, and the recently initiated anti-dumping case has stalled momentum in the sector and could have a significant negative effect on installations in 2018."
Indeed, media reports have emerged recently of states including Uttar Pradesh and Jharkhand managing to renegotiate solar tariffs.
Andhra Pradesh has become the first state to hit more than 2GW of deployment,closely followed by Rajasthan with 1.9GW, while a total of seven states now have more than 1GW installed.
The pipeline of Indian utility-scale projects under construction is currently 12.2GW with about 6.3GW of tenders pending to be auctioned.
The GST saga continues with a lack of clarity remaining over whether solar components will be taxed at the 5% enjoyed by modules or taxed at a higher rate, noted Mercom.
The Ministry of New and Renewable Energy (MNRE) is still pushing for solar components to be taxed at 5% under the GST. The ministry wants to analyse the impact of the GST on the solar sector, particularly power plants, and recently sent out a memo asking for comments from the Solar Power Developers Association (SPDA). MNRE has come up with its own analysis of the GST impact but now wants to pass it by the industry. The memo shows clearly that the GST rates for the solar industry are still not set in stone, despite a previous report from Mercom citing MNRE officials that most components would be hit with a higher 18% tax.
Priya Sanjay, managing director, Mercom Communications India, said: "Most projects under construction will not be affected, but new tender and auction activity has stalled and most developers are taking a pessimistic view of the recent developments."
Chinese module prices in India fell by around 5% in Q2 this year.
Solar also now accounts for nearly 4.4% of India's total installed electricity generation capacity.
Mercom also quantified the top five EPC firms and Indian manufacturers: