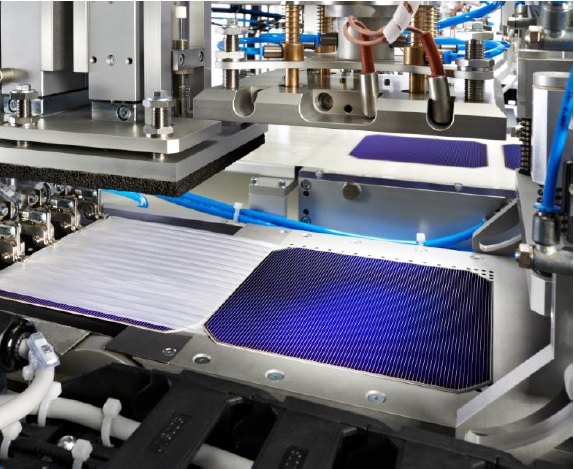 Meyer Burger's patented SmartWire Connection Technology (SWCT) uses a patented foil-wire electrode with up to 24 round wires to electrically interconnect solar cells and is said to set a benchmark in terms of module performance and low manufacturing costs within the 'Ibex' SWCT stringer system.
Problem
The continued requirement to reduce PV module production costs has led to greater emphasis on cost-competitiveness while increasing module power and production capacity. Manufacturers are evaluating the next generation of cell connection technology in order to reduce the usage of cost-intensive silver.
Solution
SWCT features a dense contact matrix which reduces electrical resistance and minimizes shading by a remarkable 25%. The round wires enable a higher light retention in the solar cell, and reflect less light back which further contributes to higher energy efficiency. SWCT does not need any busbar print or soldering pads which directly affects silver consumption. On a bifacial HJT solar module for example, a 50 % reduction in silver results in 6 % lower module material costs.
Applications
SWCT is compatible to all crystalline silicon cell technologies: selective emitter, PERC and Heterojunction (HJT) in both p- and n-type cells.
Platform
The 'Ibex' SWCT stringer uses the SmartWire foil-wire electrode to interconnect solar cells to strings of variable lengths. Its compact and scalable design enables various degrees of throughput and levels of automation. Key features include a unique gripping system and high throughput and a camera system that detects wrong cell orientation and edge defects and is said to achieve a production yield of 98 to 99 %.
Availability
June 2018, onwards.