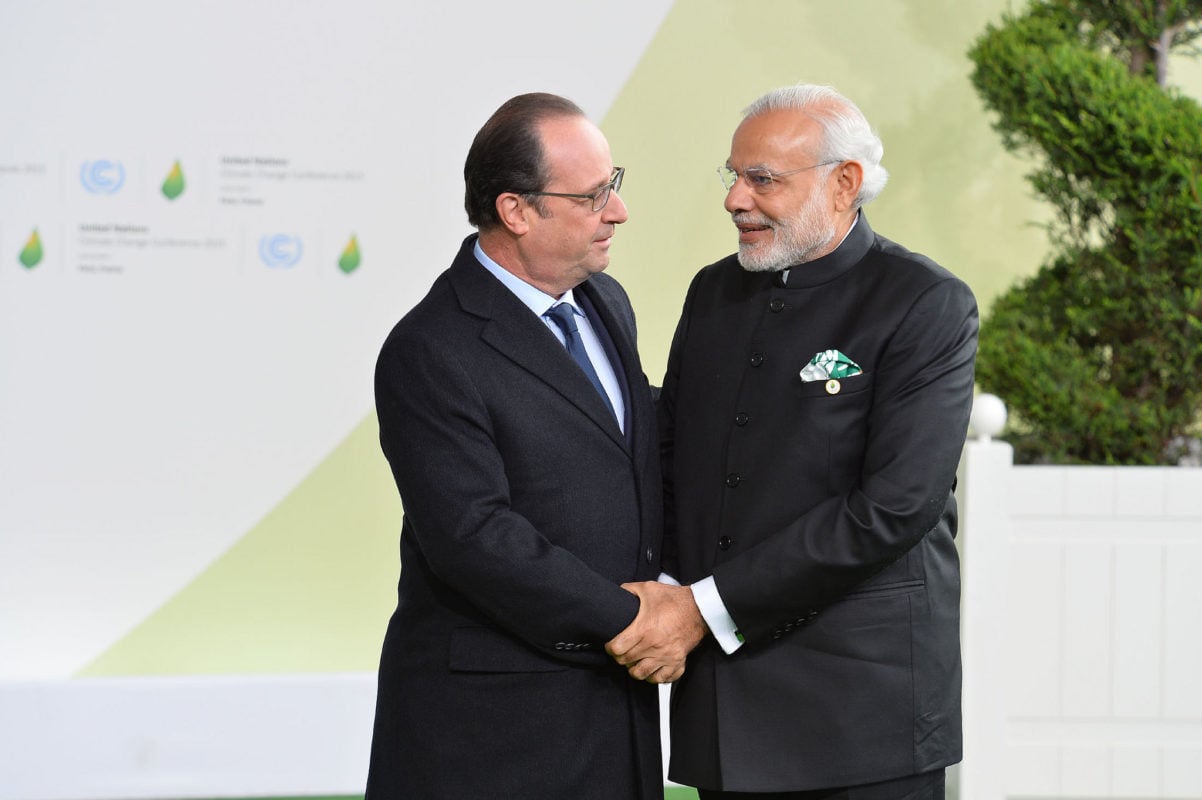 France has pledged a €300 million (US$324 million) contribution to the International Solar Alliance, the climate change-driven initiative to promote solar, backed by more than 120 countries.
The alliance, on which India's prime minister Narendra Modi and France's president Francoise Hollande took the lead, was launched at the COP21 talks in Paris last year. It hopes to mobilise worldwide investment in solar of US$1,000 billion by 2030.
Hollande is currently in India for a three-day visit, which includes the occasion of India's Republic Day on Tuesday. India and France issued a joint statement today, highlighting the recent fostering of close links between the two countries and "close interactions" between Modi and Hollande at G20 in 2014 and the recent multilateral climate talks.
Newspaper The Hindu republished the text of the statement in full. While a great deal of it focused on cooperative measures on security and terrorism, there were also two paragraphs on the ISA.
Hollande and Modi laid a symbolic foundation stone to inaugurate the group and an interim secretariat has been appointed to administer it, in Gurgaon, India.
France's development agency, AFD, will support projects by other ISA member countries with €$300 million in funding. The India-France statement said this would be in line with France's wider €2 billion pledge to support renewables, made during COP21.
Transports en commun Thales à New Delhi, en direction du siège de l'Alliance internationale solaire #COP21 pic.twitter.com/VkSBQsVcSy

— Ségolène Royal (@RoyalSegolene) January 25, 2016
In a separate section of the statement, the two leaders also noted "the important role of energy storage" in promoting renewable energies, announcing the signings of several memoranda of understanding (MoU) which will "…serve as templates for further practical collaboration in the field of renewable energy, including transfer of technology and know-how," the statement said.
It also welcomed private investment in the sector, greeting news of US$1 billion planned investment by a partnership between Europe-headquartered utility EDF EN and Indian management, construction and infrastructure services company SITAC. The two leaders said it demonstrated the "importance of climate-oriented investments between the two countries". Meanwhile AFD is also working on LED lighting and green housing in India, with a focus on low income groups.
As well as dealing with sport, culture, education and other topics, the wide ranging statement also mentioned a number of other relevant areas, including clean transport and sustainable urban development.
The statement also said that further initiatives on sustainable consumption were also possible – in the preamble of the Paris agreement it was clearly stated that "sustainable lifestyles and sustainable patterns of consumption and production play an important role in addressing climate change" – which the joint statement reiterated.