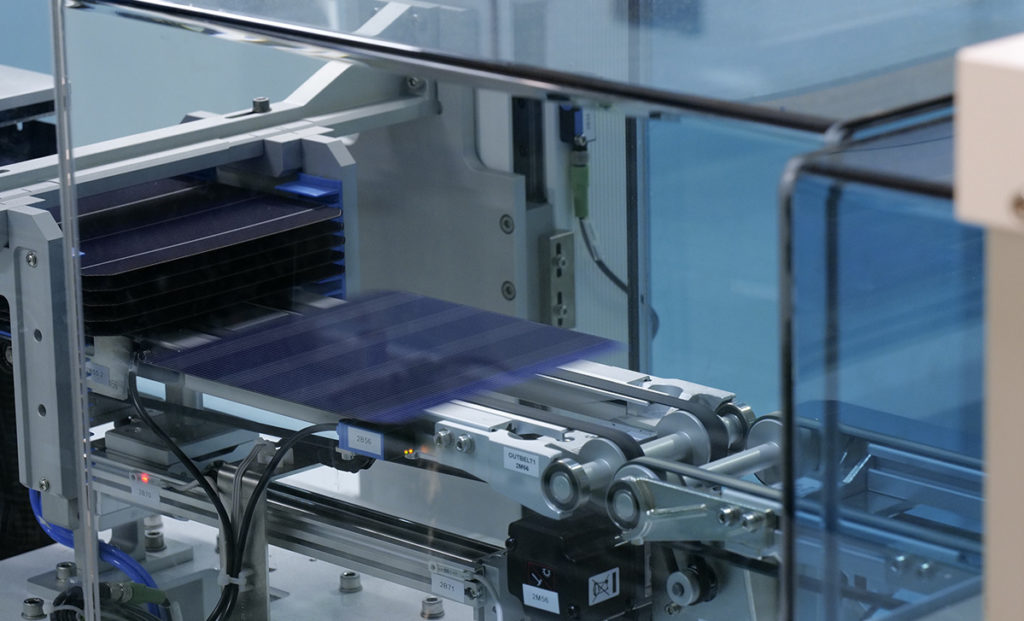 After Enel announced plans to build a solar cell manufacturing facility in the US, the head of the firm's 3Sun factory has revealed to PV Tech Premium that the company is in advanced discussions over some form of collaboration, investment or venture in manufacturing further upstream to ensure that the value proposition of its facility is as robust as possible.
PV Tech reported last month that the facility would have an initial capacity of 3GW producing bifacial heterojunction (HJT) PV cells with an aim to build modules with tandem cells with up to 30% efficiency. Recent geopolitical events have dramatically shifted many governments' focus towards energy independence, particularly in Europe and the US, leading to a renewed interest in supply chain security and ethics. There have also been concerns over affordability with huge volatility in commodity prices impacting power prices.
Eliano Russo, head of 3Sun Gigafactory at Enel Green Power, tells PV Tech Premium that in the US, politicians have started supporting solar PV more than before, prioritising it in their political agenda and regulatory environment most powerfully with the Inflation Reduction Act (IRA).
"The bill is sending a very clear message reassuring this industry that it is strategic, vital and has to happen at whichever cost," he says.
The IRA is providing a consistent message that the US government wants to regain control of the entire supply chain, including the wafer, glass and polysilicon production, which have been delegated to China over the last 10 years or so, he adds.
Opportunities further upstream than cells
Although the new US project being evaluated is a "copy and paste" of 3Sun's facility in Catania, Italy, according to Russo, and therefore has a main focus on cells and modules, the company does recognise that for a truly robust value proposition, there are many questions to ask about supply chains even further upstream.
Referring to further upstream opportunities, Russo says: "We are already in discussions, sometimes very advanced ones, with other entities that also due to the IRA are thinking of relocating to the US or increasing their capacity in the US, or going maybe downstream, for some of the pieces of the value chain. So, there are multiple options under discussion."
When asked if this could involve 3Sun starting up its own ventures in ingots and wafers, for example, or if it would collaborate with other companies, Russo says that all the options are on the table right now. The company believes that it is important in this phase to orchestrate or become part of an ecosystem beyond its typical role of supplier or customer. This may imply joining forces with other firms or taking equity participation in such a venture to connect the dots of this new supply chain shift.
"Silicon production requires more time for sure," says Russo. "It takes maybe three years from an investment decision to having silicon produced, but the objective officially declared is to really reassure the entire value chain – having an integrated approach that would cover end to end."
The US has also introduced restrictions on products made by forced labour in China, which has led to US developers looking elsewhere to meet their demands. India, for example, has become a hotspot for exporting PV modules to the US.
The introduction of the Uyghur Forced Labor Prevention Act is very consistent with 3Sun's proposition, says Russo, adding: "We want to be sure that whoever is buying our panels has full visibility on production process on materials and full traceability. So, all those elements will be a key component of our proposition and we see this as an opportunity, rather than an obstacle."
Bifacial heterojunction and tandem structure advantages
Russo also emphasises the advantages of the company's HJT technology, which he claims is more competitive today than TOPCon or PERC. It can minimise carbon footprint and produce panels with longer lifetimes and with lower degradation, he adds. A highly digitalised manufacturing process also minimises waste scraps in the production process. The company is also working on conditions to increase the level of circularity and upcycling, replacing some of the existing materials that are less recyclable with new ones.
The modules also will have a tandem structure, which involves coupling HJT silicon cells with perovskite cells, which widens the spectrum of light that can be absorbed by the bifacial cells. This mass-producible innovation led to the EU Innovation Fund financially supporting 3Sun.
The firm is also aiming to commercially produce modules by assembling solar cells with more than 30% efficiency in the next four to five years, which Russo calls a "very ambitious" but "manageable" objective given the evidence gathered by the company to date from various tests across the globe.
The company is also building a research and development line at its facility in Catania, allowing it to run tests with the innovation team working hand in hand with the operation team.
When asked about the widespread doubts that industry players have had over the stability of perovskite materials, Russo says that the firm is coupling perovskite with the most stable option available, which is with HJT.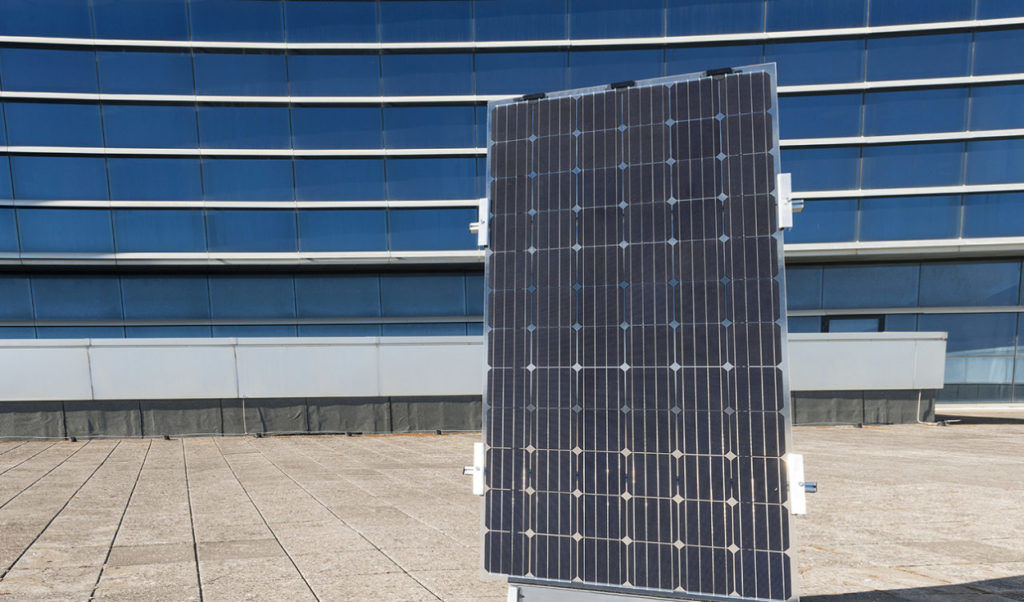 Catania lessons informing US plans
The building of the US facility has the advantage of applying the lessons drawn from the Italian facility, offering familiarity in how to design the new factory, defining the layout and developing equipment with suppliers.
"We will try also to explore synergies given that some of the machines and equipment that are coming to Catania are tailor-made for us," says Russo. "Some of our suppliers have never made machines so big before."
3Sun is currently in the process of searching for a site in the US that has a strong connection with a utility. Given the current low rates of unemployment in the US, another challenge will be finding and retaining a workforce, so it will be important to "ringfence" new workers.
"There is a transition that we need to manage because it takes time to build the supply chain," adds Russo. "We also have to be ready and to keep the options open. If some of the pieces of the value chain are missing at the very beginning, we need to be sure that this is not jeopardising our ability to produce our target volumes."
Product destinations and supply deal with Enel
To start with, two-thirds of the production will go towards large-scale ground-mounted solar fields in order to exploit the 95% bifacial factor of the cells.
"By replacing the back glass with the backsheet, we are also targeting the residential and commercial and industrial customers," adds Russo. "But we will go to those final customers leveraging channels such as distributors, wholesalers and installers.
The funding from the EU Innovation fund obligates 3Sun to have at least 40% of the modules from its Italian plant to be installed in Europe, but the rest of the product will be available on the global market.
For the US-based facility, North America will be the most prominent market to be supplied.
"Depending on the evolution of prices, we will try to have coordinated steering in order to avoid any kind of cannibalisation issue – making sure that the marketing and sales activity of the two factories will be managed in an integrated way," adds Russo.
3Sun plans to be very opportunistic in its sales outside of Europe given HJT's advantages over other TOPCon and PERC products are accentuated in conditions of higher irradiation and higher temperatures. This makes Latin America and Australia particularly desirable places to install the 3Sun modules.
Due to project financing agreements, 3Sun will provide 40% of its modules to its parent company Enel Green Power in the first year, reducing by five percentage points every year.
Enel North America's subsidiary 3Sun USA will build the factory which will have a minimum manufacturing capacity of 3GW with the potential to scale up to 6GW. Construction is scheduled to begin in 2023, with the first modules available to the market by the end of 2024.
---
3Sun Gigafactory in Catania and Europe's potential for more PV manufacturing
The precursor to 3Sun's new US factory proposals is its 3GW Gigafactory in Catania, Italy, which benefitted from the first round of the European Innovation Fund for large-scale projects, signed in April this year. One of the main challenges was engineering within the constraints of the existing building, says Russo. An additional challenge was building a factory during the pandemic, with a shortage of raw materials, higher costs and long delivery times. Nonetheless, The Catania facility is on track to reach 3GW of HJT module production in 2024 as planned.
Policy support in Europe
PV manufacturing is dominated by non-EU countries so an attractive environment for companies and financiers in Europe will be required for investments to build and scale up the sector at all steps of the value chain.
"There is a significant competitiveness gap between the EU and other regions that stems from the fact that players from other countries benefit from lower capex and opex thanks to an integrated and larger-scale model, fostered by national industrial policies and subsidies," adds Russo.
He calls for the reduction of production costs to bridge the gap with other producers around the world and increase market space for European solar panels.
According to 3Sun, the process of reshoring PV manufacturing would unlock €40 billion (US$42.6 billion) of GDP annually and create 400,000 new direct and indirect jobs across the value chain for just 20GW of new installed capacity in the EU.
"This is a need that must be addressed now," says Russo. "If Europe does not act quickly, next year may be too late. Companies must see a comprehensive strategic policy in the very short term and receive a positive signal from the EU, or this could be a no-return situation for the European solar industry."
PV manufacturing potential in Europe
The EU will need at least 40GW per year of PV panels made in Europe to reach its decarbonisation goals, says Russo, but the European industry cannot meet this demand right now as its current production covers between 2% and 22% of the European demand depending on the value chain segment.
"This situation opens a significant geopolitical risk, due to over-dependence on supplies from non-EU countries," he adds.
Russo points to the EU Solar Energy Strategy published in May this year that called for strategic investment in the growth of the solar PV supply chain in Europe.
However, the number of panels in Europe is not the only relevant factor. The sustainability standards of manufacturing are becoming increasingly in the spotlight and Russo claims that European-made modules are "already greener" than in the rest of the world.
"We must continue promoting this sustainability with the introduction of instruments such as non-price criteria in renewables auctions or price premiums for sustainable PV panels," he adds. "The establishment of an EU certificate that demonstrates that all production and manufacturing steps of the PV panels comply with the principles of human rights, sustainability and circular economy of the EU and its decarbonisation goals is essential."
The European Commission is already working on these topics and organising different public consultations with all the stakeholders of the industry.
PV Tech Premium recently reported on SolarPower Europe's Solar Stewardship Initiative, a new supply chain assurance scheme to develop confidence in how and where PV products are manufactured. Solar testing firm PI Berlin has also joined the SSI.