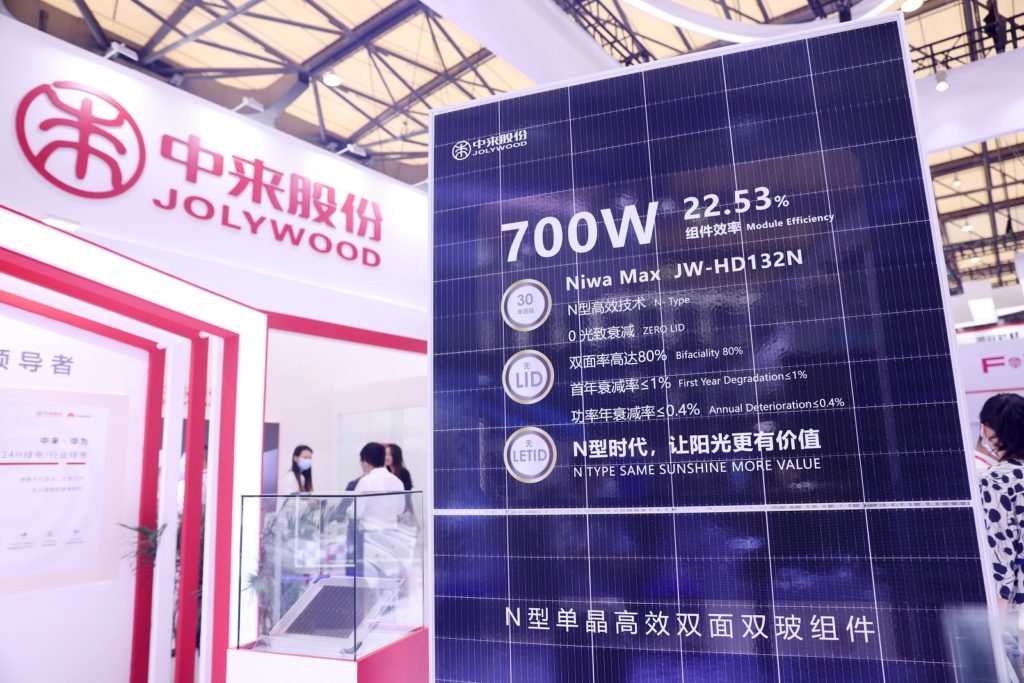 Jolywood is expecting to face stiff competition from other module manufacturers in the n-type solar field, predicting a major manufacturing ramp and investment over the next two years.
Jolywood, which has produced n-type bifacial cells and modules for more than six years, has established itself as an early front runner in the field. Its Niwa Max product line, which incorporates TOPCon technology to deliver an output of 700W with a 22.53% conversion efficiency, was released at SNEC 2021 earlier this month and the company is lining up capacity expansions to match growing demand. Mass production for the 700W Niwa Max is slated for Q2 2022.
Speaking to PV Tech, Dr. Liu Zhifeng, vice president at Jolywood, said the company's recently announced expansion, which will enable to company to produce 16GW of TOPCon cells, is expected to complete next year.
Zhifeng said Jolywood was aiming to deliver products to the utility-scale solar market which met investor requirements to reduce the levelised cost of electricity (LCOE) associated with solar along with the need for high quality products. To this end, TOPCon has emerged as the technology offering the most immediate benefit, Zhifeng said, given it has the lowest manufacturing cost per watt amongst all n-type technologies.
TOPCon is also inching ahead of its PERC rivals, Zhifeng said. "We can clearly see that PERC cell is the mainstream product, and it has advantages in terms of unit gigawatt capacity investment and non-silicon costs, but its efficiency improvement has encountered a great bottleneck since last year," he added.
This bottleneck has prompted leading manufacturers to target n-type products. As reported by PV Tech, almost every major module manufacturer demonstrated n-type products at SNEC this year, with TOPCon the clear favourite, at least for now.
Zhifeng explained that the non-silicon cost of TOPCon modules is now "very close" to that of PERC, almost within US$0.01c. Given the conversion efficiency benefits of TOPCon, the technology's cost-effective advantages are now "increasingly obvious", Zhifeng said.
It's these advantages which are drawing other manufacturers' attention, making the emerging market for TOPCon and n-type products more competitive.
Last month PV Tech Research's head of research Finlay Colville wrote on how n-type technologies will dominate solar industry investment by 2024, driven by manufacturers establishing new production lines for n-type products. Through 2024 to 2027, the solar industry's output will transition to be led by n-type cells and by 2028, n-type cells will dominate the industry.
But given the level of interest in the space, Zhifeng considered that the transition may occur even quicker.
"We can see that many leading companies are showing n-type products and TOPCon technologies at SNEC this year, which indicates that a large-scale expansion of the n-type cell production capacity will be formed in the next two to three years. The 2024 point in time may come earlier," Zhifeng said.