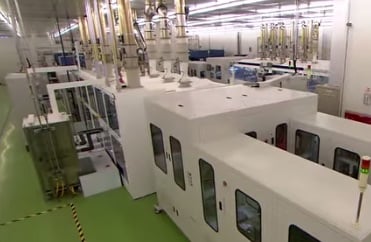 Taiwan-based merchant solar cell and module producer Neo Solar Power (NSP) is to phase-out production of multicrystalline products and switch completely to monocrystalline production, according to local news reports.
Recently, SolarWorld became the first major PV manufacturer to announce a shift away from multicrystalline wafer, cell and module production in favour of monocrystalline production using PERC (Passivated Emitter Rear Contact) cell technology and also offer bi-facial modules.
'Silicon Module Super League' (SMSL) leader JinkoSolar recently noted that it would expand monocrystalline ingot/wafer capacity and further migration to PERC cell technology with plans to reach 2GW of PERC capacity by the end of 2017, up from 1.4GW in 2016.
Overcapacity in multicrystalline production and slim ASP margins are commercial factors behind NSP and SolarWorld's recent production shift as well as increasing scale with the higher efficiency monocrystalline products to reduce costs as demand for mono products is growing and is in a relatively shorter supply.
In a presentation at PV CellTech 2016, Bob Chen and Andy Luan from NSP highlighted the advantages in using P-type mono PERC over P-type multi, demonstrating that although total module costs per watt increased by 9.2%, module power increased by 15%. Therefore, the module cost per watt decreased by around 3% to 4% when using P-type mono PERC, compared to P-type multi PERC.
NSP had also announced in April, 2016 that it would also establish a 50MW dedicated N-Type monocrystalline heterojunction (HJ) line that offers higher potential cell and module conversion efficiencies than mono-PERC products.
PV Tech estimates that NSP has around 2.2GW of total solar cell capacity of which around 700MW was primarily dedicated to monocrystalline cell production. The company has relocated around 100MW of mono cell production from its 500MW cell plant in Malaysia to Vietnam and migrate around 500MW of capacity in Taiwan to mono-PERC.
Overall timelines for the migration of all capacity to mono was not disclosed.