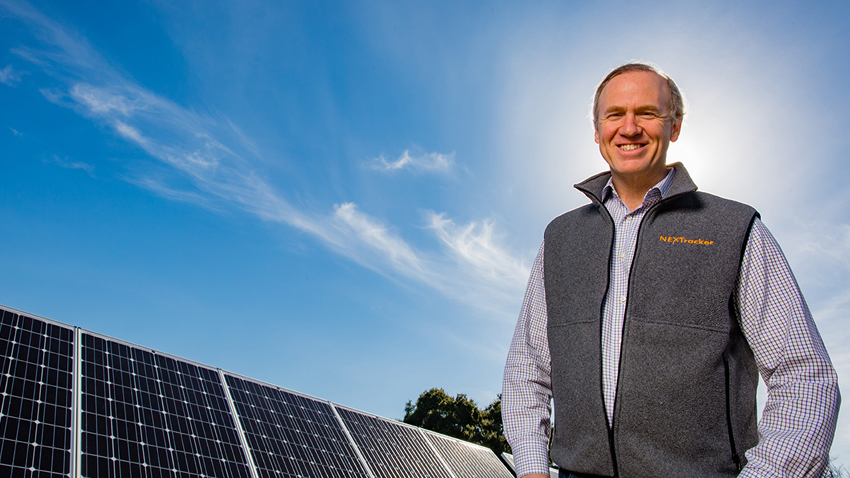 Adding energy storage gives solar developers and the industry in general the ability to "keep going", while offering both lithium and flow battery systems covers a "wide-range of use cases", NEXTracker CEO Dan Shugar has said.
The US' leading provider of single-axis trackers, mainly for large-scale solar PV installations, NEXTracker was bought up by multinational technology manufacturer Flextronics for over US$300 million back in 2015. The company has recently touted such milestones as reaching 10GW of global sales, including a gigawatt of sales into India, a market which NEXTracker only really began prioritising last year.
NEXTracker has launched two energy storage products that sit alongside the trackers at customer's sites. NX Fusion Plus, a package that included NX Horizon tracker, inverter, battery and software components, was made available from late 2016, using flow batteries from manufacturer Avalon. Company sales director Ralph Fallant had told Energy-Storage.News a few months later that NEXTracker was aiming to shift around 15MW of those units per week, worldwide.
Then, late last year, the company relaunched the flow product as NX Flow and also released NX Drive, an integrated energy storage solution using lithium batteries.
"For us it's really just that the needs now have landed there foursquare [in the] mainstream for the market," Dan Shugar told Energy-Storage.News, about the decision to diversify the product offering to include not only energy storage but two types of battery solution.
"It's the confluence of two things: one has been the dramatically lowered costs for the technology with both our flow and lithium. Secondly, our spectacular success on the PV side, where we've really taken a bite out of the middle of the day power requirements in a lot of our core markets. And the tracker is beautiful there. But then you need to keep going. So that's what the storage stuff is all about."
Shugar said the addition of lithium meant that between them, NX Drive and NX Flow could cover a "very wide range of use cases".
To read the full Q&A interview with Dan Shugar of NEXTracker, visit Energy-Storage.News.