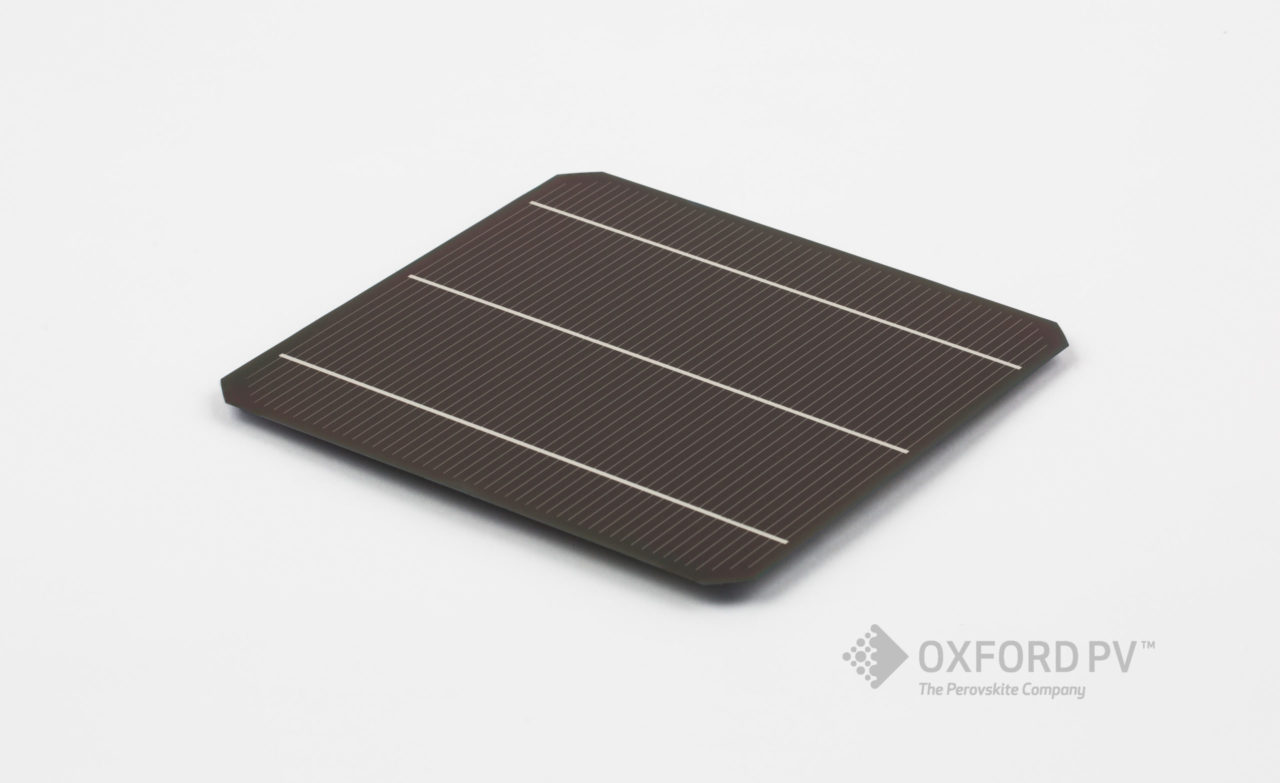 Mass production of perovskite solar technology took a huge step forward today with the signing of a collaboration agreement between perovskite solar cell specialist Oxford PV and major PV tool supplier Meyer Burger.
Oxford PV is to buy a 200MW heterojunction line from Meyer Burger for the production of tandem solar cells at its German facility in Brandenburg an der Havel by the end of 2020.
Meyer Burger will also take a stake of up to 18.8% in Oxford PV with the option to double the investment by the end of 2020.
The two parties are focusing on accelerating the development of mass production technology for perovskite-on-silicon heterojunction tandem solar cells and modules. To do this, Meyer Burger will be developing equipment to industrialise mass production of the perovskite layers deposited on top of the silicon heterojunction bottom cells. In August last year, Oxford PV was also awarded a €2.8 million grant from the German Ministry of Economic Affairs and Energy to prepare perovskite-silicon solar cells for high-volume manufacturing.
Oxford PV has been setting the records globally for perovskite cells, but the partnership with Meyer Burger, which has been a key supplier to major PV manufacturing companies worldwide, and is now pushing its heterojunction and SmartWire Connection (SWCT) technology, sends a signal to the industry that perovskite technology is getting ever closer to moving out of the lab, as expressed by the companies' executives.
Hans Brändle, CEO at Meyer Burger, said: "Perovskite tandem solar cells are viewed in the solar industry as the next generation in solar cell technology, enabling the reduction of the cost of solar energy (LCOE) to unprecedented levels. We are pleased to collaborate with Oxford PV, the leading global company for perovskite tandem solar cells, speeding up the time-to-market for this promising technology."
Frank P. Averdung, CEO at Oxford PV, added: "We are delighted to work with Meyer Burger to accelerate the introduction of our technology to the market. Expanding production capacity at our German facility represents a fundamental step forward for Oxford PV. With this sizeable funding, the company is well positioned to implement its commercialisation plans."
Christian Langen, chairman of the board at Oxford PV added: "Meyer Burger's investment and collaboration with Oxford PV validates the credibility and market readiness of our technology. Perovskite PV will transform solar power generation and we are excited to be at the forefront."
Last week, Oxford PV raised £31 million (US$41 million), with Chinese wind turbine firm Goldwind joining as a major new investor.