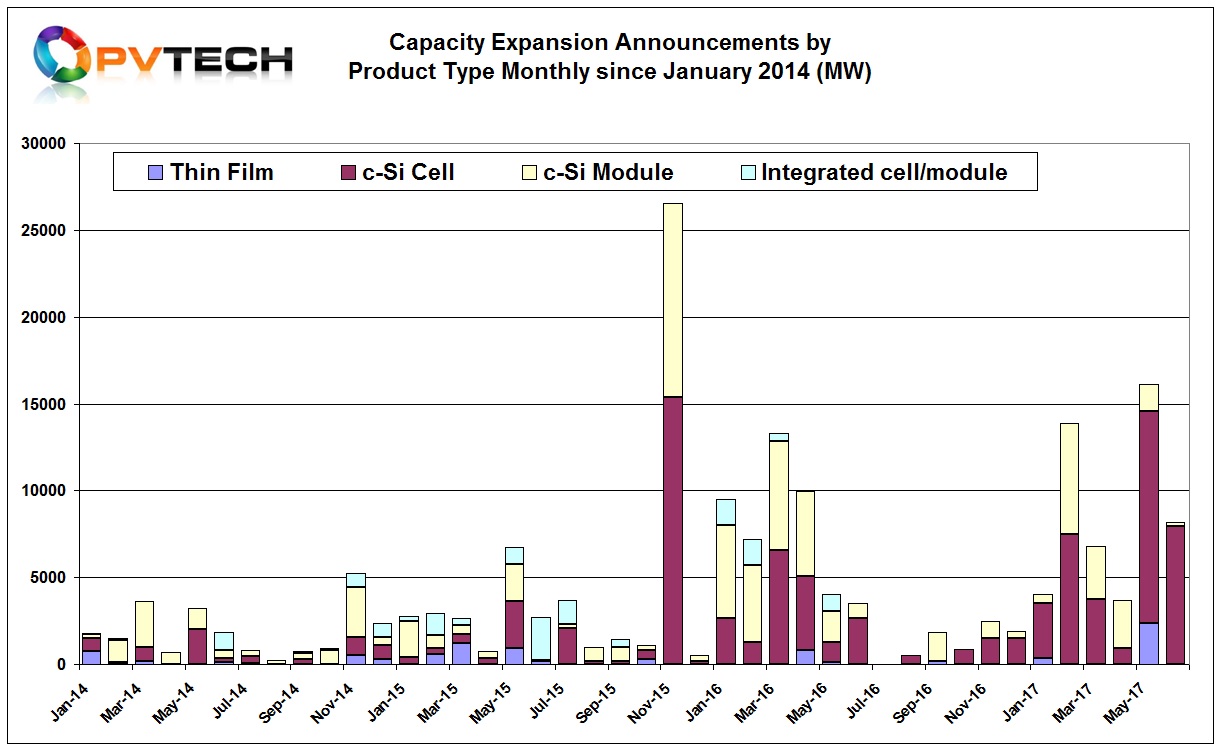 Global solar PV manufacturing capacity expansion announcements in the first half of 2017 showed a significant increase over the second half of 2016. New plans almost reached the record heights set in the first half of 2016.
The resurgence was overwhelmingly driven by China and the migration to high-efficiency solar cell technologies, compared to a broader geographical split in the prior year period. Although the second quarter of 2017 surpassed first quarter announcements, major updates to previously reported activity in the last report covering the first quarter of 2017, have also been made.
Revised Q1 2017 expansion plans
As previously highlighted in the last report covering Q1 2017 capacity expansion plans, the quarter was dominated by the latest round of annual announcements from the majority of the 'Silicon Module Super League (SMSL) membership (JinkoSolar, Trina Solar, Canadian Solar, JA Solar, Hanwha Q CELLS, LONGi and GCL, which were profiled separately in the last report.
Preliminary total global PV manufacturing capacity expansion announcements in the first quarter were reported to be 17,595MW, which were ahead of levels seen in the second quarter of 2016, when total expansion plans topped 17,500MW.
On a geographical basis, planned expansions in China dominated, followed by South Korea and the Philippines. Expansions were also announced in India, Malaysia, Taiwan, Germany, Italy and US.
However, based on the level of new announcements in the second quarter of 2017, extensive checks going back to the beginning of the year were undertaken and revealed a further 7GW of capacity expansion plans existed in Q1 2017, than previously reported, leading to a new total of 24.7GW.
The upward revisions primarily related to January and February, with increases of 4GW and 13.9GW, respectively. This compares to preliminary figures for January and February of 1.2GW and 11GW, respectively.
Revised figures for March were 6.8GW, compared to 5.3GW, previously reported. There was a reasonable balance between solar cell module assembly announcements in March, 3.7GW and 3.1GW, respectively.
The revised figures only reinforced the previous assessment that almost all of the solar cell expansions were for high-efficiency upgrades such as P-type multi PERC, P-type mono PERC, N-type mono heterojunction and bifacial cells as well as 2,100MW attributed to N-type mono IBC/bifacial cells, due to Jolywood (Suzhou) Sunwatt starting construction of a new cell and module production plant in February.
The changes related to higher solar cell expansion plans than previously reported and an accompanying increase in module assembly expansions, although the emphasis was solar cell plans in January that outstripped module assembly and higher solar cell and module assembly plans than previously reported in February. On a geographical basis, the majority of the upward revisions related to China. We have therefore restated in Chart 1, figures that includes these Q1 2017, updates.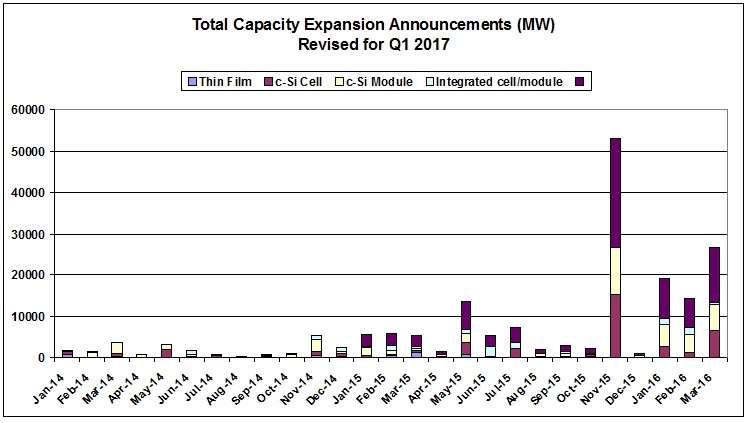 April review
With such a strong first quarter, total capacity expansion announcements in April dropped significantly from the previous months 6.8GW to 3.7GW. The high level of solar cell activity seen in the first quarter subsided significantly to just 900MW. Therefore the majority of announcements related to module assembly at 2.8GW.
However, as seen in the first quarter of 2017, large single capacity expansions that actually had multiple phases spread over multiple years continued, dominated by a new joint venture (JV) by Taiwan-based companies TSEC, Giga Solar Materials and Hou Gu Photoelectric to build a new module assembly plant in Pingtung County, southern Taiwan. Initial plans were for a 500MW plant to meet the expected increase in Taiwan's downstream PV installations, due to new government incentives and strategy to replace nuclear electricity capacity with renewables. The joint venture partners said the plans were to increase nameplate capacity to 2GW.
Keeping with the high-efficiency solar cell drive, Jinneng Clean Energy Technology (JNCEC) and its solar subsidiary, Jinergy would be starting mass production of its N-type monocrystalline bifacial heterojunction (HJ) cells and modules later in 2017, with a capacity of around 800MW.
In total only five companies announced expansion plans in April from China, Taiwan and Thailand.
May review
In contrast, due primarily to the largest annual PV exhibition SNEC in Shanghai, China capacity expansion announcements rocketed to a preliminary total of over 16GW in May 2017.
This was the second highest level of activity since November, 2015 when a total of over 26.5GW of expansion plans were announced. There is a high probability once final checks are made that this figure could rise much further. The majority of announcements were from Chinese manufacturers at the cell and module assembly sectors.
Solar cell announcements dominated in May, totalling over 12GW, up from 900MW in the previous month and easily topping February's figure of 7.5GW. P-type mono PERC solar cell plans were high on the agenda with two notable confirmations that reinforce the phased approach as well as re-emergence of Chinese producers outside the SMSL that are adding significant capacity with next-generation technology.
China-based merchant solar cell producer Guangdong Aiko Solar Energy Technology Co., Ltd (Aiko Solar) for example announced plans at SNEC to become a major supplier of high-efficiency P-type mono PERC and bifacial cells to PV module manufacturers around the world with an 8GW solar cell capacity expansion commitment.
A new greenfield production plant broke ground ahead of the SNEC show and equipment orders were signed with a number of western suppliers on the morning of the first day of the show. The first phase expansion is up to 800MW and completed in the fourth quarter of 2017.
The target is for a three phase expansion, which is expected to be completed by 2022.
The merchant cell producer is also planning to convert its current 1.6GW of nameplate cell capacity in Foshan City, Guangdong province, to P-type mono PERC in 2017.
SunPower also updated its manufacturing plans with Dongfang Electric Company (DEC) and Tianjin Zhonghuan Semiconductor (TZS) under its JV for P Series mono-PERC technology cells that includes a manufacturing capacity expansion from 1.1GW to 5GW. TZS is also planning a 15GW mono/ingot wafer expansion.
In May, module assembly expansion plans dropped to 1.6GW, compared to 2.8GW in the previous month. However, checks are ongoing as a number of Chinese companies at SNEC announced plans that had little actual detail.
Away from SNEC, China-based integrated PV module manufacturer Shanghai Aerospace Automobile Electromechanical Co (HT-SAAE) announced that it had established a 300MW solar cell and 600MW module assembly plant in Turkey to meet local demand as well as supply Europe and the US at the end of May.
Reports also appeared that Egypt Silica Sand would establish a module assembly pilot line in Egypt with plans to build a 1GW plant sometime in the future.
Unique to May was updated information from CdTe thin-film leader First Solar over its plans to migrate from its small area Series 4 modules to its large-area Series 6 platform. This entails a complete decommissioning over time of all of its 3GW of Series 4 module production capacity in the US and Malaysia as well as adding new capacity at its mothballed facility in Vietnam and extra capacity in the US.
Rather than simply upgrades, First Solar is effectively planning completely new production and therefore warrants being included as new capacity. Based on First Solar's updated plans, over 2GW of effective new capacity is expected to come on stream in 2018 through 2019. Total new capacity is expected to be above 5GW of Series 6 modules once all production lines are decommissioned and refitted and ramped.
June review
The activity in June was half the level seen in the previous month. However, total announcements still stood at over 8GW, still driven by high-efficiency solar cell capacity plans of over 12GW.
Of significance was a major capacity expansion planned by China-based Tongwei Solar (Hefei) Co, which said it was adding 2.3GW of P-type mono PERC production over a 3-5 year timeframe to reach 5GW of total nameplate cell capacity. The company also said that it planned to reach 10GW of cell capacity at an unspecified timeframe.
Once again, module assembly announcements slumped to only 210MW, compared to 1.6GW in May, 2017.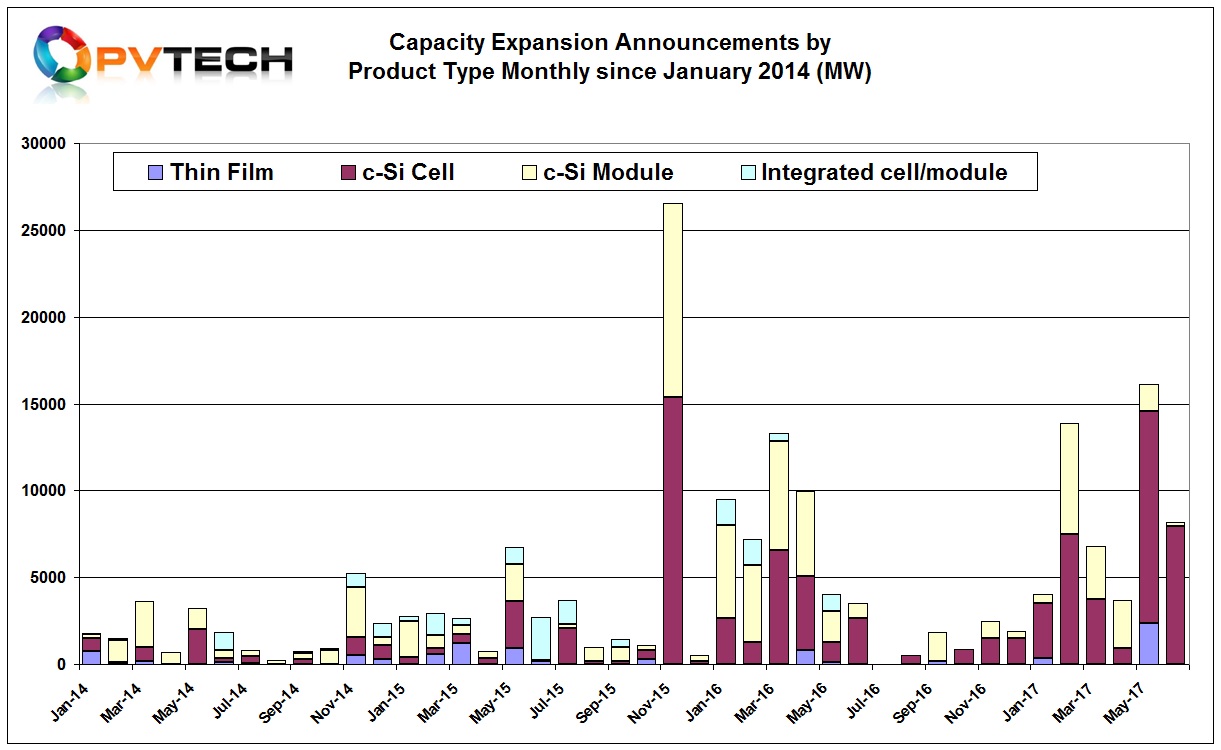 SMSL update
With the majority of SMSL's having already guided on capacity expansions for the year and reviewed in the last quarterly report, there was still some activity worth mentioning.
In March, Hanwha Q CELLS surprised with plans to build and operate (ingot/wafer/cell/module) plants in Turkey, creating a JV with Turkish firm, Kalyon Holding Energy Group. Initial solar cell and module assembly capacity was expected to be 500MW with plans to start production by the end of 2018. The JV would expand further to 1GW in further incremental steps.
Canadian Solar would seem to be continuing to tweak its upstream manufacturing capacity expansion plans as a part of tight capital expenditure controls. The company noted that its in-house solar cell manufacturing capacity was 4.49 GW at the end of the second quarter or 2017, while annual capacity at its Funing cell factory had reached 1,440MW, with an additional 850MW cell capacity at its South East Asia facility.
Debottlenecking cell production later this year would enable the SMSL to reach a nameplate capacity of 4.70GW by year-end. The company expects total worldwide module manufacturing capacity would exceed 7.19GW by year-end, up from initial plans for the year to reach 6.97GW.
LONGi Green Energy Technology noted in its first half year financial report that it was fast-tracking various ingot and wafer expansion plans currently under construction and pulling in projects nearing completion where possible, while saying that a 500MW solar cell expansion phase and a 500MW module assembly expansion would also enter production in the fourth quarter of 2017, earlier than expected, due to demand for P-type mono PERC products.
Another strong quarter
Preliminary total global PV manufacturing capacity expansion announcements in the second quarter of 2017 were over 28GW. This included over 2.3GW of thin-film expansions, over 21GW of solar cell and just 4.6GW of dedicated module assembly announcements.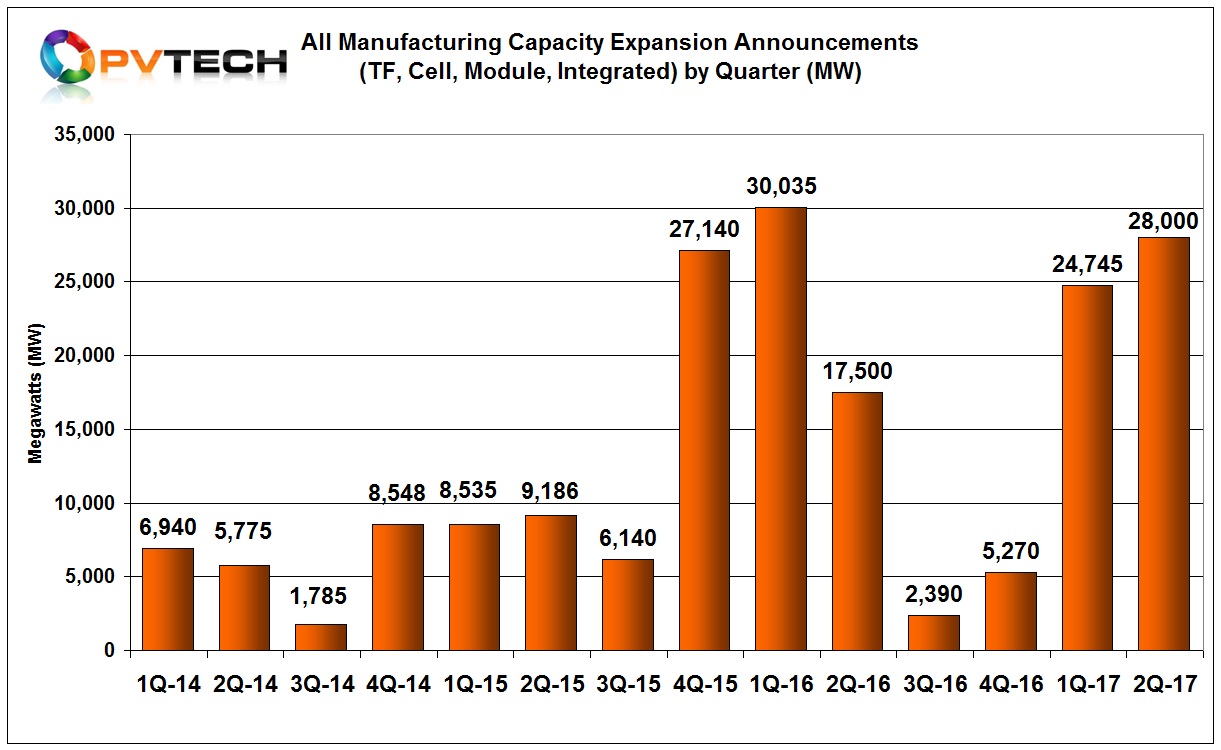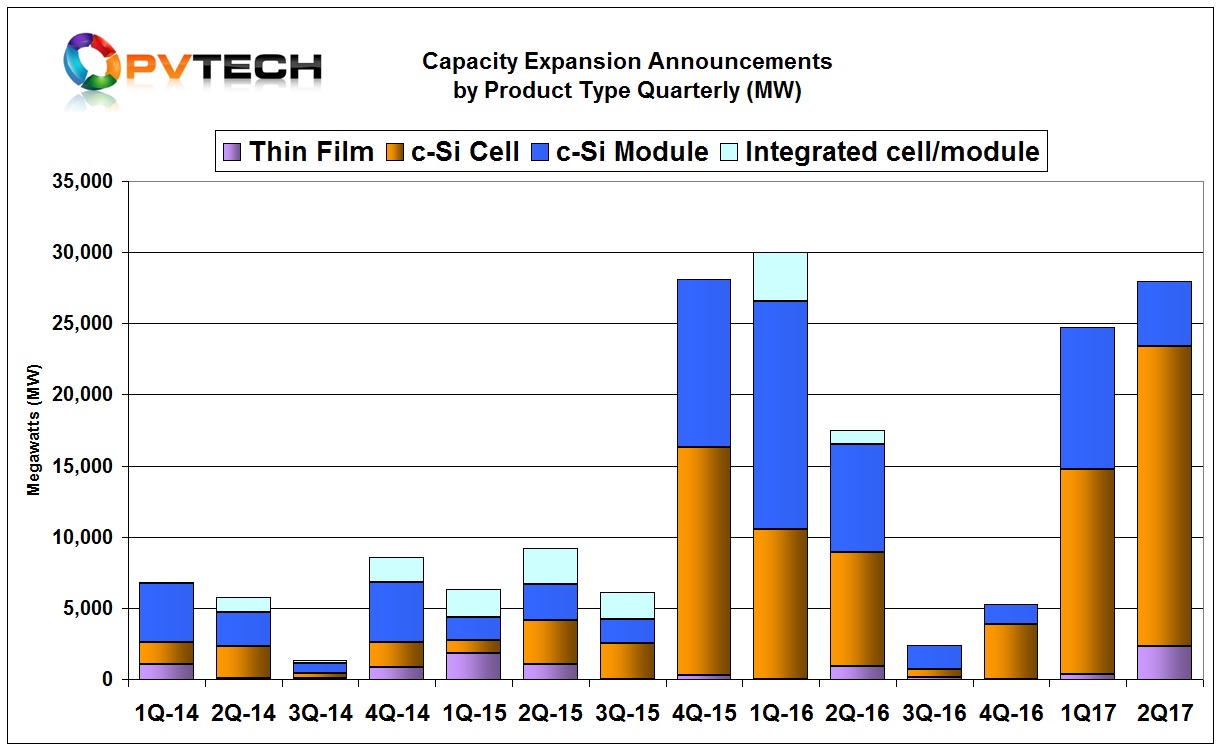 High-efficiency, next-generation solar cell technologies dominated new capacity expansions in the both the first and second quarters of 2017. In the second quarter, HJ expansions accounted for 700MW of the total, while P-type mono PERC announcements were notable for reaching nearly 18GW, compared to around 6.3GW in Q1 2017.
On a geographical basis, China expansions again dominated new announcements in the second quarter. In the first half of 2017, China accounted for almost 70% of planned expansions, while Malaysia and Taiwan remained popular with an 8% and 7% share.
A new emerging country was Turkey, which had a total of 2.3GW of planned new production plants, enjoying a 4% share of planned expansions in the first half of 2017.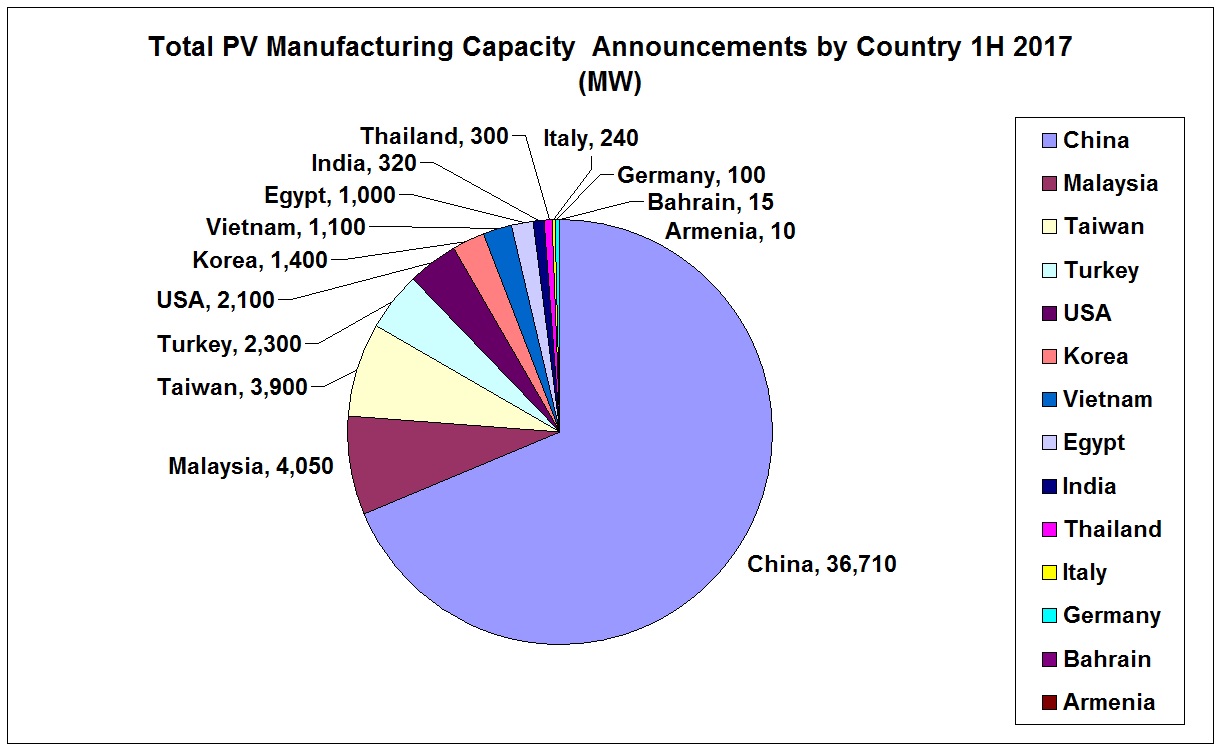 Summary
The first half of 2017 has produced the second (Q2) and fourth (Q1) largest amount of capacity expansion announcements in the history of the solar industry, driven by global end market demand increases that are set see in excess of 90GW of installations and 100GW of shipments this year. Also fuelling the announcements is the significant migration underway to P-type mono PERC solar cells, although much of what was announced is based on multi-phase multi-year plans, inline with announcements made in the first quarter of 2017.