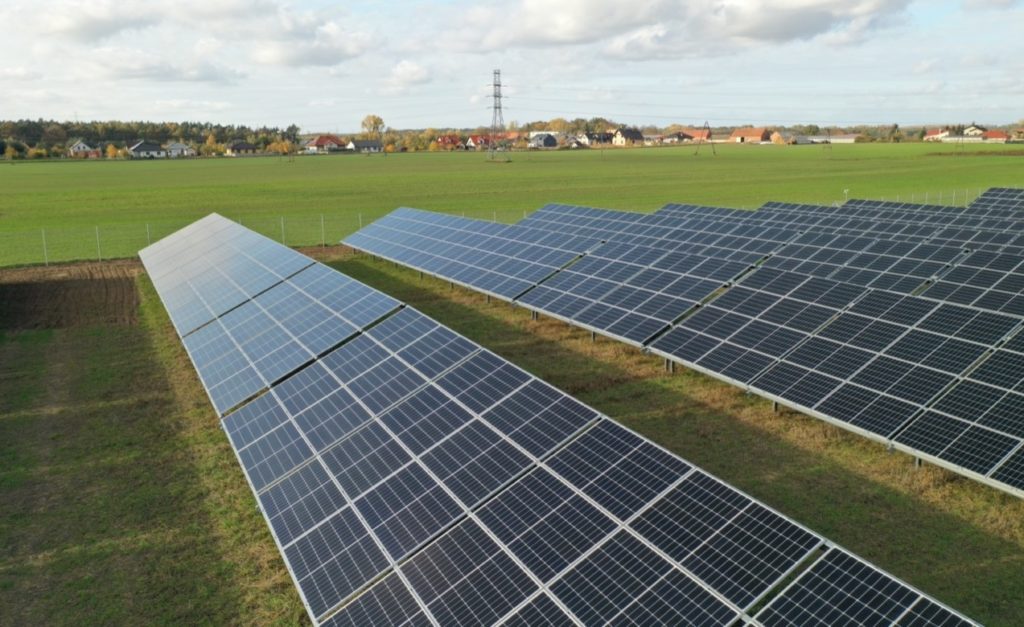 Solar's dominance in recent renewables auctions in Poland has further reinforced the promising outlook for the market, with developers and analysts welcoming support provided for the construction of smaller projects.
Two auctions last month awarded 2.2GW of PV capacity that was split between more than 1.2GW in the basket for installations above 1MW and almost 1GW for projects below 1MW.
Since the results announcement, both R.Power and ReneSola Power have announced successful bids, with the former securing a portfolio with a total capacity of as much as 299MWp and the latter winning 29 plants with a capacity of 1MW for each and one larger installation of 4MW. They were given 15-year contracts.
R.Power co-founder Tomasz Sek said the minimal decline in winning bids compared to previous renewables auctions is a sign that the Polish solar sector is stabilising.
In terms of promoting the development of projects below 1MW, Sek said these are relatively cheap in terms of the capex, because they are medium voltage connection plants, and they also pose less of a burden on the grid than larger installations, which inject high peak capacity in one location. "With the Polish strategy of dividing between two baskets, the small projects are taking less toll on the grid that was essentially designed for conventional energy sources," he said.
Boosted by the auctions as well as a favourable net-metering policy for prosumers, Poland added 2.2GW of PV capacity in 2020, the first year additions exceeded 1GW, according to SolarPower Europe.
Relatively cheap land, good solar resources, a low-cost labour market and close partnerships with German project developers and equipment manufacturers have led consultancy Fitch Solutions to forecast that Poland will deploy 13GW of solar over the next decade, increasing from 3.9GW of installed capacity at year-end 2020 to 16.9GW in 2030.
That level of deployment would see the country more than double the PV targets included in its national energy and climate plan and would result in the solar sector's share of the market's total electricity generation rising from 1% to nearly 6%.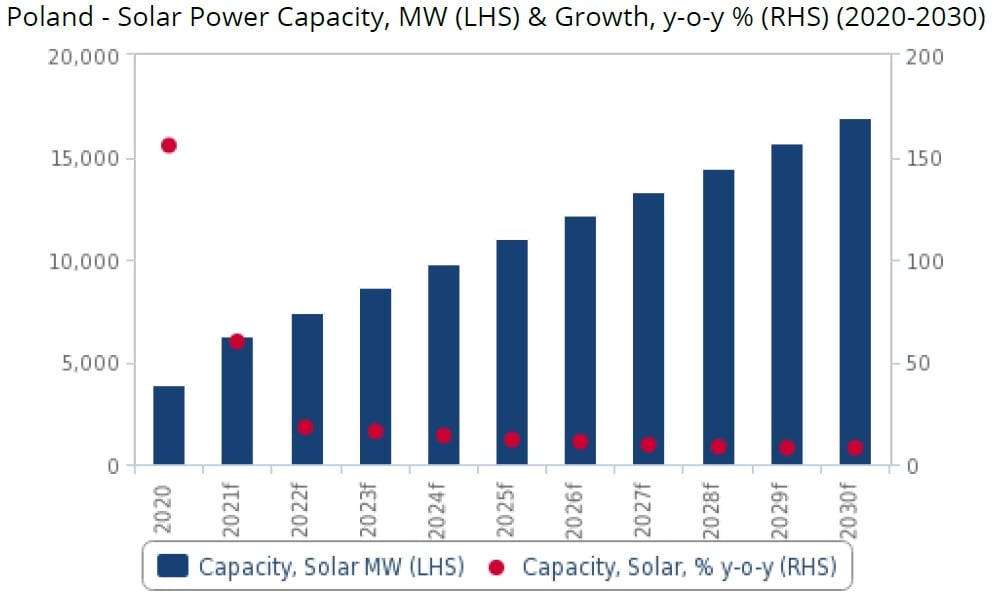 "Polish solar is going to massively outperform in the next ten years," Thomas van Lanschot, senior industry analyst at Fitch Solutions, told PV Tech. "The last three years have really been transformative. I think there's a combination of factors, which was the unbundling of coal assets from a lot of the large utilities, who now have a lot more freedom to manoeuvre in the renewable space, which is what they've wanted to do for a while."
State-owned utility Polska Grupa Energetyczna (PGE) last year said it would spin off its coal assets by the end of 2021 as it aims to transition to 100% renewables by 2050. The company is planning to develop 3GW of solar in the next ten years.
With regards to Poland's auction design, van Lanschot said it suits medium-sized solar players operating in the country that may not have the capital or operational expertise to develop much larger projects. "So having 1MW as a cap is quite positive because it means a lot of companies can get involved."
Last month's auctions, which allocated just 300MW of wind capacity, were also the first in which solar PV dominated both baskets. While the technology traditionally had no competition from wind in the lower-than-1MW category, previous auctions have seen wind bidders pick up a larger share of projects upwards of 1MW. Ewa Magiera, CEO of the Polish Photovoltaic Association, said the latest trend is a result of legal restrictions blocking new wind investments as well as the country's solar boom over recent years.
From 2022, a slowdown in the growth of prosumer installations is expected as some policy support expires at the end of this year, according to Magiera, who said investors developing utility-scale projects may face headwinds in the form of grid connection scarcity. "Today, there are not many places in Poland where large solar farms could be connected without investments by grid operators. These, in turn, may take many months or even years. This is one of the bottlenecks of photovoltaic development."
While there have yet to be any official announcements regarding the date of future renewables auctions, it is expected they will continue to play a key role in helping the country meet its deployment targets.
Large Scale Solar Central and Eastern Europe is being held in Warsaw, Poland from 17-18 November in a hybrid event format. It will see policy-makers, offtakers, transmission and distribution companies meet with developers, investors, lenders and other market players to discuss large scale solar issues specific to that region. For more details on the event, click here.