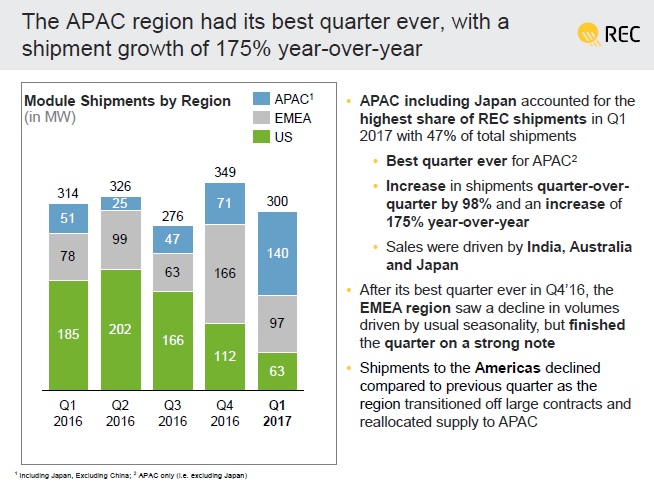 Norway-headquartered integrated PV module manufacturer REC Group has made a significant shift in its regional sales strategy, which was previously dominated by shipments to the US.
REC reported certain first quarter 2017 business metrics that highlighted a 44% decline in module shipments to the US, compared to the fourth quarter of 2016 and a 66% decline from the prior year period, which was the peak in 2016.
In recent years, REC had been a major supplier to SolarCity, as well as the commercial and utility-scale segments in the US, accounting for around 50% of total annual shipments.
The US market has been impacted by significant module ASP declines in the second half of 2016, due to increased availability of cells and modules manufactured outside China and Taiwan to circumvent US anti-dumping duties.
REC said that the decline in US shipments was due to a transition 'off large contracts.'
The company said that total module shipments in the first quarter of 2017 was 300MW, compared to 349MW in the fourth quarter of 2016 and 314MW in the first quarter of 2016.
The shipment shift was to the APAC region, which accounted for 140MW or 47% of shipments in the first quarter of 2017, a 175% year-over-year increase. This was the highest shipment figures ever achieved by REC in the APAC region.
The company noted that the increase was primarily driven by strong sales in India and Australia, while in Japan, the company said it was experiencing 'continuous demand from the commercial & industrial segment and increased demand from multiple-unit residential customers.'
REC has a tailored module for the Japanese residential market in form of its 'REC Peak Energy 2S' (Mono 50-cell BLK), rated at up to 250Wp.
Also partially offsetting a strategic move away from the US, REC noted that shipments to EMEA totalled 97MW in the first quarter, 24% year-over-year increase in typically a slow quarter, due to seasonality. Germany and the UK were said to be the key markets in EMEA in the quarter.
Overall, shipments to the residential market accounted for 73% of total shipments in the quarter, while commercial and utility-scale sector accounted for 27% of shipments.
REC said that it expected shipments in the second quarter of 2017 to be approximately 8-12% higher than the first quarter.
The company is slightly capacity constrained as it continues to migrate all production lines to PERC (Passivated Emitter Rear Cell) technology and shift all module assembly to its half-cut cell design.