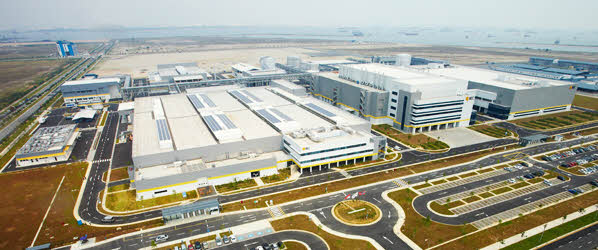 Integrated PV module manufacturer REC Solar has said that it will migrate all production at its manufacturing facility in Tuas, Singapore to its half-cut PERC cell technology, used for its 'TwinPeak' series modules.
The recently announced capacity conversion (automation, technology upgrades) (1.3GW) and R&D investment in collaboration with Singapore-based R&D centre, SERIS (Solar Energy Research Institute of Singapore) includes SG$200 million (US$182.3 million) capacity conversion and SG$50 million R&D spending over the next three and five years respectively.
The R&D spending with SERIS will be used for developing of a novel 350W PV module over the next five years. REC Solar claims the new module is expected to generate 1.35 times more energy while at a comparable cost and size to standard multicrystalline modules.
Capacity expansions are therefore coming from higher cell and module conversion efficiencies rather than added new capacity.
According to PV Tech's assessment, REC Solar would become the first PV manufacturer to switch all production capacity to half-cut and PERC cell technology. Other companies such as SolarWorld are also planning to migrate all production to PERC cell technology.