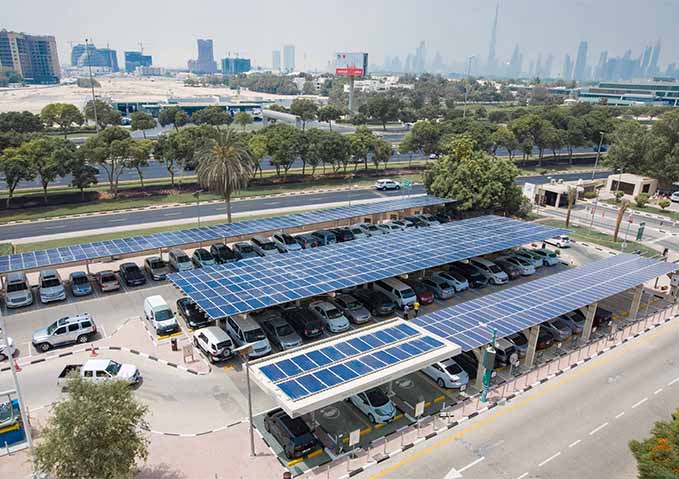 Juwi to build 250MW of solar projects in South Africa
13 August: juwi Renewable Energies has signed three EPC and O&M contracts, with a combined value of ZAR3 billion (US$204.5 million), with African Infrastructure Investment Managers (AIIM) for 250MW of grid-connected solar projects in South Africa.
Under the deals signed, AIIM's IDEAS Managed Fund is a 50.01% shareholder in the three projects which were signed by Juwi, under Round 4 of the REIPPPP Programme.
The agreements follow in the wake of energy minister Jeff Radebe's ZAR56 billion announcement in April 2018, contracting 27 independent renewable energy power producers to add 2.3GW of renewable electricity to the national grid over the next five years.
The three projects are the 86MW Waterloo Solar Park situated near Vryburg in the North West Province, the 78MW Bokamoso Solar Park situated near Leeudoringstad in the North West Province, and the 86MW Droogfontein 2 Solar Park situated near Kimberley in the Northern Cape.
DEWA commissions 2MW solar carport
15 August: Dubai Electricity and Water Authority (DEWA) has commissioned a 2MWp solar carport at its headquarters and at the Ministry of Climate Change and Environment (MOCCAE) building.
DEWA launched the project last year as part of the Shams Dubai initiative, to increase reliance on clean energy and support the Smart Dubai initiative.
This project covers a total of 885 parking spaces in the two locations, using 6,700 locally manufactured solar modules, spanning an area of 13,200 square metres.
Schletter Group supplies 'largest' solar park in the Philippines
15 August: Schletter Group is supplying the mounting systems for what is claimed to be the largest solar power plant in the Philippines, standing at 150MW in Luzon.
The plant is already scheduled for completion in early 2019.
"The fact that we are now also supplying the mounting systems for the largest greenfield plant in the Philippines is another important success in customer acquisition for the Schletter Group," said Florian Roos, head of Schletter Asia. "The new order shows that we are already extremely well-positioned in the Asian growth market."
The Schletter Group had established its own distribution company in the Philippines in June.
The solar power plant is being built on the Philippine main island of Luzon on behalf of a local EPC company. It is the Schletter Group's first project in the Philippines. The main challenge for this solar park is enormous wind loads, from June to November the island of Luzon is regularly plagued by strong typhoons with wind speeds of up to 260km/h.