A key factor in the strong growth of the PV industry in 2017 is the Silicon Module Super League (or SMSL), comprised of the seven companies that will each ship in excess of 4GW of modules this year, well above all other module suppliers to the industry.
As we move into the final weeks of the third quarter of the year, it is highly informative to have a fresh look at the SMSL players, and collectively what changes are being made to ensure higher performance and increased quality of products to the market going forward.
This article requires
Premium Subscription
Basic (FREE) Subscription
Unlock unlimited access for 12 whole months of distinctive global analysis
Photovoltaics International is now included.
Regular insight and analysis of the industry's biggest developments

In-depth interviews with the industry's leading figures

Unlimited digital access to the PV Tech Power journal catalogue

Unlimited digital access to the Photovoltaics International journal catalogue

Access to more than 1,000 technical papers

Discounts on Solar Media's portfolio of events, in-person and virtual
Or continue reading this article for free
This new two-part blog on PV-Tech presents the latest findings of the PV-Tech in-house market research team, with all data and graphics shown in this blog coming from the August 2017 release of our PV Manufacturing & Technology Quarterly report.
Module supply from the SMSL is setting the benchmarks for all PV module suppliers to the industry today, and offerings and plans from the SMSL are set to feature prominently at the PV ModuleTech 2017 conference, less than 3 months away (Kuala Lumpur, 7-8 November 2017).
Part one of the blog here presents data, graphics, analysis and commentary on the market-share of the SMSL and how this group of companies have been investing heavily in the past 12-18 months on improving in-house cell technology. Part two tomorrow looks in detail at investment and returns in manufacturing by the SMSL, including capex and production sales/cost metrics.
Module share accounted for by the SMSL in 2017
First, as a reminder, the SMSL is comprised of seven companies: Canadian Solar, GCL (Systems Integration), Hanwha Q-CELLS, JA Solar, JinkoSolar, LONGi Solar, and Trina Solar.
Six of the SMSL members are headquartered in China, with Hanwha Q-CELLS (Korean) having about one-third of its cell/module capacity based at the former Solarfun facilities in China. Critically, all of the SMSL has the potential to supply multi-GW levels of modules to the largest market in the world today, China.
As we noted in a two-part blog series last week, shipment levels of solar modules in 2017 appears to be well above 90GW, significantly higher than any of the market forecasts that other third-party market research firms have been giving for the past 12 months, at least. To understand this, please refer to part-one of the blog series last week on PV-Tech, through this link.
With five of the seven SMSL companies having strong global brand, established global sales and marketing distribution channels, and access to cell/module supply from Southeast Asia hubs, the geographic distribution of SMSL shipments is largely a summary of global end-market demand now.
The graphic below shows the collective geographic shipments of the SMSL, with our bottom-up forecast here extended to the end of 2018. Superimposed on the graphic also is the share of module shipments coming from the SMSL.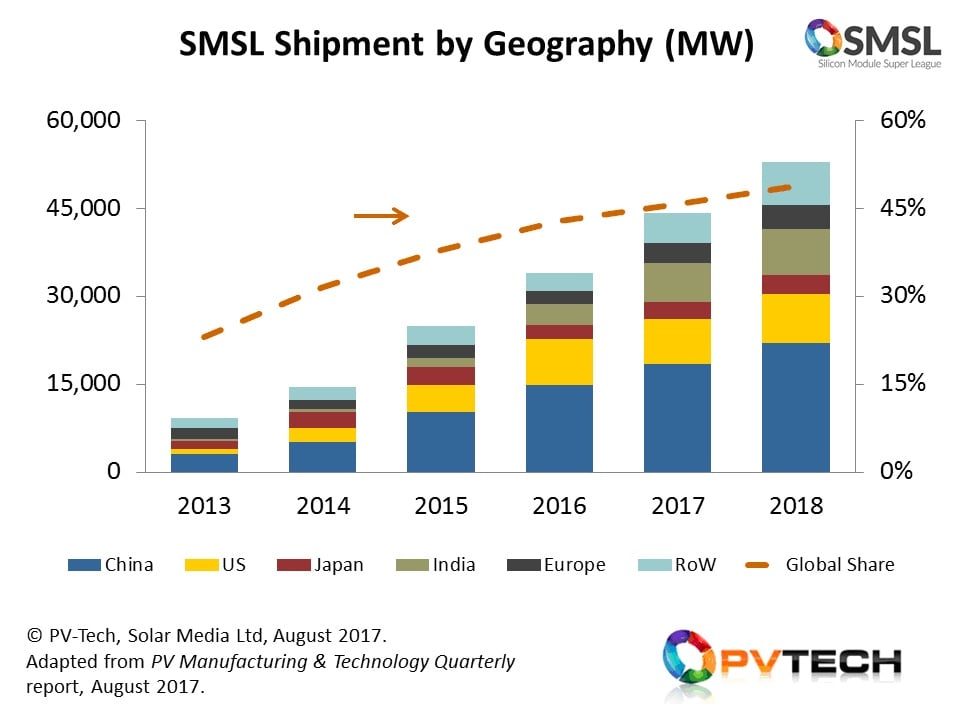 It could be argued that the SMSL is largely comprised of companies that have the scope to allocate considerable module supply volumes to China, as domestic end-market demand dictates, while also being able to access any other global market through a blend of in-house/third-party produced cells and modules, either made in China or Southeast Asia.
In fact, it is probably only possibly to have annual shipments at the company level above 4GW if this working arrangement is in place. Otherwise, being excluded from China (as an overseas-restricted producer), or having no (existing) tariff-free channels to the US and Europe, sets an upper limit on served addressable markets aligned with 1-2GW module supply volumes that defines the next major grouping of module suppliers to the industry now.
The graphic above captures this theme clearly, where the China segment over the time period shown is the leading driver of shipment growth. Module supply to the China market today is a far cry from some five years ago, when regional ASPs were on the low side, and technologies offered were below state-of-the-art module availability.
All this has changed now, and coupled with the relative low-risk and minimal supply volatility seen in other global markets, it is now regularly being prioritized by the SMSL on a seasonal basis. Domestic initiatives such as Top Runner clearly help the SMSL to prioritize technology, and this is reviewed later in this blog also.
However, perhaps the main takeaway from the first graphic here is that about half of all modules shipped by the solar industry in 2018 will be from one of the seven SMSL companies. If you are a global (or even regional or country-specific) project developer, EPC, installer, asset owner/manager or O&M provider, this simple fact should alone be sufficient to prompt further investigation into the performance, reliability and quality of all products being offered by the SMSL over the next few years.
In terms of what is actually made by the companies (in terms of cells and modules, assuming for now that wafer supply is more a commodity offering), almost 40% of the cells used in modules shipped by the SMSL during 2017/2018 will be made by third-party cell producers (other China, Taiwan, Korea, Southeast Asia originated) and about 20% of the modules will be re-branded from OEM-type contract supply (mostly China and Southeast Asia).
More on this at PV ModuleTech 2017, and potential implications on quality control related issues. Surely knowing where cells and modules are made, and by whom, is more important than the company name painted on the crate of modules supplied on-site?
SMSL embraces technology-change at rapid speed
If commentary on the SMSL was confined only to module shipment market-share today, it would alone be of value and one of the key leading indicators for industry growth potential.
However, perhaps the most surprising aspect of the past 12-18 months has been technology-upgrades by the SMSL, and the shift from being first-and-foremost low-cost centres of the industry to technology-drivers (and in some case technology-innovators).
It should be noted that several members of the SMSL (Canadian Solar, JinkoSolar, Trina Solar) started off as low-cost module assembly companies in China, before moving upstream (mainly to cell production) but remaining true to low-cost/low-risk from a technology perspective.
The two new members of the SMSL (GCL-SI and LONGi Solar) are relative newcomers to cell manufacturing having made their mark in the industry as poly/wafer dominant suppliers.
Therefore, the pace of change in cell technology and in-house capacities is all the more impressive. This is shown clearly in the graphic below that tracks in-house cell effective annualized cell capacity levels from the SMSL.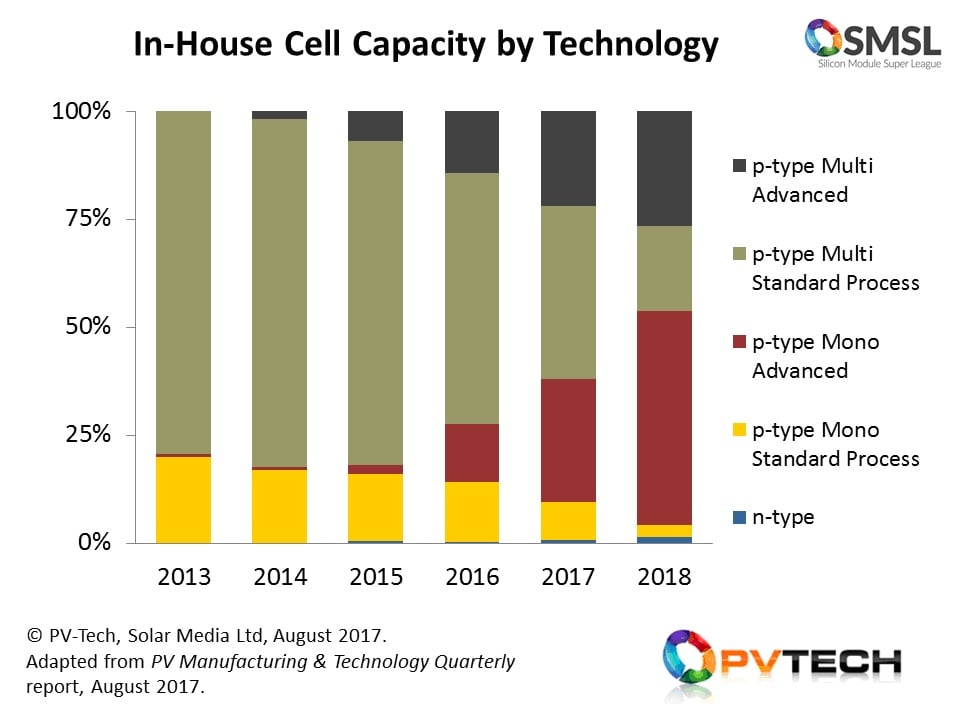 Up until 2016, the in-house cell production from the SMSL was mostly based on standard p-type multi cells, but this can be seen to change radically over the period 2016 to 2018. Several factors are driving this:
• Companies such as Canadian Solar, JA Solar and Jinko Solar have been increasing the portion of mono cell capacity in-house, and upgrading this to PERC. Additionally, lines previously run as multi have been upgraded directly to mono/PERC.
• LONGi Solar's entry to the SMSL has overlapped with the company's strong midstream capacity expansions, all based on p-type mono and with upgrades ongoing to have full p-mono PERC capability.
• Hanwha Q-CELLS has reorganized its technologies specific to facilities in China, Malaysia and Korea, with only the China facilities pending any meaningful technology upgrades now.
More generally, one can segment the technology roadmaps of the SMSL based on several discrete choices:
• Adding new p-type mono cell capacity specified from the start as PERC capable, or moving existing p-type mono or multi lines to p-mono PERC.
• Retaining a portion of p-type multi configured to use diamond-wire-saw (DWS) cut multi wafers, or in the case of some SMSL companies, adding new p-multi lines matched to ingot/wafer capacity for DWS multi wafer supply.
• Having p-multi capacity optimised for p-multi PERC production.
The segmentation here can be linked to the graphic above for 2018, where the in-house cell production of the SMSL is effectively transitioned to 'advanced' p-type cell designs. In the case of multi this is either p-multi PERC or cell lines modified to be capable of using DWS multi wafers (the so-called 'black-silicon' cell categorization). For mono, this is all PERC based.
By 2019, it is likely that the terms standard and advanced cell types will become somewhat irrelevant, with the standard p-type cell having passivated front and rear surfaces.
While it remains to be seen if the DWS-multi/black-silicon phase is a means-to-an-end to extend the life of p-multi by a year or so, the rapid move to PERC is pretty much a game-changer for much of the industry.
The use of rear passivation layers effectively unlocks standard (full-Al BSF) cells from a somewhat limited upgrade path, that was previously one of the reasons many cell makers (mostly from China) had so often presented marketing plans that were based on moving cell lines (rather miraculously) from standard p-multi to hybrid HJT/IBC (albeit confined to an efficiency lines on a PowerPoint slide at a trade show).
Actually, it may be that using passivation layers on the rear surface will be remembered in 3-5 years as the impetus for mass-produced bifacial and glass/glass modules, while at the same time putting a halt on the one-extra-front-busbar-per-year upgrades that have dominated module line technology advances in the past few years.
2017 is still a PERC-migration year, as much as it is a mono market-share-gain year; and this is probably what 2018 will look like also, as far as GW-scale manufacturing is concerned.
Getting mono-PERC reliable and truly LID-free (to name just one of the many long-term field related metrics that matter to investors) does not happen overnight, and simply doing the manufacturing line upgrades with new deposition and contact opening tooling is merely the first step in PERC only.
Taking 2017/2018 as the PERC optimization years, then 2019-2020 may well be the bifacial/glass-glass period, with p-type module site yields moving closer to levels previously considered the sole domain of n-type supply. This timeline may also start to see the move to multi-wire front grid formation, and smart interconnecting at the cell level, and possibly the judgement will be made on half-cut or singulated cell designs and whether the additional complexity/engineering required is good value for money.
Ultimately however, if the SMSL is commanding market-share levels of 70% by 2019-2020, then the main technologies that matters will be what the multi-GW module supply from this grouping looks like. The overall envelope of module performance and field-driven quality and reliability data from the SMSL will then set the competitive benchmark for other me-too c-Si p-type producers, or specialized n-type or thin-film based module suppliers.
Learning more about the SMSL and industry supply trends
Part two of this blog series will appear on PV-Tech tomorrow, showing the capital investments and blended module processing margin trends of the SMSL.
To access the underlying data and analysis of the SMSL, including all manufacturers from polysilicon through to module production, the most recent version of our PV Manufacturing and Technology Quarterly report was released at the start of August 2017, and subscription details are available here.
Leading companies from the SMSL will be presenting and discussing module supply at PV ModuleTech 2017. The event is likely to be a must-attend meeting for all project developers, EPCs and asset owners/managers looking to see exactly what can be expected from the large-scale utility solar site additions coming online in the next 3-5 years, most of which will be using modules supplied by the SMSL companies.
Lastly, I will be delivering a free webinar on 30-31 August 2017, "PV Module Supply in 2017: Leading global suppliers, performance benchmarks & maximizing investor returns." To register for one of the webinar times, please follow this link.