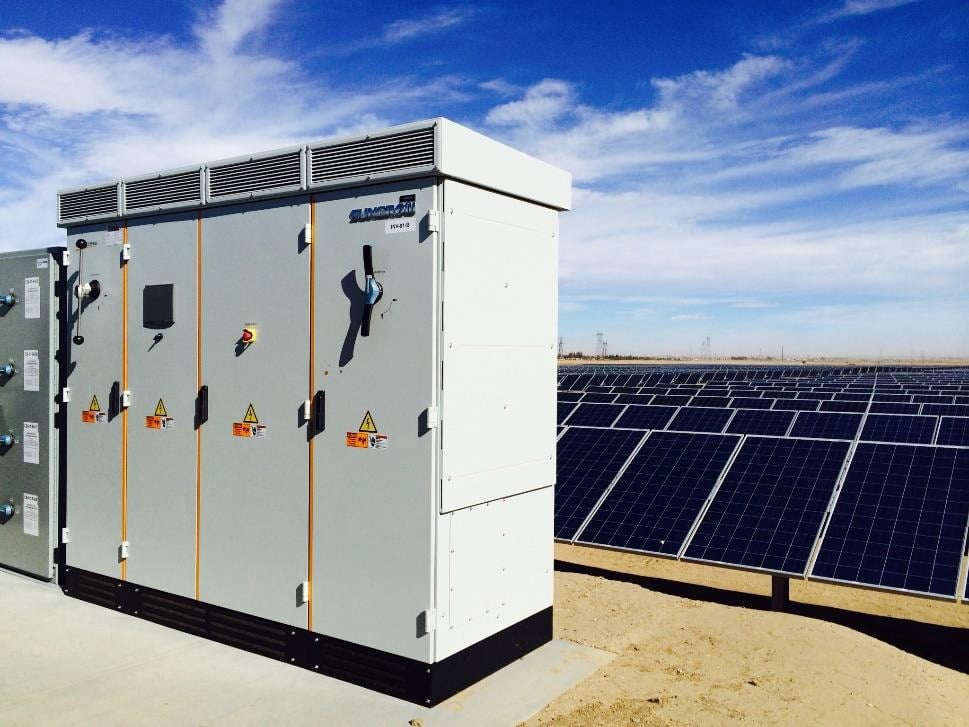 PV Tech's recent coverage of three publicly listed PV inverter manufacturers (SMA Solar Technology, SolarEdge Technologies and Enphase Energy) first quarter financial results has highlighted a looming battle between two of the companies over achieving the highest annual revenue figures (US$ adjusted) in 2018.
Inverter revenue rankings provide another measurement metric to shipment volume (MW), primarily due to companies often operating in different product categories. However, revenue generation can be affected by geographical regions where pricing can be highly competitive. Therefore, both metrics have relevance when observing the PV inverter market.
PV Tech recently reported that major China-based PV inverter manufacturer Sungrow Power Supply Co had reported record annual revenue in 2017, surpassing major European rival, SMA Solar Technology's revenue figures, for the first time.
For several years, Sungrow and Huawei had outstripped SMA Solar, the leading supplier in the sector since the industry started, on shipment volume but as in the case of Sungrow had not exceeded its European rivals annual revenue figures.

It should be noted that China-based Huawei is not publicly listed but provides business updates in press releases and information to several market research firms that are responsible for the PV inverter market rankings and analysis.
As soon as SolarEdge had reported first quarter 2018 results and guidance for the second quarter, it was apparent before collating all the figures that the Israel-based company was rapidly closing the revenue gap on bigger rival SMA Solar.
Sometimes doing the number crunching on a hunch still surprises when the chart generated shows in this case how much the gap between SMA Solar and SolarEdge has closed in just one three month period.
As shown below, SMA Solar had a massive revenue hike in the fourth quarter of 2017 but returned to reality (seasonality) in the first quarter of 2018, albeit with stronger revenue figures than in the first quarter of 2017.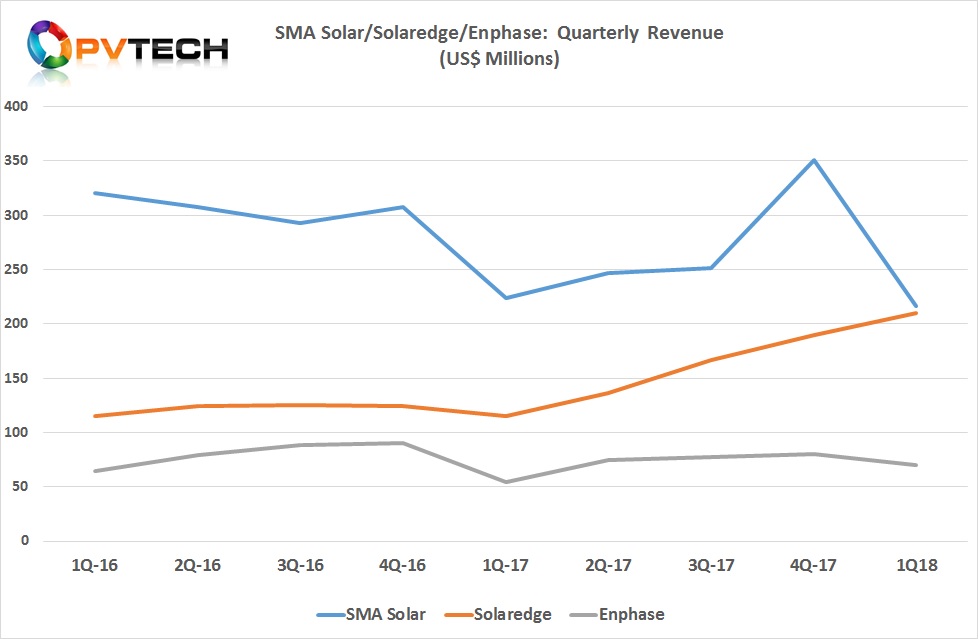 In comparison, SolarEdge doesn't know what seasonality is, as over the last three years its revenue in the first quarters of 2016 and 2017, showed only a very small seasonal correction but in the first quarter of 2018, its revenue progression hasn't flinched at all.
Therefore, SMA Solar's big revenue decline has met SolarEdge's continued upward momentum in just one quarter.
SMA Solar doesn't provide quarterly revenue guidance but SolarEdge does and expects a further revenue increase in the second quarter, having guided within the range of US$220 million to US$230 million.
SMA Solar indicated that revenue and shipment growth would return in the second half of 2018 and guided full-year revenue to be in the range of €900 million to €1,000 million (US$1,070 million to 1,189 million).
As the chart below highlights, SolarEdge still has the tough task of matching revenue growth from 2017 (US$490 million approx) to SMA Solar's guidance range but the trajectory is going in the right direction to further close the gap.