In the second installment of his blog from SNEC in China, Finlay Colville continues to extrapolate a snapshot of the global PV industry from what he saw there and how it all fits into wider trends and realities of the market today. You can read the first installment here.
Chinese-controlled: balanced domestic & overseas shipment quotas
Our second grouping is by far the most important in the solar industry today. It includes also the multi-GW grouping that formed the basis for our Silicon Module Super League of 2016, introduced by PV-Tech in 2015, and now comprising of Canadian Solar, GCL (including its different affiliate parts), JA Solar, JinkoSolar, Hanwha Q-CELLS and Trina Solar.
It also includes companies such as Longi Silicon (with its associated elements such as Lerri Solar), BYD, ET Solar, Astronergy, Risen Solar and others (actually within which GCL sits also), where the model is to be seen as a key module supplier on the global stage, but where domestic supply is critical to consume production and fab utilization levels today.
Each of these companies ultimately wants to have export levels (or more accurately, non-China shipment levels) to comprise as much of their shipment targets as possible. This is driven by the obvious goal of having as large a served addressable market as possible, while also being able to pick and choose the highest ASP (and margin) territories to maximise profits. It is also of course needed to enable China as a country to have a presence on the global stage that has a more long lasting outcome than simply being a key sponsor of the FIFA World Cup every four years.
The consequences of this second grouping are far-reaching, and could form the basis of thesis galore on the solar PV industry today. Let's pull out a few of these here for quick discussion.
The ability of these companies to serve markets (tariff free) for shipments to the US and Europe has now become the single most important factor in cell and module capacity metrics across Southeast Asia, within which Malaysia is by far the most active and value-added today.
It also forms the basis for shipments into India, a market almost completed served by Chinese module supply today, and at risk of becoming the last-resort dumping ground for lower spec modules made in China that would appear to have no other preferred end-market destination.
Finally, it forms the basis for shipments (often with downstream investments or related ventures) into the industry's emerging regions bucket, and largely consisting of Latin America, the MEA region and other countries across Southeast Asia and Australia.
As such, each of these companies is currently operating on a short-term basis from a shipment guidance (and capacity allocation level) perspective, balancing exposure to domestic market returns and those on offer from mostly shipments to other multi-GW end-markets such as the US and Japan.
To adapt to this, many Chinese firms have the luxury of keeping in-house utilization rates fixed, and then adjusting domestic shipments to China by playing with outsourcing levels from OEM suppliers in China; noting critically that for the Silicon Module Super League, only 50% of the shipped modules in 2016 will use cells made in-house, not to mention outsourced modules themselves simply being rebadged.
This luxury is not available however for tariff-free shipments to the US or Europe (or indeed for companies that have removed themselves from the European MIP undertaking), where cell and module production in Southeast Asia becomes a must. This explains exactly why the capacity additions in this region by the Chinese-controlled (including Hanwha Q-CELLS from an operational standpoint) are being careful on the timing and capacity levels coming online, as short as the second half of this year.
Lastly, it explains also why it is so hard to see company specific guidance for 2017, with only Hanwha Q-CELLS and Longi Silicon from our above company list, being possibly the only two companies that have gone on record for capacity plans beyond the end of this year. In short, you can't guide 2017, if you have so much uncertainty just around the second half of 2016, noting again that we are almost half way through the present calendar year.
Another knock-on effect from this grouping can be seen in capex and technology, with China and Southeast Asia production lines for some showing clear differentiation.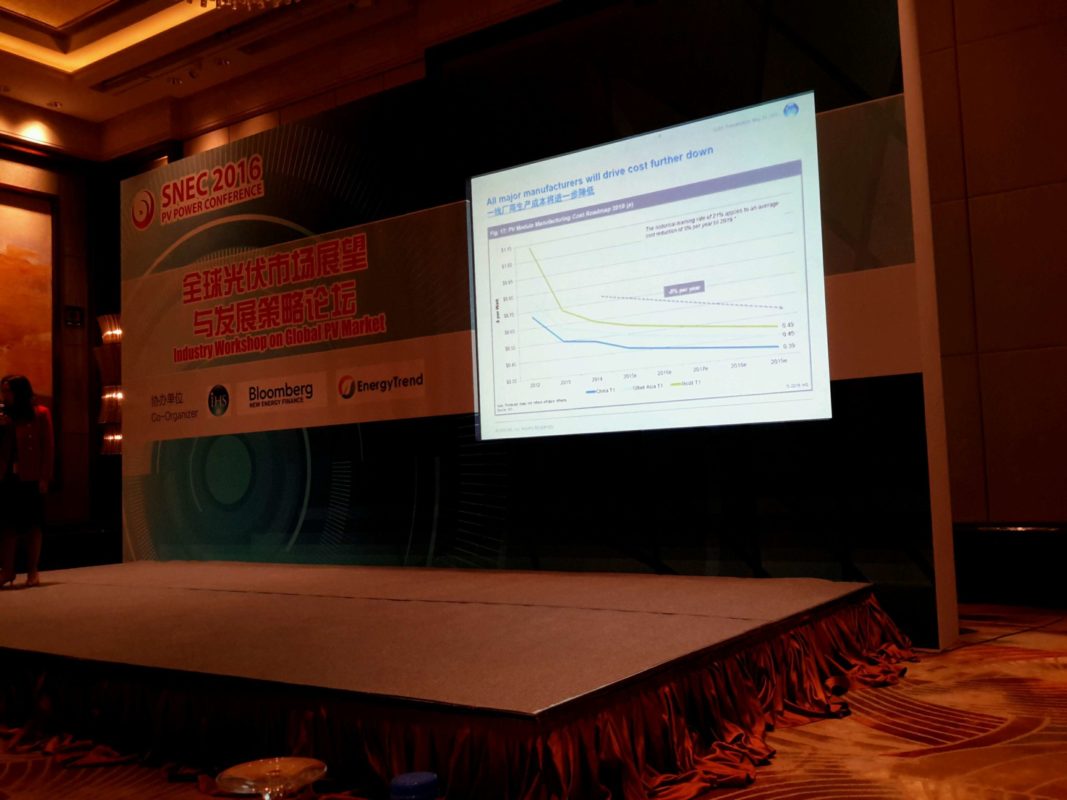 The world outside China
The final category relates to companies making cells and modules outside China, where the served addressable market is everything except China. And this forms also our invisible segment from the SNEC floor plan. No surprises there.
Within this grouping we have two types of companies. Those stuck in the midstream part of the value-chain making cells and modules outside China, but with no strong route to market through any global module supply sales and marketing presence. Indeed, this includes also many of the Taiwanese cell makers.
This part of the industry needs China, both as a form of non-Chinese cell and module supply for module shipment quotas to the US, but in the case of Taiwan, for cell supply to modules being installed within China also. Not an ideal situation for Taiwan.
For those companies that have a dominant end-market presence (First Solar, SunPower, REC Solar, SolarWorld and others), these companies are essentially operating in a non-China global solar market, where the effect of China is not direct but has secondary impact, in particular driven by the export-strong Silicon Module Super League that can drive ASPs down faster owing to China related metrics such as economy of scale, low-cost production, and lower cost-of-finance (when downstream project activity is added in).
This split manifests itself in the vastly different approaches of these companies to capacity additions (or the lack of any new fabs today except what is happening with SolarCity's Silevo operations), and the focus on R&D, capex and effective capacity upgrades to existing lines. Maybe we could also make the case for the world having two technology roadmaps even.
As an aside here on the above, it is somewhat ironic that it took yours-truly going to SNEC for three days, to finally piece together all the bits and pieces at Silevo, but this is for another day!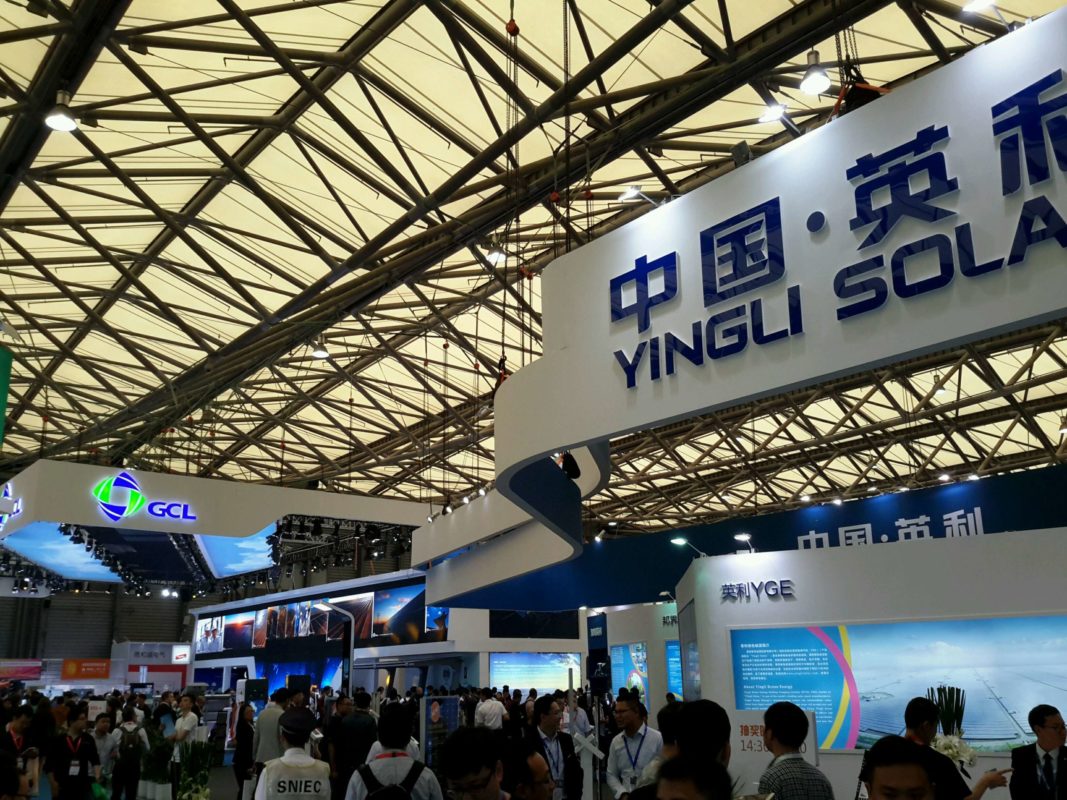 So, what does it all mean?
Here sadly, looking out my hotel window onto a rain-drenched Pudong, I draw a blank for now. The speed at which the industry has changed in the past couple of years has been dramatic, and the industry today has no parallels from that seen in the past.
Perhaps we are going to end up with three different types of industry consolidation and shake-out? Maybe trade tariffs will vanish and the world will become a more cosmopolitan place for solar supply? Or could it be that the current status-quo will simply continue for a few years before some other factors (such as pure economics favouring solar in the absence of any government subsidies) become the leading factor in overall market supply dynamics?
Either way, talking about global capacity, single-industry supply/demand figures would appear to be missing the plot, with this analysis largely academic if we truly have a world where companies fall into one of just three groupings, competing only competitors lumped into the same category.
As the industry moves onto Intersolar in Munich in a few weeks, for sanity's sake, I just hope the plot does not thicken.