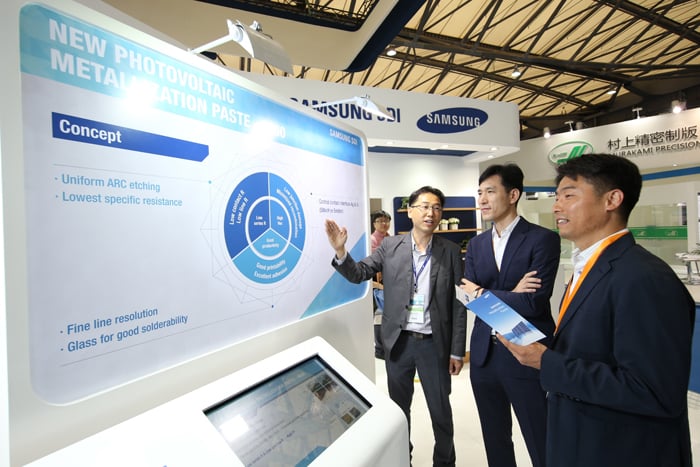 Photovoltaic metallization paste producer Samsung SDI expects to start production of its range of pastes for solar cells at a new facility in Wuxi, China to meet growing demand.
The company claimed that it had achieved the highest market share in China last year, surpassing key rivals DuPont Photovoltaics and Heraeus.
The new paste production facility is expected to start production in June, 2016 with an initial production ramp of 40 tons per month. Samsung SDI has plans to ramp production to 100 tons per month in the future.
The increased paste capacity is also targeted at increased solar cell production in Malaysia and Thailand and emerging markets such as India, with claims of becoming the global market leader in 2016.
At SNEC 2016, being held in Shanghai, China this week, Samsung SDI said it had launched its latest '8800' Series paste, designed for double printing fine line solar cell applications, increasingly used for high efficiency cells using a variety of PERC (Passivated Emitter Rear Cell) architectures.
The establishment of production in China is designed to reduce development and supply lead times on increased paste shipment volumes.
Song Chang Lyong, vice president of Samsung SDI Electronic Materials Business Division said, "We have improved market responsiveness by starting Wuxi Plant operation and releasing new products that are applied to high-efficiency solar cells. With this, we will advance to a true leader in the global photovoltaic market."