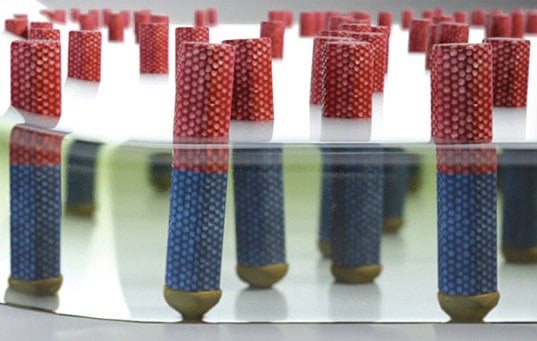 Sweden-based solar cell nanowire materials start-up Sol Voltaics said it had achieved a key breakthrough in commercializing its gallium arsenide (GaAs) nanowire film for crystalline silicon solar cells.
Sol Voltaics noted that it had successfully used its patented 'Aerotaxy' nanowire thin-film reactor process to create GaAs nanowires in quantities that would lead to the production of a commercial film that could be integrated with a traditional silicon solar cell as a tandem cell to boost overall module efficiency by more than 50%, enabling module conversion efficiencies that exceeded 27%.
Previously, Sol Voltaics had achieved repeatable nanowire alignment and orientation, another key benchmark in the possible use of nanowires for commercial applications.
"Today's achievement is the most significant to date for Sol Voltaics," stated Erik Smith, CEO of Sol Voltaics. "Producing solar nanowires through Aerotaxy is the key to manufacturing our SolFilm. The nanowires are grown such that the top and bottom of the wire have opposite doping profiles. This makes each nanowire a fully functional solar cell, with a pn junction along the length of the wire. Whether used by module manufacturers as a single-junction, high-efficiency, low-cost solution or as a boosting technology, we believe 'SolFilm' will usher in a new age of solar power efficiencies, bringing tremendous value not only to solar manufacturers but also to businesses and consumers who adopt solar."
Moving to perfect and commercialise its SolFilm product offering would seem to be the next phase in Sol Voltaics development cycle, along with a low-cost high-volume Aerotaxy process to enable billions of gallium arsenide (GaAs) nanowires to be correctly aligned in a film for solar cell producers to evaluate cost and efficiency gains.
The company completed a US$17 million funding round a year ago, which included investment from the Swedish Energy Agency and the European Union's Horizon 2020 research and innovation program.