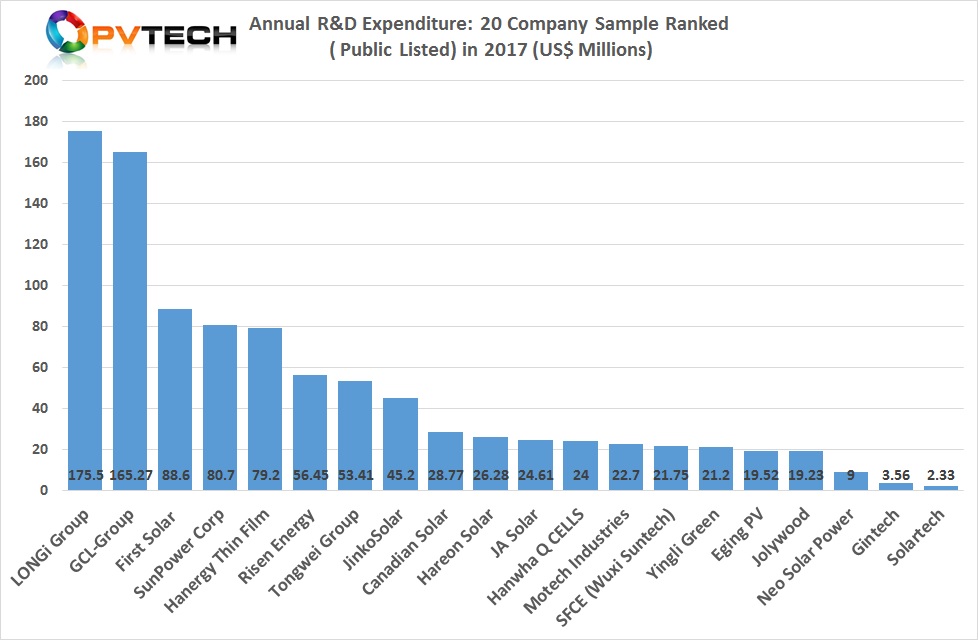 We have tracked the annual R&D spending of 12 key publicly listed PV module manufacturers over the last 10 years. We present our new methodology with a broader scope which reveals record levels of investment in solar innovation.
In the 2016 R&D spending report we highlighted that due to a number of these companies withdrawn from stock markets, verifiable data from publically available annual financial reports was in decline.
This trend escalated in 2017, with the result that we could no-longer track four companies (REC, Trina Solar, ReneSola and SolarWorld) from the original group of 12, which had included First Solar, the only thin-film module manufacturer amongst the group, and 11 crystalline silicon module manufacturers, which included Canadian Solar, Hanwha Q CELLS, JA Solar, JinkoSolar, REC, ReneSola, SolarWorld, SunPower, Suntech, Trina Solar and Yingli Green.
An analysis of R&D spending of 20 publically listed PV module manufacturers in 2017 has been undertaken to replace Photovoltaics International's former list of 12 companies tracked over a 10-year period. A number of the original companies tracked have subsequently de-listed from stock markets and gone private, which had meant that a broader analysis, including other listed companies would be required to provide a good representation of global R&D spending trends in the PV wafer, cell and module segments of the upstream solar market.
Recently published in edition 41 of Photovoltaics International is the white paper "R&D spending analysis of 20 key PV manufacturers in 2017", which can be accessed online through a paid annual subscription to the journal here, or individual white paper purchases here.
Below are some of key findings from the 2017 R&D spending report.
New analysis criteria
The 2017 R&D spending analysis includes the following 20 PV manufacturers: Canadian Solar, Eging Photovoltaic, First Solar, GCL-Group, Gintech, Hanergy Thin Film, Hanwha Q CELLS, Hareon Solar, JA Solar, JinkoSolar, Jolywood, LONGi Group, Motech Industries, Neo Solar Power, Risen Energy, Solartech Energy, SunPower Corp, Tongwei Group, Wuxi Suntech and Yingli Green.
Although we have historically analysed R&D spending of primarily module manufacturers, this and subsequent reports analyse total R&D spending, which in the case of GCL, include GCL-Poly (polysilicon and multi c-Si wafer) and GCL System Integrated (cell and module), combined.
In the case of LONGi, R&D spending is across mono c-Si wafer and subsidiary, LONGi Solar (cell and module), combined. The spending analysis of Tongwei includes polysilicon, cells and modules.
Although all companies in the new selection produce modules at varying capacities, the cases of Neo Solar Power, Motech, Gintech and Solartech have historically been concentrated on merchant cell production.
Therefore, ranking companies specifically from a module R&D spend perspective as we have historically undertaken, is no-longer used. Instead, this and subsequent reports are looking more holistically at R&D spending trends from the broader upstream supply chain of selected publically listed companies.
Historical R&D spending trends from 2007 to 2016
In retaining historical data that tracked 12 module manufacturers from 2007 through to 2016, combined with data from the expanded list of PV manufacturers, primarily from 2012 through to 2016, the chart below shows a sharp increase in R&D spending in 2014, compared to the two previous years. This increase coincided with a recovery in the PV industry, after several years of extreme overcapacity throughout the supply chain and was a new record at the time.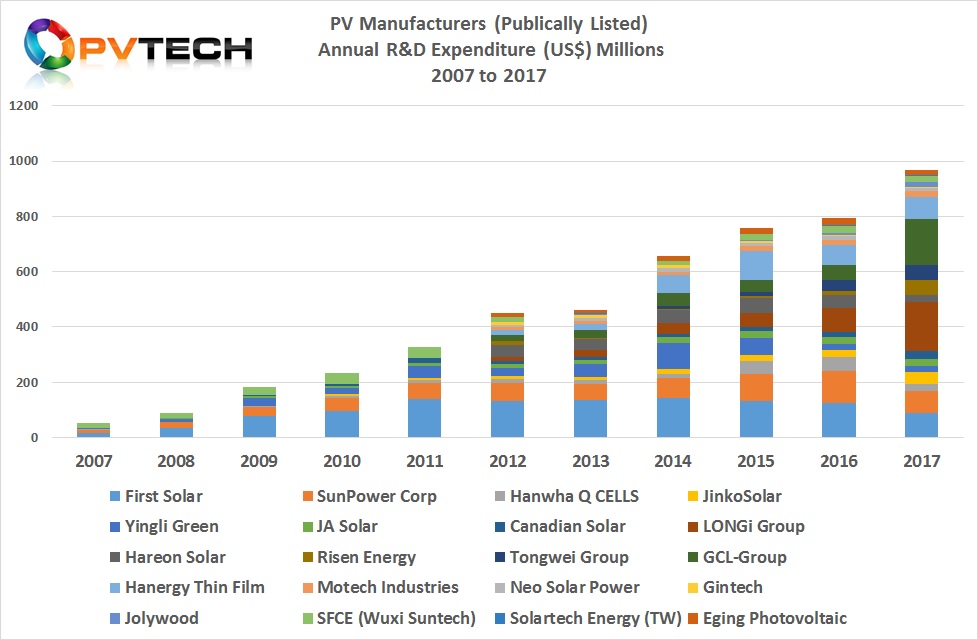 Cumulative annual R&D spending reached US$880.41 million in 2015, up from US$781.5 million in 2014, up around 12.5%, or almost US$100 million from the previous year.
However, a trend not seen before 2012, which accounted for strong sequential R&D expenditure growth has remained ever since, which has been selective company R&D spending behaviour.
This manifested itself in 2012, when seven companies reduced R&D spending, whilst the others expanded spending. In 2013, the number reducing spending increased to 10 and only three of these (Eging, Suntech and Trina Solar) continued to lower spending in two consecutive years.
In 2014, a total of only three companies (Gintech, Hanwha Q CELLS and Risen) actually lowered R&D spending, reflecting the overall global solar market recovery. Gintech was the only company lower spending in two consecutive years.
By 2016, the number of companies reducing spending had increased back to seven. This may have been a key factor in cumulative R&D spending only increasing by about 3% that year, which reached US$907.46 million but another new record.
R&D spending trends in 2017
In 2017, with four companies (REC, Trina Solar, ReneSola and SolarWorld) no-longer tracked, due to stock market de-listings, it would be understandable that further R&D spending growth could be problematic.
However, R&D spending hit a new record of US$967.28 million in 2017, an increase of around 6.6%, year-on-year, more than double the relatively small increase seen in 2016.
Interestingly, spending growth would seem to have been hampered by a total of 10 companies reducing R&D spending in 2017, compared with the previous year, a new record number.
In the 2017 analysis, Gintech had reduced R&D spending in five consecutive years, First Solar had reduced spending in three consecutive years, while only Hareon Solar had reduced spending in two consecutive years.
Four companies (SunPower, Hanhwa Q CELLS, Eging and JA Solar) had lowered spending in 2017, compared to 2016, when spending had reached record levels.
SunPower had only lowered annual R&D spending once before, in 2013, while in the case of JA Solar, 2017 was the first year its annual spending had declined.
In total, nine companies increase R&D spending year-on-year, while one (Yingli Green) spent exactly the same amount (US$21.2 million) as it did in the previous year. The first company to achieve that feat.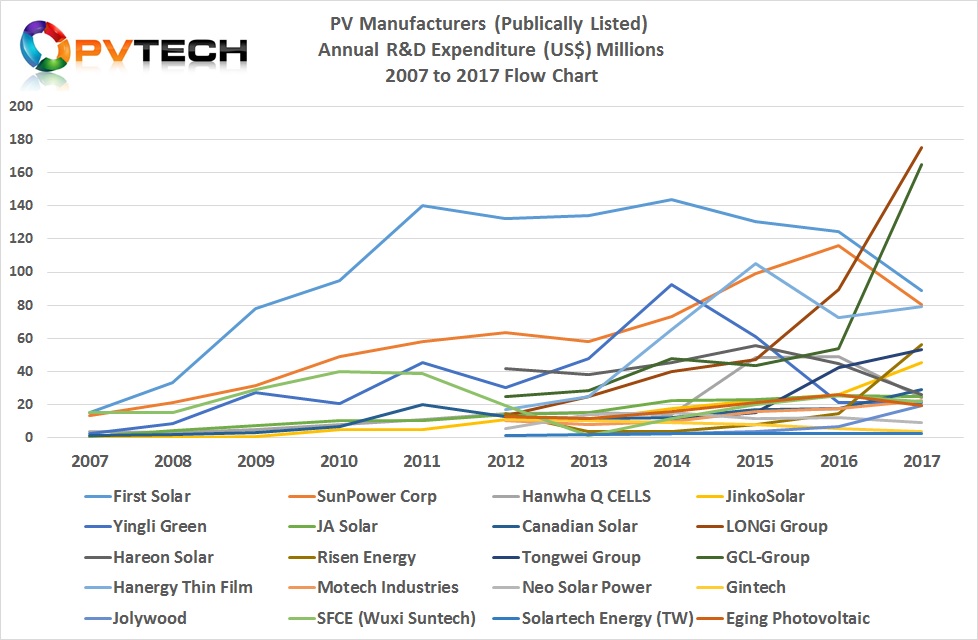 Also contributing to the decline has been the financial condition of some of the companies, such as Hareon Solar, which drastically cut spending from a peak of US$55.9 million in 2015 to US$26.28 million in 2017. The company lost approximately US$707 million in 2017 and had been loss-making for at least six years. The company is technically bankrupt in 2018.
This may also be a contributing factor in SunPower reducing spending as the company reported a GAAP net loss of US$851 million in 2017, its fifth consecutive year of losses.
In the case of First Solar, which is shifting production from its small form factor Series 4 modules to the large-area Series 6 modules and building three new plants, restricting overall spending could have been a factor in R&D spending declining to US$88.6 million in 2017, compared to US$124.7 million in 2016.
In contrast, a number of the nine companies in 2017 that increased spending (GCL, LONGi, JinkoSolar, Canadian Solar, Risen and Jolywood) did so at significantly higher levels than in the previous year. All of these companies had major R&D programs in full-swing in 2017, not least GCL and LONGi across materials, wafers cells and modules.
High rollers
In the case of LONGi, R&D spending increased from US$89.23 million in 2016, to US$175.5 million in 2017, a year-on-year increase of 96.67% from US$89.2 million in 2016.
LONGi set a new solar industry, not only by surpassing the two historical R&D spending leaders (First Solar and SunPower) but also spending more in one year than any PV manufacturer to date.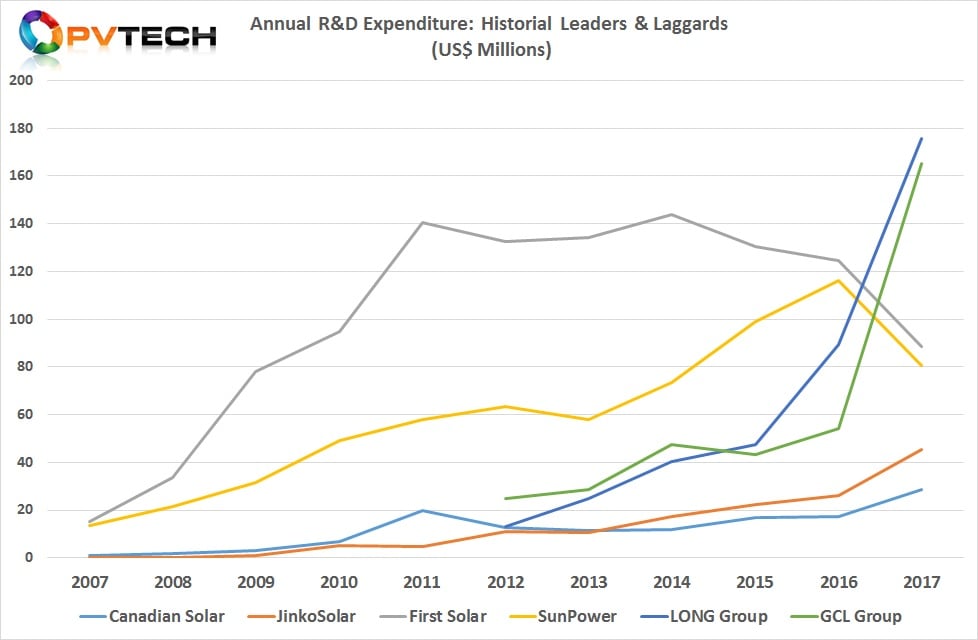 LONGi reported total revenue of US$2.59 billion in 2017, up almost 42% from the previous year, with R&D spending accounting for 6.77% of revenue.
Only SunPower has come close to that ratio when in 2015, R&D spending accounted for 6% of revenue and First Solar's R&D spending ratio to revenue topped 5.1% in 2011.

LONGi has increased R&D spending for six years in a row and has maintained a high-level of R&D investment over the last four years.
Leading polysilicon and solar wafer producer GCL-Poly Energy Holdings, part of the GCL Group had also reported a massive increase in R&D spending in 2017.
The company developed new mono-silicon crystal growth techniques and FBR (Fluidized Bed Reactor) technology, as well as advances in diamond wire saw cutting and 'Black Silicon' wafer texturing for multicrystalline wafers.
GCL-Poly's R&D expenditure increased from US$39.1 million in 2016 to US$151.22 million in 2017, an increase of 288%. When R&D spending is combined with GCL-SI (cell and module manufacturer and downstream project developer, GCL New Energy), total spending reached US$165.27 million in 2017. GCL group revenue topped US$6.66 billion in 2017.
The year under review resulted in another record for solar industry R&D spending (selected 20 companies), despite the forced removal of four companies from historical analysis undertaken since 2007.
New record levels of absolute spending on a company basis were achieved as well as some on a year-on-year percentage basis.
However, a growing number of companies reduced R&D spending in 2017, only negated by a select number increasing spending, significantly.
Overall, the trends in R&D spending remain fluid as they can be positively impacted by the continued pace of new technology adoption as well as being impacted negatively by individual companies technology development cycles and financial condition.
As seen in the 2012/13 period, industry overcapacity can stifle spending growth but the growth trajectory has remained consistent with global market installation growth.
Finally, it should be noted that further company developments in 2018 will lead to another refresh of the companies covered in the next R&D spending report as Canadian Solar and Yingli Green, for example, have delisted or are in the process of delisting, while the merger of three Taiwanese manufacturers (NSP, Gintech and Solartech) will see the loss of a further two companies being independently analysed.