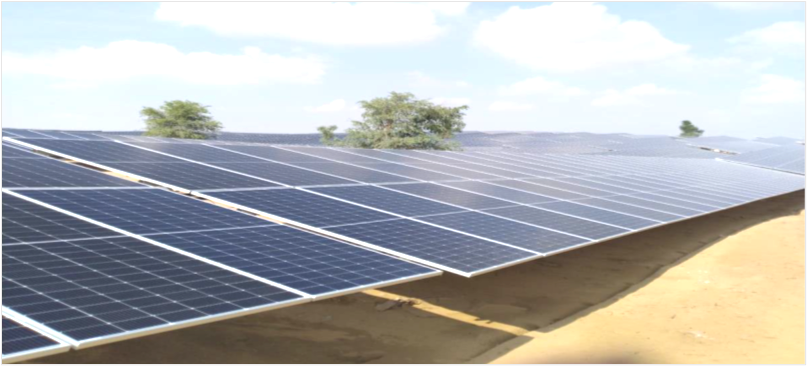 Clean energy researcher Bridge To India has released its "Solar Map 2022" report, displaying the state of the Indian solar market as of December last year.
The infographic report shows that state-by-state solar deployments continued to be inconsistent and that domestic module and cell supply accounted for far less capacity than imports, though overall instalments still remain impressive.
India installed 13.9GW of solar PV last year according to industry analyst Ember. 12.1GW of that was taken up by utility-scale solar; the country's total installed utility-scale capacity now sits at just under 54GW, Bridge to India said.
In terms of state-by-state breakdowns, Rajasthan is by far the largest installer of utility-scale solar with 16GW of commissioned capacity as of the end of last year. Karnataka is the second largest state market, with just over 8GW installed. The report said that Rajasthan's project pipeline sits at 24.4GW, which is 15GW larger than the next-nearest state, Gujarat, which has a solar pipeline capacity of 9.6GW.
At the other end of the scale, over ten states in the North and East of India have a collective capacity of just 1.6GW.
The disparity is made starker by the Solar Map's inclusion of power consumption figures across the states: the ten-plus states with the lowest solar PV penetration use 373,910 kWh of power whilst Rajasthan consumes 98,642 kWh.
The disparity between states has been an ongoing concern for the Indian solar industry. Early this year, in conversation with PV Tech Premium, Bridge to India highlighted the inconsistency of deployment and a lack of consistent central solar legislation as a key concern for the development of the market. The country's renewable energy certificates – which states have to purchase if they fail to meet their deployment targets – are often left unpurchased or unfulfilled, lessening the incentives for state governments to stick to their targets.
This is notwithstanding the unavoidable factors – like mountainous terrain or lower solar resources – that also impact states' deployment rates in the north and east. Rajasthan, by contrast, is a largely desert state with consistent sunshine and large swathes of unused land. Interconnection and centralised legislation – in the style of the recent announcements regarding the commercial solar sector – will contribute to greater balance across the country.
The report also looks at the nuts and bolts of India's solar sector. In terms of module supply in 2022, imported equipment accounted for almost twice the capacity of domestic production – 10.2GW compared with 5.8GW. The country's supply crunch has been well-documented following the basic customs duty (BCD) and approved list of models and manufacturers (ALMM) policies which hampered solar imports before domestic capacity could catch up.
The government held an auction for financial incentives to expand domestic capacity earlier this month.
Moreover, imported cells outpaced domestic supply fourfold, with 6GW imported compared with 1.5GW manufactured domestically.
The largest players across the industry were also highlighted. Adani Group is the dominant project developer with a 14.43% market share, whilst LONGi is the largest module supplier with a 19.75% share. In domestic terms, Waaree supplied the most Indian-made modules to the market – 884MW – whilst also exporting 954MW of capacity.
The biggest inverter supplier was Sungrow – 32.34% market share – whilst the largest engineering, procurement and construction (EPC) contractor was Tata. However, a third of EPC work was undertaken by companies on their own projects, rather than employing a contractor.