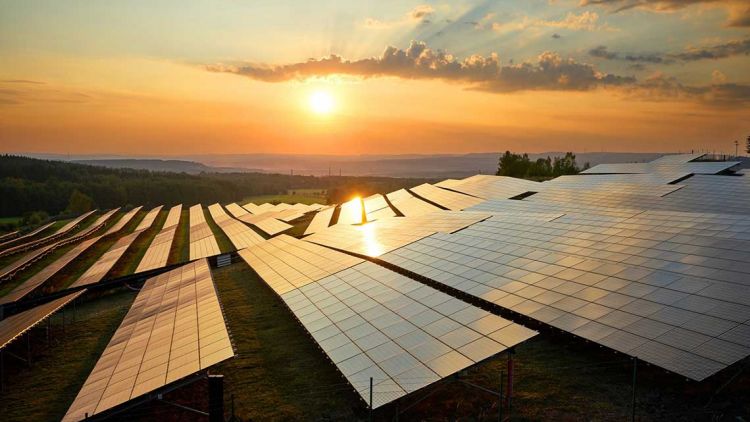 Solar capacity grew significantly in India last year, and renewables dominated the country's power generation capacity additions in 2022, according to Ember's India state RES target and progress tracker.
Among India's clean power sources, solar generation accounted for the largest growth in 2022, adding 13.9GW of solar capacity in just a year, higher than the entire fleet of the UK's solar capacity of 13.7GW, according to Ember.
Rajasthan and Gujarat were the top states for solar deployment as they added 8.6GW of capacity, higher than Turkey's capacity of 7.8GW. All other states in India added only 5.3GW, still higher than Chile's installed solar capacity of 4.5GW.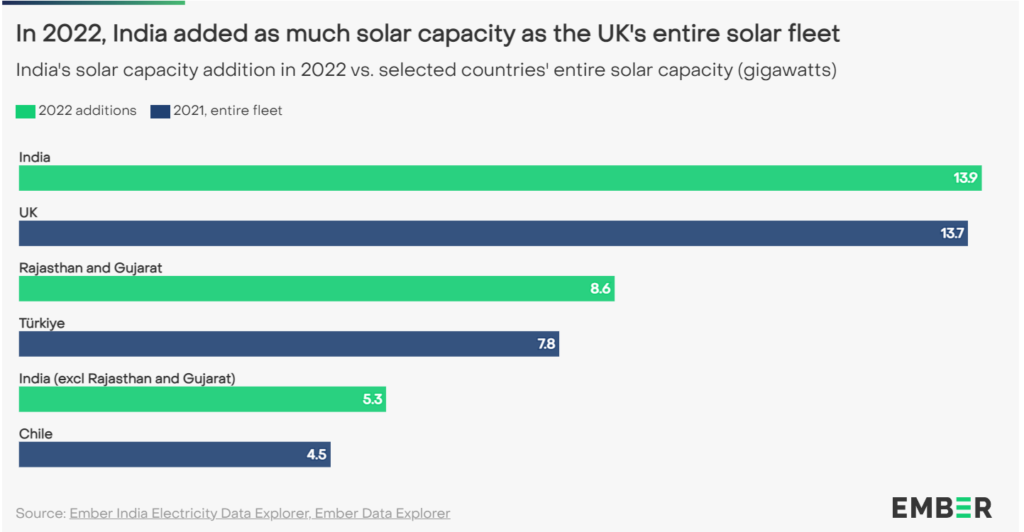 Data from India's Ministry of New and Renewable Energy (MNRE) showed that solar power installed capacity reached about 61.97GW as of 30 November 2022.
The study also examined India's renewables additions last year. Solar and wind dominated India's power generation capacity growth in 2022, accounting for 92% of total capacity additions.
Rajasthan continued to be India's most important state in terms of renewables capacity. Combining wind and solar, Rajasthan added 6.7GW of additional capacity. Meanwhile, both Rajasthan and Gujarat will be the centre of growth in solar and wind capacity, accounting for one third of India's total renewable capacity target of 450GW announced in 2021 by the ministry of new and renewable energy.
Lastly, Ember added that Rajasthan has been planning to reach 90GW of renewable capacity by 2030, meaning that the state needs to add 8.6GW of renewable capacity every year for the next eight years. Gujarat's target will be 61GW of renewable capacity, equivalent to adding 5.4GW of renewable capacity every year.
India's solar capacity has been increasing in recent years. It installed around 8.81GW of solar between January and September 2021, a 280% increase on the same period of 2020, according to JMK Research & Analytics.
However, some concerns have been expressed by experts after the recent announcement of the Indian budget. For example, heavy reliance on imported modules versus government ambitions to see more domestically-supplied projects will be a major challenge in the Indian solar industry.
Pranav Master, director of energy, commodities and sustainability at credit rating agency Crisil, said that supply chain constraints, a levy of basic customs duty (BCD) on modules and cells, and the implementation of the revised approved list of models and manufacturers (ALMM) list, posed a significant challenge in terms of economics for the developers as well as domestic manufacturers.
Other challenges include land availability in resource-rich areas close to substations and the availability of low-cost funds.
He added, "Funding risk could arise owing to weak investor sentiment, rising interest rate regime, currency depreciation and any material policy change."