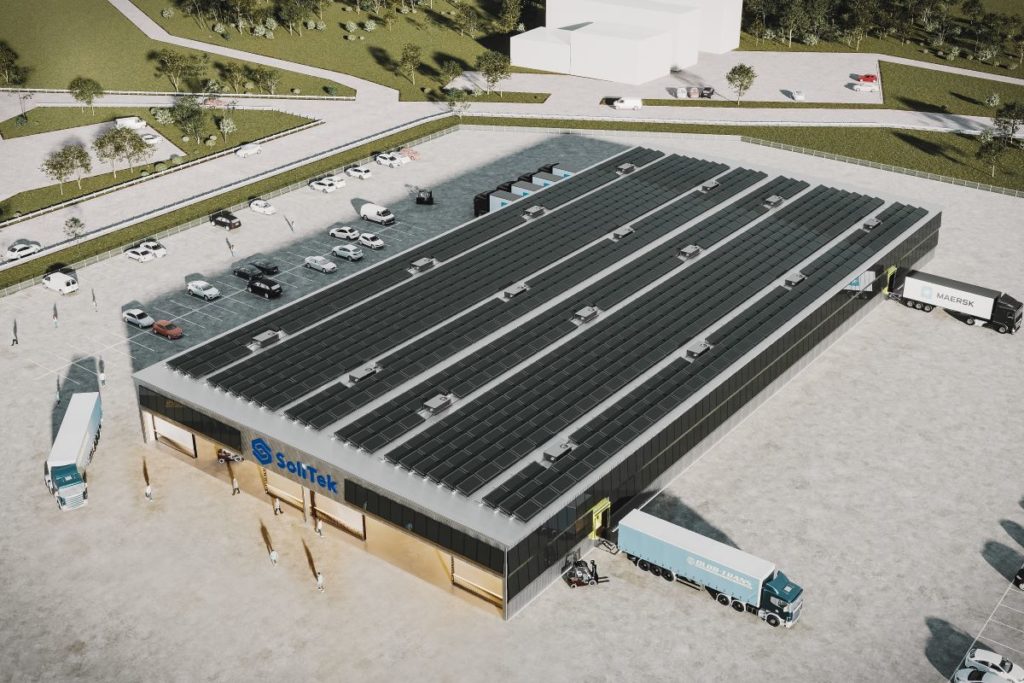 Last week, Lithuanian solar manufacturer Solitek expanded its operations in Benevento, Italy with the construction of a second module assembly plant that will use tunnel oxide passivated contact (TOPCon) cell technology and have a 600MW annual capacity once operational in the second quarter of 2024.
One key aspect of this new plant relates to the market it will target, as in a first phase the modules will be built for agrivoltaics (agriPV) projects. This market has been on the rise in Italy and was a key reason for the company to select the country.
Moreover, in the longer term, the company is also eyeing the infrastructure PV market as it works into producing noise barriers for highways and railways that integrate solar PV panels into it. For that reason, Solitek will use bifacial glass-to-glass for the industrial and agriPV markets it is targeting in Italy.
"We can make different transparencies of the PV panels, which is required by the agroindustry," says Julius Sakalauskas, CEO of Solitek, adding that each crop requires different transparencies and will allow the company to better cater to each client's necessity.
Combining solar panels with different crops would also protect from adverse weather such as hail storms or heavy rain, and the protection from the sun requires less watering, adds Sakalauskas. Even though Italy will be the primary market for the module assembly plant, Sakalauskas does not rule out the sale of modules to the Spanish and French markets, which also have important agricultural industries.
Setting itself aside from the competition
The company's strategy with the module assembly plant is to target niche markets which would not force it to compete with Chinese manufacturers. Not only this but it would also set itself aside from the other European manufacturers who announced, in the past couple of months, plans to build module assembly plants across Europe, including Spanish manufacturer Exiom's 500MW tunnel oxide passivated contact (TOPCon) collaboration with Spanish utility Iberdrola in Spain, German manufacturer AE Solar 10GW module assembly plant in Romania or French PV startup Carbon's 5GW of cells and 3.5GW of module annual production capacity in France.
"We are not producers of standard photovoltaic panels which Chinese are producing. We're not competing with them. We do, from the very beginning of our company, a different product. It is a glass-to-glass solar panel and its structure is different, its lifetime is completely different."
For Sakalauskas the major incentive for Solitek to produce bifacial glass-to-glass solar panels will be the longevity of the product which can reach up to 50 years, with a 30-year warranty, compared to the 10-year warranty from Chinese manufacturers.
For that reason, Sakalauskas is confident that price-wise the modules assembled in the Italian facility will be cost-competitive with Chinese manufacturers. "By calculating the price over 30 years' lifetime, our price in the end for generated kWh is cheaper than compared to the Chinese. Although the initial investment is a bit higher."
Green producers through and through
With the next step in the company's expansion, which started with a 50MW module assembly plant in Vilnius, Lithuania – which targets the residential solar market in the north of Europe – before increasing it to more than 200MW, the plant in Benevento will be built in two phases.
The first one will centre around solar panels and with an annual production capacity of 600MW in Q2 2024, while a second phase will see the construction of a 1GW battery line for energy storage.
Furthermore, similar to how Solitek runs its operations in the Lithuanian plant, Sakalauskas said it aims to run the Italian plant on renewable resources and with "very low" CO2 emissions.
"We focus not only on that the PV panel is a green product but how to make it even greener from the production point of view," added Sakalauskas.
Even though the Green Deal Industrial Plan (GDIP) presented in February had no impact on the company's selection of Italy for its expansion – "We have made the decision to go into Italy already one year ago" – Sakalauskas welcomed the European Commission's steps to reshore a domestic PV manufacturing industry in Europe.
Especially given that one of the pillars of the GDIP aims to give faster access to funding and investment in European renewable manufacturing – which the Lithuanian manufacturer will need to rely on in order to increase even further its capacity production in the future.
"This is important because the solar industry, technology-wise, is changing quite rapidly. And we need to invest in new equipment, to buy new production lines each two to three years. The support [of the EU] is necessary because the Chinese are doing the same."