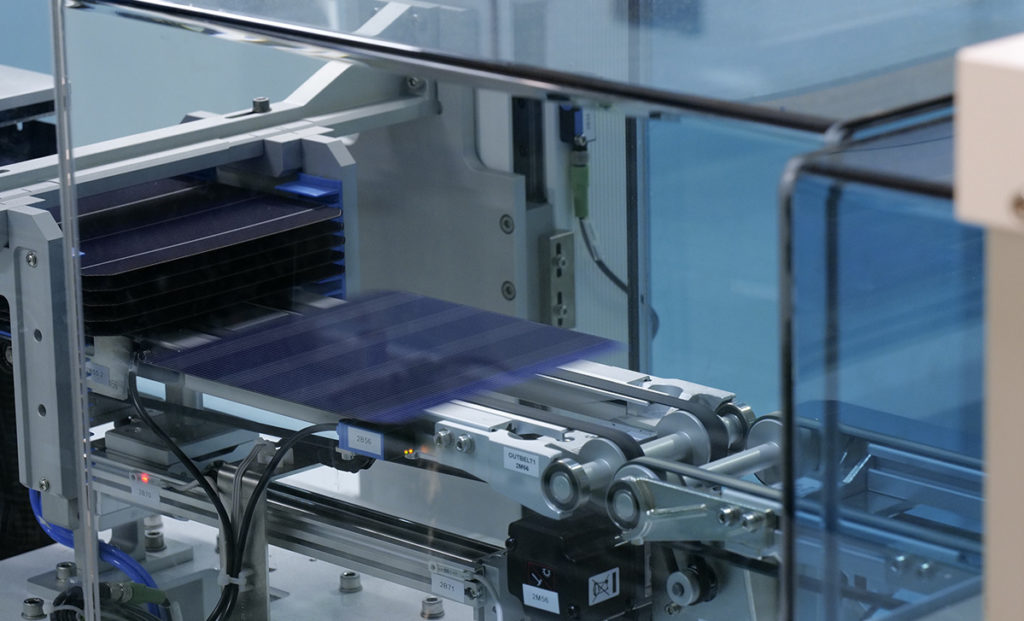 Last week, French PV startup Carbon announced plans for its first European PV manufacturing facility, set to produce an initial capacity of 5GW of cells and 3.5GW of modules. The announcement comes as Europe attempts to revive its PV manufacturing industry and establish a response to the global concentration of PV production in China.
Set to come online in late 2025, the statement last week revealed that the facility will be located under the jurisdiction of the Port of Marseille in Fos-sur-Mer, southern France.
Speaking to PV Tech following the announcement, Carbon revealed further details of its plans and said that with the factory it wants to "help Europe, and tackle the huge market distortions that we experienced for many years with China and that we experience now with the IRA (Inflation Reduction Act) in the USA and the PLI (Production-Linked Incentive scheme) in India."
Integrated Ambitions
"To get to a level playing field we need to have strong industrial ambition and plans. That's why we worked on this 5GW first factory with this ambitious calendar," said Carbon CEO Pierre-Emmanuel Martin.
The ambition isn't only in terms of the calendar. The Fos-sur-Mer gigafactory will be integrated, the company said, importing polysilicon to manufacture ingots, wafers, cells and modules in an entirely non-Chinese supply chain.
One of the most significant European polysilicon manufacturers, German chemical company Wacker Chemie, posted record sales and earnings figures in 2022 as polysilicon demand grew. It currently ships most of its product to Asia, as reported in PV Tech Premium in October.
This level of integration is a significant ambition for a European facility; the largest announcements coming out of Europe at the moment are for module assembly factories, like Enel's 3Sun facility in Italy or AE Solar's 10GW plan for Romania. Plans for integrated production have come more from the US and India where the IRA and PLI incentivise investment ahead of Europe.
With 3.5GW of module and 5GW of cell production planned, Carbon confirmed that it plans to sell its excess 1.5GW of cells to other European module manufacturers and foster an intra-European supply chain beyond its own facility.
However, its ambition doesn't stop there. Martin said to PV Tech that the company has plans to expand its capacity fourfold to "15GW of modules and 20GW of cells by 2030, with other gigafactories in France and in Europe."
"We should look very closely to what the Chinese did in 2006/7/8," he said. "With a long-term vision they established solar as one of the pillars of Chinese industry and they became the major player in a few years."
The familiar figures of solar supply security and energy security lie behind the company's insistence on a domestically integrated supply chain. "Let's not pass from one dependency to another," Martin said, "from dependence on Russian gas to dependence on Chinese PV panels."
Cost-competitive European PV
Carbon's plans will focus on tunnel oxide passivated contact (TOPCon) and interdigitated back contact (IBC) cell and module production. The technologies were chosen for being "innovative, high yield and bankable. We foresee that TOPCon – with iterations – will be the leading technology on the market in a few years." To that effect, this week JinkoSolar said that it expects 60% of its 2023 shipments to be fulfilled by n-type TOPCon modules.
An issue that has hung around the emergence of domestic PV supply in Europe – and the US to a lesser extent – has been cost compared with imported equipment. PV Tech covered the topic in February, where investors highlighted the need for a scaled supply chain to make products cheaper and the attraction of freedom from forced labour concerns that a domestic base would offer.
Carbon echoed these points: "We strongly believe in the need to regain our industrial power and address ESG requirements; low carbon footprints and no forced labour."
Further, it said that: "We will be cost competitive. We know the cost price [of Chinese modules] with no market distortion and we know that we can reach that price. In a module most of the cost is the polysilicon and raw materials, the cost of labour is marginal."
Martin also said that Carbon has a commitment to devote 3% of its annual turnover to research and development (R&D) as a way to, once again, implement long-term thinking and ambition and make its products more "bankable". It's a plan to participate in the ongoing industrial shift towards TOPCon production and development.
"What we have learned from the Chinese is that we need to give ourselves the means to discover other technologies and to improve [existing technologies] by incremental innovation," he said. The company will put R&D money into cell efficiency, but also into ingoting and wafering, industrial processes and other stages in the creation of modules.
Europe has a strong "R&D ecosystem" – just this week, for example, a German-Dutch consortium announced a newly researched tandem PV module aimed at the European market. "All this ecosystem lacks now is strong European industrial backup," Martin said.
Nevertheless, beyond the attractive prospect of innovative new technologies – perovskites and the like – putting money into proven, improvable and bankable technologies will be what allows Europe to partially "match up with Chinese manufacturing", he said.
France: A long-term industrial vision
Looking to the present and to Carbon's first factory, which will need to succeed if any of its grand plans are to hold water, the port of Marseille location made sense.
The company said that: "We were very welcomed in the south of France, through the local availability of workers and skills near Marseille, and the fact that we are backed by a photovoltaic equipment supplier, ECM Green Tech, which is one of our main shareholders." It also cited the availability of land in France and the alignment of local, national and European authorities on a long-term industrial vision.
The EU's Green Deal Industrial Plan, introduced early this year, aimed to mobilise renewables manufacturing on the continent. Trade body SolarPower Europe – which is listed as an official supporter of Carbon – has given guarded praise to the scheme, issuing suggestions for expanding its efficacy.
Martin was unphased by the fact that Q4 2022 saw the closure and abandonment of two French PV factories by REC Group and Maxeon Solar.
Though currently the company is an unproven entity, Carbon's plans would be a real boon to manufacturing in France and across Europe if they come to fruition. As well as its own significant ambitions, it seems interested in looking outwards and fostering a manufacturing culture with a solidly long-term rhetoric aimed at partnerships and development across the PV supply chain.
"We shouldn't be afraid or timid or naïve," the company said, "We have all that we need in Europe, it's just a question of will and ambition."
Carbon's planned factory in France and the European supply chain were also talking points among the speakers and delegates on the sidelines of the PV CellTech Conference in Berlin.