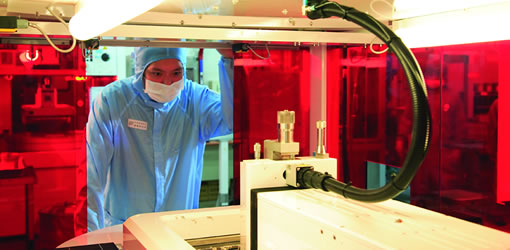 After a week in Taiwan, overlapping with the PV Taiwan exhibition and conference in Taipei last week, my main takeaway is the scale of new capacity that is confirmed to be coming online over the next 3-6 months, no matter what is happening today regarding supply levels and end-market demand. This and other conclusions from my week in Taiwan are covered in two blogs this week on PV-Tech.
The first part today looks at some of the new capacity still coming online over the next six months, asking the basic question 'why?', and then spells out what the PV technology landscape might look like during 2017.
The second part of the blog (to be posted in two days) discusses what the industry might look like with two major producers only, one owning n/p-mono and the other having p-multi, and whether 2017 will be the year when this started to happen.
The myth of supply/demand equilibrium
Looking top-down at overall supply/demand in the solar industry is sometimes not that helpful, and if the overall metric (supply, demand, price, etc.) does not actually describe any of the bottom-up parts properly, you have to question what a blended average is worth?
Let's give an example. If half the world sells solar modules at 40c/W and the other half at 50c/W, then nobody is actually selling at 45c/W although this is what comes out from the average.
Albeit more complex, capacity in the solar industry can be thought of in this way, especially when it comes to capital expenditure (capex) and bringing online more capacity to increase supply levels.
In theory of course, the industry does not need any new capacity right now. But when did the solar industry ever have any collective intelligence? It is the sum of many moving parts, in this case all the companies active in supply across polysilicon to module stages.
It is a recurring theme, and should surprise nobody. This is what happens when you still have hundreds of manufacturers existing, somehow surviving and when you factor in new entrants kicking off at the GW level. Individually, it often makes sense: collectively, it can look like reckless abandon.
Taiwan feeds the solar manufacturing buzz
Purely from a manufacturing standpoint, PV Taiwan is probably the best exhibition these days, shielded from the marketing-heavy downstream propaganda that typifies other major exhibitions. With still a highly influential upstream sector – and yet to have a domestic policy of note to drive installer booth space and aisle traffic – PV Taiwan is a great place to gauge wafer and cell trends.
The good news first: wafer and cell pricing (and modules) have seen a strong rebound in the past couple of weeks, as the industry resets to its normal year-end rush. If you were putting off buying those modules at 35c/W in the past few weeks, hard luck – you just missed the boat.
But now the bad news: there is approximately 8GW of new cell capacity (and about half this again of modules) coming online between now and the end of March 2017, mainly from companies that want more market-share. It is that simple.
The industry could be under-supplied, in equilibrium or heavily over-supplied, and still this capacity is coming online. The companies in question have raised the funds, ordered the equipment and this is currently being installed, ramped up and brought into production.
I was wondering if the events of the past three months would trigger a change of heart with the companies involved, but it seems that funds are to be spent, come hail or high water.
Now while you basically have to speak to lots of people at PV Taiwan to get close to the full picture, what is certain is that none of this 8GW is coming from Taiwan, with the country effectively continuing to shrink in terms of cell capacity.
The lion's share of the new capacity is coming from about 5-6 companies, with a further 10-20 companies adding lower levels of capacity, in what could push the effective cell capacity additions closer to about 10GW between now and the start of April 2017.
What next after PERC? Great question, too early
Getting back to technology and upstream manufacturing – and what justifies a week's expenses in Taiwan – I would say there is better clarity on what to expect from cell production and module supply out to the end of 2017.
I gave the opening presentation on Thursday at the conference at PV Taiwan, and as I was finishing off the PowerPoint the night before (old habits never die), I decided to try and stay away from gloom and despair.
Fear not however: compared to a few years ago, modules will be nearly half the price, 10-15% higher power, and of much better quality. For installers, EPCs, and domestic site owners and solar farm asset holders alike, the solar industry could look like a great place in 2017, especially if you get your timing right to buy.
Trying to forecast what PV technology will look like five years out helps no-one, especially when it is so hard to know the landscape five months from now. For the talk, I reverted back to much of the research of the past few months in helping get the agenda right for PV CellTech next March in Penang, Malaysia.
And also noting that PERC is really just starting for many, from a mass production standpoint, and asking 'what-next' could be jumping the gun. This came over clearly in our final PERC analysis as part of the October release of the PV Manufacturing & Technology Quarterly report.
PV manufacturing and production in 2017
It is now becoming clearer that, from a technology standpoint, 2017 will be all about further ingot pulling improvements (driven by LONGi Silicon Materials), diamond wire sawing of multi wafers (a multi-pronged approach across wafer and cell producers), more PERC on p-mono, and front-end cell upgrades at the texturization stage (so-called 'black silicon').
The technology roadmap for 2017 will also see wafer sizes likely gravitating to the larger 6" format being rolled out these days, final bus-bar additions to 5BB, glass-glass module encapsulation using thinner glass, and more shift to 72-cell modules with 1,500V performance.
The big ones to look at though are p-mono PERC and p-multi diamond wire sawing; their evolution is intricately connected and potentially more far reaching than the technologies themselves.
While no doubt, we will hear people doing side-by-side comparisons of these technologies, but it would be wise to overlook this; rather, we should reframe as the ongoing LONGi Silicon Materials and GCL (Poly & Systems Integration) activities.
Personally, I prefer to go one step further, and consider this as the collective market-drive of LONGi and GCL together, something I hinted at in my blog last week on PV-Tech when I suggested their collective efforts have the potential to totally redefine what the PV industry looks like going into 2018.
This theme will be developed and explained, along with much more, in the second and final part of Tales from Taiwan, to be featured on PV-Tech on Tuesday this week.