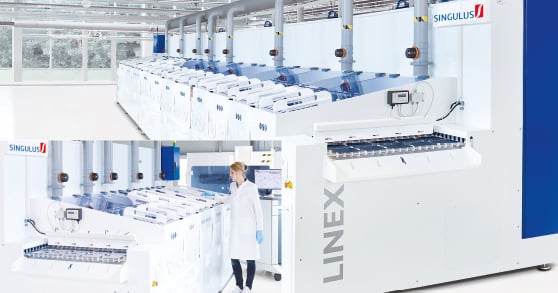 Singulus Technologies two-step multicrystalline wafer texturing process on its inline 'LINEX' platform is said to reduce manufacturing costs and improve cell conversion efficiencies.
Problem
Multicrystalline solar wafers are increasingly cut with diamond wire, which permits a markedly higher yield of wafers per block. The market for multicrystalline solar wafers is expected to continue to rise next year, with a growing proportion of wafers processed using diamond wire saws. This technology means the cost per wafer can be significantly reduced. Using this sawing technique is more environmentally friendly than the conventional slurry process, which involves a mixture of oil and silicon carbide but the sawing process damages the surface of the solar wafers.
Solution
Singulus' LINEX' wafer texturing platform texturing removes saw marks and produces a uniform, homogeneous structure, according to the company. The manufacturing process incorporates two distinct steps developed in-house: the use of new additives and the use of ozone for post-cleaning, which provides a complete automated dry-in/dry-out solutions for wet-chemical treatment in standard and high-efficiency lines
Applications
Texturing of multicrystalline wafers are being cut with diamond wire saws.
Platform
The LINEX inline processing system features a newly developed conveyor system that guarantees extra-gentle handling of the solar wafers throughout the entire process and markedly reduces the breakage rate, according to the company.
Availability
Currently available.